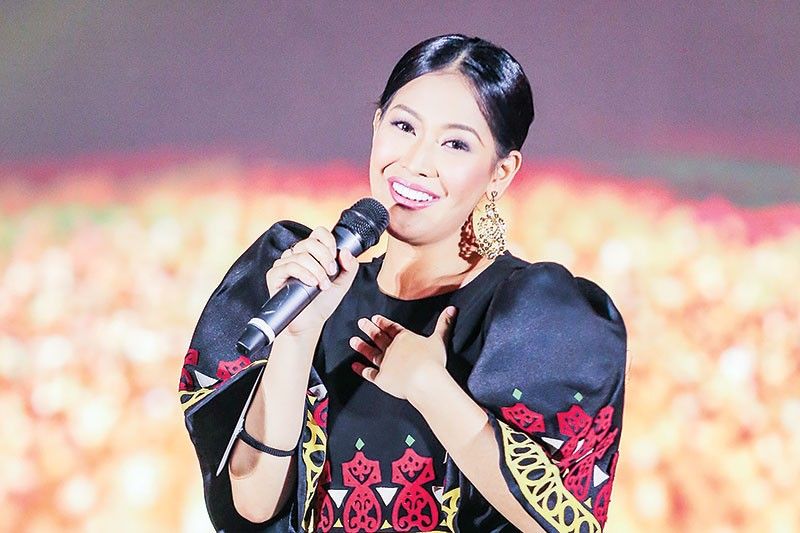 Miss Mandaue Talent winner pens original song for city
CEBU, Philippines — Lorraine Mitzi Ambrad initially prepared a spoken word performance for the Miss Mandaue 2019 Talent Competition. Realizing later on the significance of Mandaue celebrating its 50th anniversary this year, the 22-year-old decided to instead write an original song as a tribute to the city.
She also came up with a video that gave an overview of Mandaue City's past, present and future which played in the background as she performed her self-penned piece during the Miss Mandaue 2019 Talent Competition held April 28 at the Mandaue Heritage Plaza.
The songwriting process took about a month because she wanted the lyrics to reflect the way of life of the Mandauehanons. She, with the help of her friends and fellow community organizers Jake Barrientos and Napoleon Otero Jr., also came up with the melody of the song they titled "Mandaue: Latas sa Katuigan" (Through the Years).
"Since I did not grow up in this city, I did some research and interviews with the locals. I asked them what was Mandaue 50 years ago and what were the significant changes since. I actually have a 50-leaf notebook full of drafted lyrics and concept maps because there's so much to tell but only three minutes to do it. The song is basically a showcase of the culture here in this first-class city," said Ambrad, a correspondent for The FREEMAN and a communications officer at the University of San Jose-Recoletos where she earned a degree in Mass Communications.
For her efforts, Ambrad was voted by judges Nino Matillano, Harry Dale Seno and Lislie Wadingan as Best in Talent, followed by first runner-up Aijeleth Borja who performed a Pasa Doble number and second runner-up Jesselle Saniel who did a T'Boli dance.
This is Ambrad's second pre-pageant award after placing first runner-up in the Media's Choice Competition. Winners for the two other pre-pageant events – the Fitness and Swimsuit Competitions – will be announced on coronation night.
An advocate of developmental communication through media literacy,
the reigning Miss Press Freedom gave her assurance during the Media's Choice event that if crowned, she will implement a media literacy program geared towards junior high students as she laments the glut of misinformation in today's society.
"What bothers me most is the spread of misinformation in different forms such as fake news. It bothers me more than the traffic, infrastructure, because misinformation can lead to misguided choices and decisions," Ambrad pointed out.
For her, it is important that the youth as well as their elders know how to decipher messages in media – may it be social media or traditional media.
"Knowing which is fake and fact will lead us to better decisions. Better decisions lead to better actions. And better actions make a city, and a country a better place," she added.
If crowned the 50th Miss Mandaue, Ambrad said she will propose a project with the Public Information Office (PIO) to hold youth camps, summits and seminars for junior high students to be at the forefront of media literacy programs.
Why junior high students? "Because they comprise the majority of the youth today especially in Mandaue City. They also do not have media literacy programs unlike senior high school students, while grade school students are still too young," she said.
Just like other legislations in Mandaue City, she hopes her planned program will be replicated in other cities and serve as a benchmark initiative.
Ambrad is a Ten Outstanding Students of the Philippines-Central Visayas 2017 awardee and a GMA Network Excellence Award recipient. She was also Dalaguete town's Utanon Festival Queen 2012.
She is among the 16 candidates who will vie for the Miss Manadaue 2019 crown in tomorrow's coronation night at the Mandaue City Sports and Cultural Complex which will have Kapamilya actor Vin Abrenica as celebrity guest.
On Thursday, May 9, past winners of Miss Mandaue and the Mandaue Gay Pageant will gather in a Gala Night.
Mandaue: Latas sa Katuigan (Through the Years)
By Lorraine Mitzi Ambrad in collaboration with Jake Barrientos and Napoleon Otero Jr.

Verse 1:
Niadto matag-Domingo mosayo kog mata
Mosimba sa Centro og magduwa sa plaza

Si Mama kay maninda sa iyang puto'g bibingka
Si Papa molahos sa Coliseum dala ang iyang manok nga pula

Pre-Chorus:
Bisag unsa may dangatan
Di ko gyud mahikalimtan
Ang lugar kung asa ko gikan

Chorus:
Lahi ang kagahapon
Lahi pud ang karon
Lahi na ang padulong kay bag-o na ang panahon

Daghan na ang nabag-o
Ug daghan pud ang nagbag-o
Apan adunay wa nausab
Ki'ng akong gugma kanimo
ug ang pagtambayayong sa mga tawo
Oh~
Mandaue ko

Verse 2:
Karon daghan na og kausaban
Ambot imo bang namatikdan
kay imong mata pirming naa sa social media

Gibarug na ang bandila nga bangaw
Ang single plastic gibawal, gihanaw
Ang dagat kaniadto, mga edipisyo na karon ang malantaw

Bridge:
Sa lingkuranang hinimo ni tatay
Naghinuklog, nakapangutana
Asa na ta karon?
Asa na ta karon?
may kalahian karon sa kagahapon?
kab-oton ta ang atong mga damgo-oh-oh..

Chorus:
(acapella)
Lahi ang kagahapon
Lahi pud ang karon
Lahi na ang padulong kay bag-o na ang panahon

Daghan na ang nabag-o
Ug daghan pud ang nagbag-o
Apan adunay wa nausab
Ki'ng akong gugma kanimo
ug ang pagtambayayong sa mga tawo
Oh~
Mandaue ko
Mandaue ko
Mandaue ko