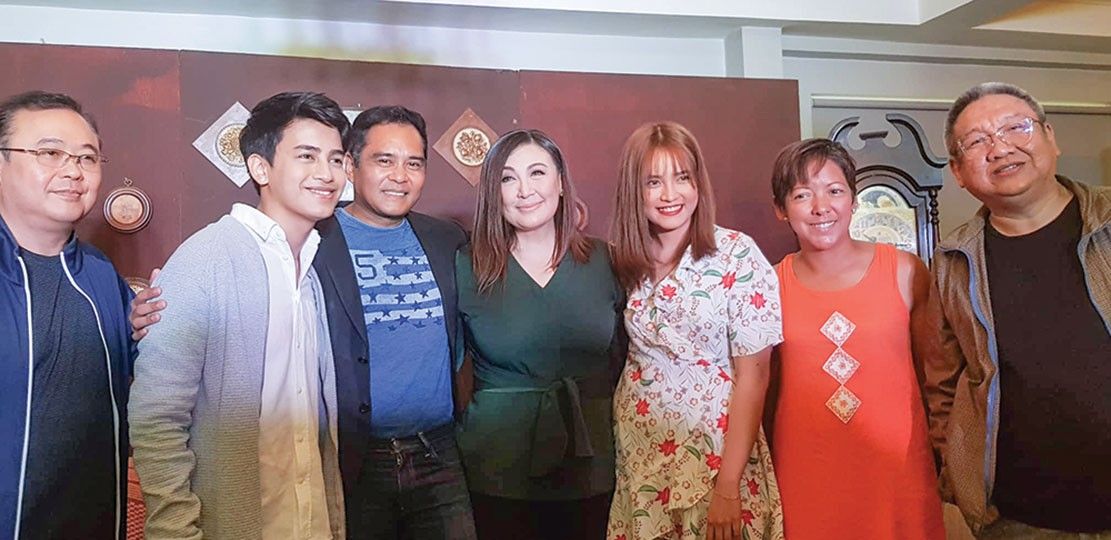 "Kuwaresma" producer Dondon Monteverde, actors Kent Gonzales, John Arcilla, Sharon Cuneta, Pat Gonzales, Isay Alvarez and director Erik Matti
'Kuwaresma' touted as Erik Matti's scariest film
Had Sharon Cuneta not accepted the offer of Reality Entertainment's Dondon Monteverde and director Erik Matti to be the female lead in "Kuwaresma," the movie would not have pushed through.
This was revealed by the producer and the director Tuesday at a media conference of "Kuwaresma," touted as the biggest and scariest movie of Matti.
Sharon was the first and only choice of Dondon and Erik for the pivotal role of a mother and a wife to John Arcilla. The Megastar liked the story after it was related to her by Direk Erik that in 15 minutes she said yes to the project. This is Sharon's first horror film, first with Direk Erik, same with John.
Dondon and Direk Erik said they were planning to do just a small film but the movie became bigger in scope when Sharon accepted the offer. With her as lead actress, there is a need to cast a top-notch actor to play her husband.
And John was the perfect choice. He's a certified box-office star on the strength of "Heneral Luna" and is a very competent actor. He can match Sharon's caliber as an actress.
We didn't know that John is a certified Sharonian and he was happy when the singer-actress accepted the role.
Direk Erik had nothing but praise for his two lead stars, as well as to newcomers Pat and Kent Gonzales (real-life siblings) who play twins. Their performances helped make "Kuwaresma" even more intense as a horror film.
"Kuwaresma" opens in cinemas on May 15 as the Mother's Day presentation of Reality Entertainment and Globe Studios.
While this is a horror movie, it talks about love for one's child, husband or wife, and family.
***
Almo$t, the group behind the rap song "Dalaga" which inspired the social media challenge Dalagang Pilipina, has signed up with Viva Records.
The group members said they didn't imagine the song will become a hit. Almo$t is made up of school buddies Crakky and Russell. They both love rap music and are followers of the independent rap scene in Olongapo.
Their love for rap music was instrumental in them meeting Clien and Dom, who are both from Canada. They are singers who love hip-hop.
The four met in the local community of underground artists in the social media platform called Local. Even if they came from different parts of the world, distance is not a problem to exchange ideas about music. It was through this that they were able to compose "Dalaga."
"Dalaga" was conceptualized and written more than a year ago. As of this writing, the song has 40 million views on YouTube and 12 milion streams on Spotify. Viva Records will shoot an official video of "Dalaga" soon.
***
The fourth edition of the Asian International Film Festival is being held in Kuching, Sarawak in Malaysia from April 25 to 27. The biennial film festival has become a platform to bring together film ideas and the business community.
It's a festival that brings 10 nations together through the language of films, and provides the opportunity for Southeast Asean countries to see each other's stories and realize how similar these countries are.
AIFFA has become a platform to bring together film ideas and the business community as there is a huge potential market with ASEAN's 600 million population.
AIFFA is still a young festival, being held only for the fourth time this year, but the enthusiasm of the ASEAN filmmakers to attend and promote their business through attending the film workshops and networking with international industry players is excellent.
The festival has become popular among the filmmakers and over a hundred films throughout ASEAN have been received for the competition of the AIFFA Awards.
Festival director Livan Tajang said the big event is the gala night on the 27th which is a big attraction as the best of the best ASEAN films are awarded.
The AIFFA Jury is composed of popular film director U Wei Shaari, international juror Alain Jalladdeau, famed Filipino director Amable Aguiluz, Mattie Do, a female director and Daniel Rudi Haryanto, a director from Indonesia.