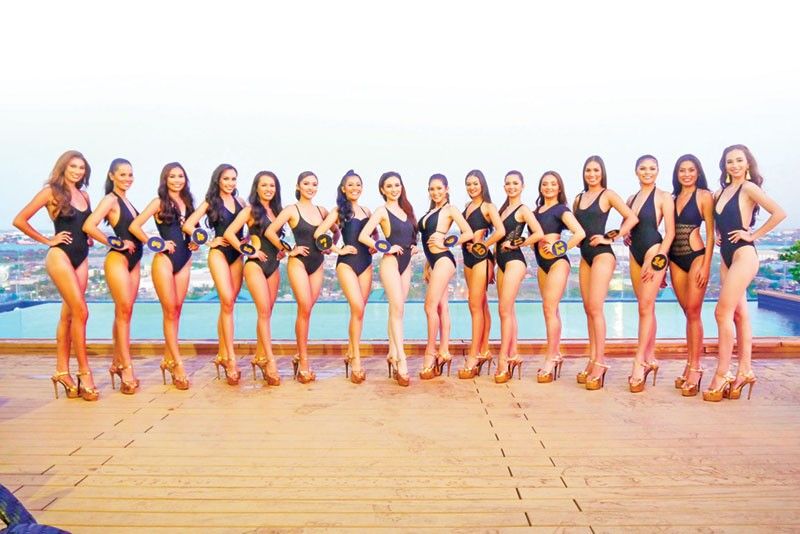 The 16 candidates of Miss Mandaue 2019 pose by the poolside of Maayo Hotel after their Media's Choice and Swimsuit Competition held Wednesday, April 24.
Yasunari Ramon Taguchi
Amanda Basnillo stands out at Miss Mandaue 2019 Media's Choice competition
Karla Rule
(The Freeman) - April 26, 2019 - 12:00am
CEBU, Philippines — Miss Mandaue 2019: The Gold Edition checked off two more pre-pageant events, by and by bringing out the best out of the candidates as they showcase their skills and charm.
The 16 Miss Mandaue 2019 hopefuls hit two birds with one stone as they took on the Media's Choice and Swimsuit Competitions Wednesday afternoon at Maayo Hotel.
During the Media's Choice competition, the ladies were given the opportunity to show off their intelligence and wit through an interview with a jury composed of members of the tri-media.
The candidates also got to share their advocacies, starting off with Lorraine Hann who advocates for youth education; Kristine Gillamac for responsible freedom of expression; Rhean Caruana for environmental public awareness; R-Jane Lugod for mental health and anti-bullying awareness; Angel Mae Dakay for mental health awareness; Rica Mae Pitogo for environmental preservation and water conservation; Lorraine Mitzi Ambrad for developmental communication through media literacy; and Aijeleth Borja for proper nutrition for children.
Cristine Rudolph hopes to help build homes for street children; Umayma Alrawahi is for vision health; Julienne Dabon champions for family values and relationships between parents and children; Charlotte Stuck is all about justice for rape victims; Jesselle Saniel aims to help the Mandauehanon youth thru sports and education; Angeli Navarro is for sustainable and medical tourism; Karla Lasquite fights for the rights of underprivileged children; while Amanda Basnillo is for PWD rights.
Throughout the Q and A, the ladies were asked all sorts of questions from the best advice they've ever been given, their take on the concept of Dalagang Pilipina, their reasons behind joining the pageant, and their vow to the city to make something worthwhile from their influence should they win the Miss Mandaue crown.
When asked if beauty queens should be vocal about their political views, Gillamac, Caruana, and Lugod all said yes, what with their influence and platform, but said one should still be reasonable and well-informed when doing so.
As for their message to voters when it comes to choosing the right leader, Stuck, Navarro, and Lasquite each advised to vote wisely, foresee the results and consequences, educate one's self, and take the time and effort to know the candidates running for public office.
They also offered their thoughts on the nation's issues that they find most bothersome. For Ambrad, it was misinformation and how it could lead to wrong choices and actions. For Basnillo, it was talk of reviving the death penalty, saying that the poor will be at a loss and as far as she knows, the country's "judicial capacity is not strong enough to serve proper justice." As for Hann, it was the lowering of the age of criminal liability, saying that children should not be put to jail.
In the end, 17-yaer-old Basnillo was hailed Miss Mandaue 2019 Media's Choice. The STEM student from the University of Southern Philippines Foundation bested the rest of the candidates, giving herself a boost in the competition.
"I'm very honored and very grateful that the media has chosen me to be their candidate. Miss Mandaue is known for their screenings and interviews, and it feels great to be chosen as Media's Choice," said Basnillo, a Miss CESAFI 2014 first runner-up and Miss USPF 2016 winner.
With this early award, the Filipina-British five-foot-nine stunner admitted that she feels more confident now than when she had started.
Close on Basnillo's heels is 22-year-old writer Lorraine Mitzi Ambrad as first runner-up. Despite being a practicing journalist, the University of San Jose-Recoletos communications officer said that her press connections didn't make her a shoo-in for the Media's Choice award. In fact, she felt the nerves had gotten into her and that she could have done better.
Being a journalist, she said, added to the pressure and was not entirely an advantage.
"I don't want them to think that I was among the media's choice because I know people. There is pressure. You need to prove yourself, that you deserve it not because you know people. So I needed to give an all-out performance," said Ambrad, the reigning Miss Press Freedom and a Ten Outstanding Students of the Philippines (TOSP)-Central Visayas in 2017 awardee.
Stuck, an 18-year-old Grade 11 GAS student, completed the Media's Choice top three. The French-Filipina did not see her win coming and became emotional upon being called as second runner-up.
"I cried because I didn't really expect to win anything at all. This is my first pageant and I wasn't sure if I was saying the right words or having the right hand movements and gestures. It was really shocking. For me, even if it's second runner-up, it's a big thing to me. This is still one of the biggest things I've ever achieved in my life and I didn't expect it all," said Stuck, who surprised onlookers during the Q&A for admitting that she was a rape survivor, thus her chosen advocacy.
The Media's Choice Competition is just one of four pre-pageant events lined up to assess the candidates' abilities and push them to always be on game mode.
Following the event was the Swimsuit Competition where the candidates showed off their physique and confidence. Scoring them were Ryan Raymond Yu, Perl Jacalan, and Rey Humberto Villegas. The Best in Swimsuit awardee will be announced on coronation night.
The 2019 staging sees the return of the Swimsuit Competition, which is divided into pre-pageant and coronation night scores.
The first pre-pageant event, the Fitness Competition, was held March 30 in Balamban. On Saturday's Mandaue City Midyear Cultural Summit Opening Salvo, the candidates will show off another facet via the Talent Competition at the Plaza Square.
A Pre-judging event will then be held on the afternoon of May 7 at Allure Hotel.
Only eight out of the 16 candidates will move on to the semis, and from this group, three finalists will take on the dreaded Q and A. From there, the brand new Miss Mandaue will be chosen.
Miss Mandaue 2019 will take home P100,000 in cash and no less than P500,000 for the implementation of her chosen advocacy for Mandaue City. She will also enjoy one-year free tuition in any Metro Cebu school. The first runner-up will receive P50,000 and 75 percent off on tuition, while the second runner-up will take home P30,000 and 50 percent off on tuition.
With Mandaue City celebrating its 50th charter anniversary, Miss Mandaue 2019 is slated to be the grandest Miss Mandaue yet.
On May 7, Miss Mandaue 2018 Gabriella Ceniza Carballo will crown her successor during the Miss Mandaue 2019: The Gold Edition Coronation Night to be held at the Mandaue City Sports and Cultural Complex.