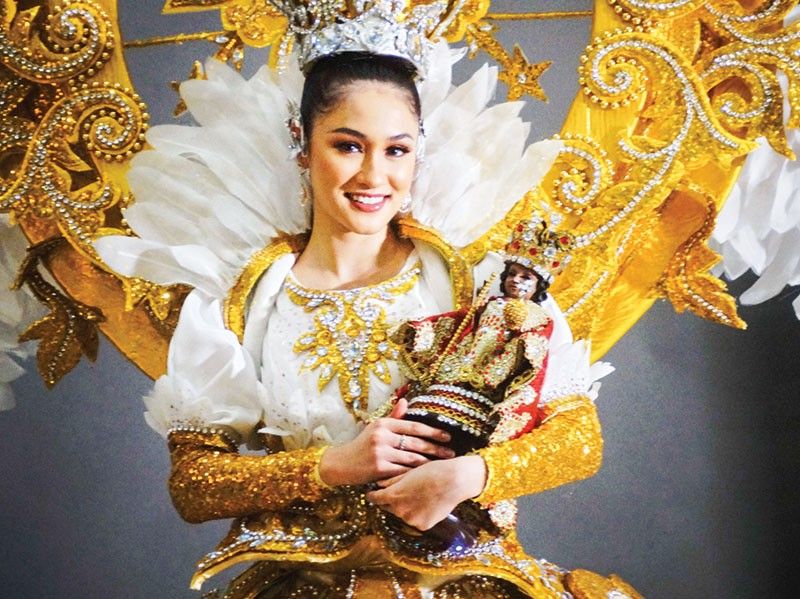 Nicole Borromeo gunning for Cebu's 9th Reyna ng Aliwan crown
Karla Rule
(The Freeman) - April 25, 2019 - 12:00am
CEBU, Philippines — After winning the Sinulog Festival Queen 2019 title, it's time to face the national stage for Nicole Borromeo as she represents the Sinulog Festival at the Reyna ng Aliwan 2019 competition this Friday.
Reyna ng Aliwan is but one of the highlights of the famed Aliwan Festival which gathers the country's cultural festivals.
Delegates from regions are invited to come together. Contingents will compete, performing throughout a spectacle of a parade, accompanied by massive floats that showcase the various festivals across the country.
Each festival is led by their own Festival Queen, who will vie for the ultimate title of Reyna ng Aliwan.
The Aliwan Fiesta opens today and concludes on Saturday, April 27, at the Cultural Center of the Philippines (CCP) Complex in Metro Manila.
Nicole will compete alongside 22 other festival queens in the national tilt. The 18-year-old shared to The FREEMAN that she made sure to focus on her physical strength during training, what with all the dancing in decked-out costumes. Apart from working on her dance, walk, and Q and A, Nicole watched last year's pageant to get a glimpse of the competition's vibe, for good measure.
"It's very lively and upbeat. I like that. And it's crazy to think I'm joining it now," Nicole quipped, adding that she may have an idea about the kind of festival queen that they want to crown.
"I think they're looking for someone who is confident in the way she carries herself, passionate and well-rounded. These are what I plan to bring to the table. I will dance with passion especially knowing who it's dedicated to. I will carry myself with confidence, and I'll do everything with the best of my ability."
Nicole, a STEM student from Cebu Doctors' University, is looking forward to seeing all the colorful festival costumes. On the other hand, she's most worried about the Q and A.
"I have answers but my delivery needs more impact, " she shared.
Nicole's Aliwan gown is designed by Orville Biongcog, the same designer who did her Sinulog Festival Queen frock which won Best Festival Costume and won for Biongcog the Best Designer for Festival Costume Award.
Her Aliwan costume is made of organza cloth, among other materials. Inspired by the Filipino piety and Cebuano devotion to the Santo Niño, the dress is created with multiple layers of fabric "enriched with golden carving details that mimic that of an angel like silhouette, " which aims to showcase the religiosity and architectural pride of Cebu.
Throughout the years, Reyna ng Aliwan has seen the victory of Cebu delegates like Marla Alforque in 2017, Miss Eco International 2018 Cynthia Thomalla (2016), Binibining Cebu 2018 Steffi Aberasturi (2014), Miss Earth 2014 Jamie Herrell (2013), Miss Tourism International 2013 Angeli Dione Gomez (2012), Bb. Pilipinas Supranational 2015 Rogelie Catacutan (2010), Miss Tourism International 2012 Rizzini Alexis Gomez (2010), and Sian Elizabeth Maynard (2009). Last year's Cebu bet, Shaila Mae Rebortera, finished as second runner-up.
Nicole is well aware of his winning streak and admits there is heavy pressure in bagging the ninth Reyna ng Aliwan title for Cebu.
"But so far I've surrounded myself with people who support me no matter what so win or lose, as long as I can say I've done my best, then that's enough. There's always something you learn."
Nicole said that her experiences and the way she reacts to these is what makes her unique.
"Our minds think differently and our experiences aren't viewed exactly the same. I aim to improve on my experiences and I think that sets me apart...that I know this is a process and I just got to enjoy."
She dedicates her performance to Señor Santo Niño and Cebu, saying that she will do her job with all her heart.
Judged for their personality, beauty and poise, costume, and over-all impact, the Reyna ng Aliwan 2019 hopefuls are set to compete on Friday, April 26. The winners, however, will be announced on April 27 at the awarding ceremony following the grand parade and street showdown.
After Aliwan, Nicole, a Miss Silka Cebu 2017 title-holder and Miss Mandaue 2018 first runner-up, is set to compete in the Miss Teen Philippines 2019 search happening on April 28 until May 8 in Manila where she will be representing Carcar City.