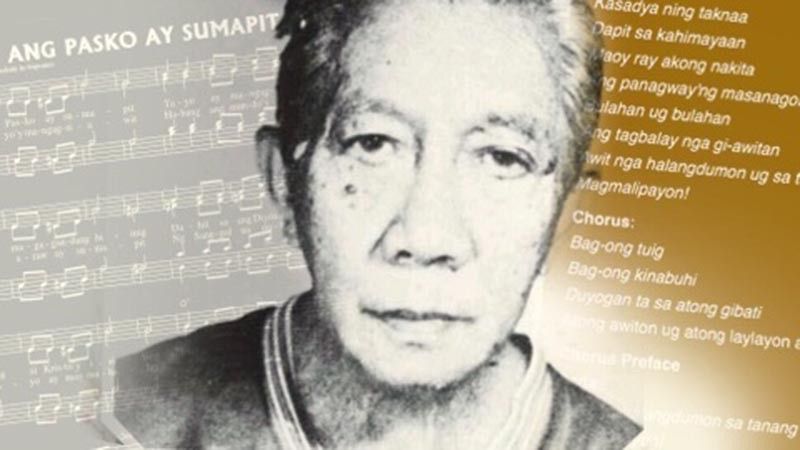 TOP 100 CEBUANO PERSONALITIES: Man Behind Cebu's Iconic Christmas Carol
Karla Rule
(The Freeman) - April 21, 2019 - 12:00am
Nearly every Cebuano knows the song "Kasadya Ning Taknaa," whether by tune or by words. It's the kind of song that comes with a feeling, regardless of how many times it is heard or sung. And we have Vicente Rubi to thank for that.
Born on January 1903, Vicente Daclan Rubi is the man behind the iconic Christmas carol heard by many Bisayas and sung by generations of Cebuanos.
Rubi, who didn't finish high school and worked as a contract labor foreman in the sugar farms of Cebu province, was 30 years old when he came up with "Kasadya," now an essential Christmas-time piece, a song each Cebuano strongly identifies with.
A composer of the daygon and balitaw, Rubi was fondly known as Noy Inting. He married Brigida Aseniero Rubi and had four children.
The story of "Kasadya" was brought to life in what is now P. Gullas Street, where the Rubi family formerly resided. Nearby, the grandest fiesta in Cebu took place every December.
An avid fan of musical dramas which was all the rage back then including light plays, Noy Inting often made music with his guitar while his wife helped in setting the elements into music sheets.
Noy Inting and his friend, lyricist Mariano Vestil, put together the iconic "Kasadya Ning Taknaa," which evoked the cheerfulness and warmth of the Filipino Christmas celebrations, unfailingly almost like a spell. It became a hit so much that Bohol, Negros, Leyte, and other Bisaya speaking areas would come to love it.
But things weren't entirely merry for Noy Inting. Cebuanos argue that "Kasadya" and the honor of having birthed it was taken away from Noy Inting. While some people might credit the Tagalog song "Ang Pasko Ay Sumapit" as an original, Cebuanos can only call the Tagalog carol a translation, at best.
It was in 1950 when Noy Inting sold his song to the Manila-based Mareco Recording Company which in turn gave him P50 as advance payment for royalties.
Throughout 1966 to 1975, Mareco's books show that Noy Inting's song sold 62,812 records. But the Cebuano composer only received P110.25 in 1967 out of the P1,994.63 that he should have gotten.
Noy Inting filed a lawsuit against Mareco in 1976 for the unpaid royalties and rights. According to Ramon Ceniza, Noy Inting's lawyer, Mareco had checks issued but did not bother to locate the composer who by then had moved residence. The case was dismissed because Noy Inting couldn't afford to go to Quezon City.
Relentless, their efforts included a petition for the National Library to grant a copyright but it was denied with a letter stating that "the work is considered belonging to the public and no protection can be sought," following Presidential Decree 49 or the Law of Intellectual Property.
In 1979, Ceniza would ask the Cebu Court to exempt Noy Inting from litigation fees, given that his client was a poor man.
Noy Inting would finally receive a decision in his favor in 1988 from the Cebu Court who decided to entitle the composer the P1,884.34 owed to him.
But by then, Noy Inting was long gone, passing away eight years prior the decision. In November 1980, Noy Inting died of prostate cancer and was laid to rest at the Roman Catholic Carreta Cemetery.
Before his death and despite the trials, Noy Inting pursued music, making over a hundred songs not only about Christmas but also of love and life.
Among his songs are "Walay Balatian," "Laylay sa Kalanggaman," "Harana," "Carmela," "Among Daygon," "Pasko Nga Halandumon," "Pasko Na," "Nag Ambahan," "Maglipay Kita" and his last, "Mahanaw Ang Tanan," among many others.
It must bring him great comfort that over the years, "Kasadya Ning Taknaa" remains a Cebuano anthem.
Noy Inting has since then received posthumous awards, recognized by award-giving bodies in ceremonies led by Cebu City, the Province of Cebu, the Cebu Arts Foundation, and the Basic Industries Foundation, to name some.
Alongside "Matud Nila" composer Ben Zubiri, Noy Inting became the first recipients of the Jose R. Gullas Awards for reaching the pinnacle of achievement. Lyricist Mariano Vestil was also recognized at the affair in 2007 where their compositions were performed.