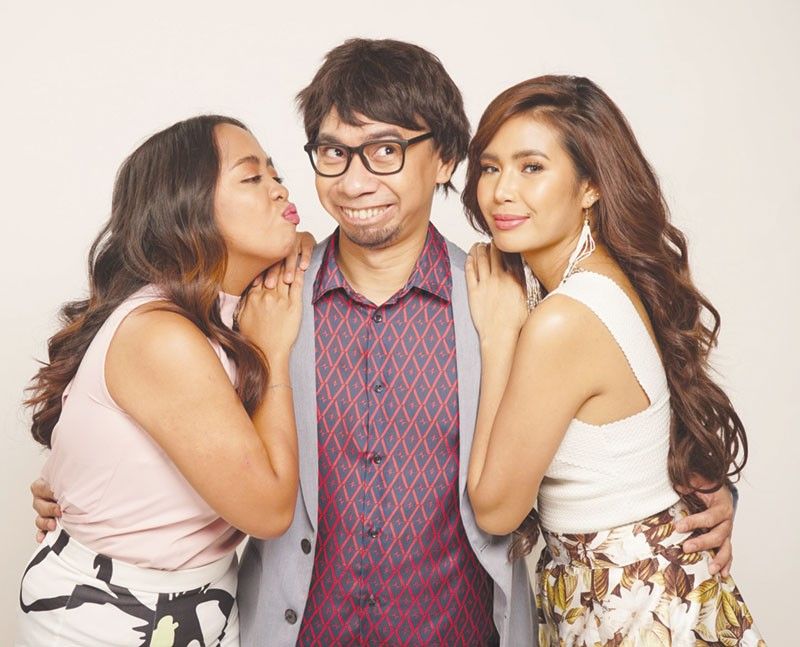 Rocksteddy vocalist plays girl magnet in 'Papa Pogi'
Teddy Corpuz, the lead vocalist of the band Rocksteddy, didn't imagine that he will see himself one day playing the lead role in a movie. But lo and behold, he plays the titular character of Regal Entertainment's "Papa Pogi" which opened yesterday in cinemas nationwide.
He has done supporting roles but this is his first time to play the lead. Beaming with excitement, the "It's Showtime" mainstay said, "I am nervous but I am also excited. I got inspired when I read the script and found it really funny. I was able to contribute something to make the script even more entertaining."
In "Papa Pogi," Teddy plays Romeo, a guy who is a woman magnet. The film is directed by Alex Calleja who is also a certified comedian.
"What is good about Alex is that he allowed me to do what I think is best to make the scene even funnier. He allowed me to improvise. As a result, we came up with a very entertaining movie," said Teddy.
He has two leading ladies in the film, PBB Teen Edition 4 winner Myrtle Sarrosa and new comedienne Donna Cariaga. He has kissing scenes with both of them but Teddy said he told his wife about this so she won't be surprised when she watches the movie.
"Papa Pogi" also stars Joey Marquez, Lassie, Dawn Chang and Hashtags members Zeus, Nikko and Luke.
***
The film "Persons of Interest," starring Allen Dizon, is among the entries to the 5th Sinag Maynila Independent Film Festival.
Others have quickly predicted that the festival's Best Actor award is a lock for Allen, since each time he joins Sinag, he has managed to bag the said honor.
But if you ask the actor, all nominees have equal chances of winning.
Directed by Ralston Jover, "Persons of Interest" sees Allen playing a dual role in which was extra challenging because he had to show distinct differences between his two characters.
***
Playing race games like Tamiya is a great past time for any person young and old. It is also a great way to have fun with friends and possibly make some new ones.
At the successful 5th Leg of Tamiya Asia Challenge held at Glorietta 2 Activity Center in Makati City recently, Virgilio Asis was declared the winner.
Ferdie Kahn, owner of The Brickyard, home of Tamiya in the Philippines, said the finals of the Tamiya 4WD Asia Challenge will be held on June 20-23.
Eruell Asis, son of Virgilio who also plays Tamiya, recalled how he came to like the products. "I started playing Tamiya when I was looking for a hobby that would really give me the push to be the best in the Philippines and represent our country in the world competitions. I was a Gundam PlayModel hobbyist before and the go-to store for guys like me is Lils Hobby Center."
"I am really happy and proud because I won the hardest Brickyard Cup so far. Representing the country is a once-in-a-lifetime opportunity so I will do my best and be the World Champion in the next years to come," he added.
On the other hand, winning couple Bien and Bianca Chavez discovered new things to love about each other when they started playing Tamiya.
"I appreciated Bianca even more when I started playing Tamiya again because she's very supportive up to the point that she even joins me in the competition," said Bien.
"I was really happy when I found out about Bien's new hobby. I know how stressful his work can be," said Bianca. "He deserves to do something that he really enjoys. I tried to support him as much as I can. It's really not that hard because any activity can be fun as long as we do it together. Also, he's surrounded by good people: the staff at The Brickyard, his Hyper Throttle teammates and even the girlfriends/wives of his teammates. We gained new experiences, new friends and discovered new things to love about each other."