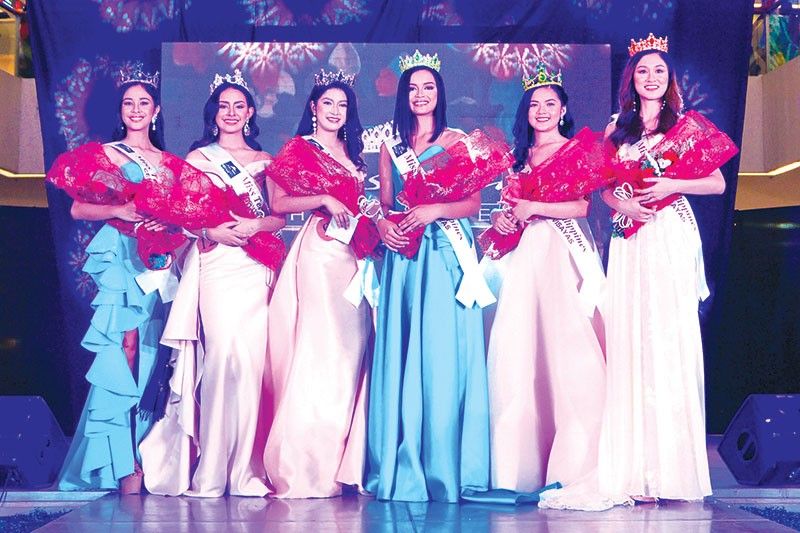 Miss Teen Philippines 2019 finalists from Central Visayas: Leigh Chanelle Ong, Kaye Rollins, Karla Marie Niere, Kylah Sanchez, Olive May Bihag and Nicole Borromeo
Photos by Yasunari Ramon Taguchi
Six Cebuanas among Miss Teen Philippines 2019 finalists
Karla Rule
(The Freeman) - March 19, 2019 - 12:00am
CEBU, Philippines — Six Cebuanas made it to the nationals of this year's Miss Teen Philippines search following the pre-qualifying round held Sunday, March 17, at the Mountain Wing of SM Seaside City Cebu.
It was a gathering of fresh faces for Miss Teen Philippines Central Visayas as the region's blooming teens rose to the occasion to become part of the pageant's revival.
From over 60 applicants, 24 have made it to the pre-qualifying level where the hopefuls presented their poise, grace and wit.
The six who are now official Miss Teen Philippines 2019 candidates are
Kylah Sanchez, Nicole Borromeo, Kaye Rollins, Olive May Bihag, Leigh Chanelle Ong and Karla Marie Niere.
Kylah Kristianne Yve Sanchez, who has been on a number of national stages in the past year including Miss Hannah's and Miss World Philippines, was asked during the Q&A about the negative effects of social media. The 17-year-old Liloan native said that while social media has positive uses, too much exposure can lead to cyber bullying which causes disappointment and even death for some. She urged others to think before they click.
A senior high school student, Kylah said that making a good first impression is important.
"I was the first one to be called. I wasn't expecting it since there are a lot of beautiful and fresh faces but I feel so blessed to be part of this and to be given the chance to represent Central Visayas," she said. "I'd like to improve the way I speak, polish it, and I need to know a lot of things especially about the pageant's advocacy, which is education."
For Sinulog Festival Queen 2019 and Miss Mandaue 2018 first runner-up Nicole Yance Borromeo, she said her experiences will come in handy as she enters the national stage once more after her Miss Silka 2017 stint.
During the Q&A, the 18-year-old STEM student at Cebu Doctors' University was asked what she would say to National Youth Commission Chair Ronald Cardema if they met, to which she replied with a promise of collaboration as she would like a more "experiential and participatory" academic experience.
"Hopefully the best one!" Nicole said when asked what version people are going to see in the national competition. "Every single day is a chance for me to improve. I'm going to be different today and on the nationals."
Filipina-American beauty Jocelyn Kathyrene Kaye Rollins shared how pageantry allowed her to become more expressive. Describing herself as a sheltered, extroverted introvert, the 18-year-old STEM student was euphoric with the pageant experience that helped her grow.
Asked during the Q&A about the perfect age to get married, Kaye said one can get married at 18, so long as they consent, are ready and are in love.
"I guess they were looking for a big heart, someone very compassionate. I'm not proud of many things about myself yet, but I'm proud of the size of my heart. Maybe that's why they chose me," said Kaye of Talisay City, who was also named Hablon De Cebu Festival Teen.
Olive May Sophia Bihag of Liloan is the youngest of the six at 14 years old. The Grade 9 student talked about what she can contribute to women during the Q&A, saying that she would like to spread good vibes, share the importance of self-esteem and encourage other women to speak for themselves and for others.
"I learned that if you have a lot of confidence and high self-esteem, you'll get what you want, especially if you're determined, driven and passionate," said Olive.
"To prepare for the nationals, I will be accepting a lot of advice, practice a lot and be more disciplined. My age is both a disadvantage and disadvantage – others have a lot of experience and are hard to reach but at the same time I still have a lot of time and I can still show the best of me."
For Leigh Chanelle Ong, Miss Teen Philippines is her first out-of-school pageant. The 16-year-old shared how nerve-wracking the pre-qualifying finals had been.
During her turn in the Q&A, the Alcoy native chose controlling time when asked to choose a superpower.
"I've learned that whatever dream you have right now, you should work hard for it and do everything you can. Give 101 percent. I will be working on building my self-esteem because that's what I lack, especially when you're surrounded by pretty girls with all the experience," said Leigh, a Grade 10 student.
Karla Marie Niere, the last to be called among the six winners, credited her mom for the win, since she encouraged her to join Miss Teen Philippines.
For the Q&A, the 18-year-old talked about why teens often engage with strangers online despite being taught not to talk to strangers as children. She cited depression, anxiety and loneliness among the possible reasons. The senior high school student said that while they may not help it, safety should always be a priority. She urged the audience to always have each other's backs, love one another, show respect, and to never make others feel depressed, lonely or anxious.
"I enjoyed everything and I made new friends. For this, you're holding a responsibility and you should always own it. Make sure that in any challenge, you just ace it and emerge with poise and grace. You can expect a better version of me. I still have a lot of things to work on. My dad would always tell me that I should always believe that I can be part of it, that I can be one of the winners," Karla shared.
As Central Visayas representatives, the six will compete in Manila on May 8 alongside Miss Teen Philippines candidates from all over the country.
Other awardees were Cassandra Margaret Reed for Miss Beauty Affair, Maria Milkhielyn Enriquez for Miss League Magazine and Christina Marie Schott for AD Models Discovery. Skylah Butler, Madelyn Afrifina Smith, Den Claire Petralba, Maria Bethel Rosco and Maria Mercy Bacarisas were all named Miss Photogenic.
Ritchie Ocampo, Marc Ramos, Ferdinand Yu, Sam Hormillosa and Creslito Nieves served as pre-qualifying judges.
Hosted by Miss Teen Philippines Central Visayas 2014 Bianca Willemsen and Miss Teen Philippines Mindanao 2014 Victoria Ingram, the Dexter Alazas-coordinated event saw the ladies looking breathtaking in pastel gowns.