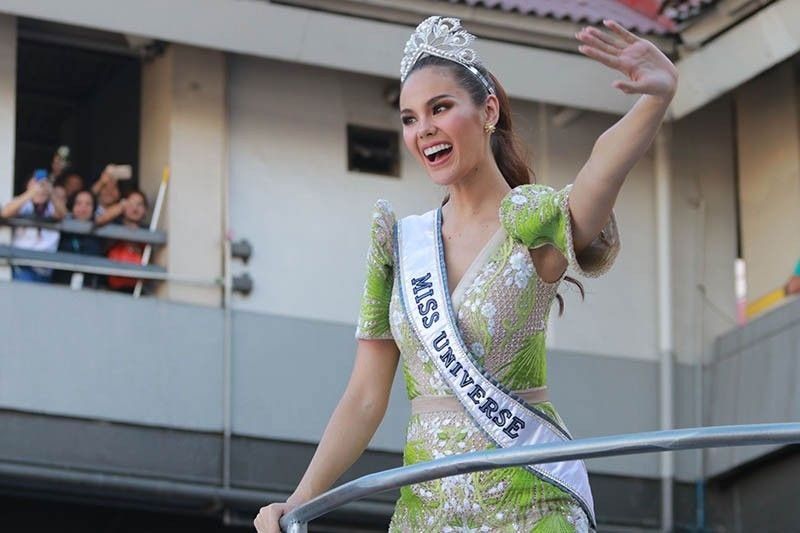 Miss Universe 2018 Catriona Gray
Philstar.com/Erwin Cagadas
Why Catriona Gray impressed telecom staff
Miss Universe 2018 and PLDT's well-loved beauty queen Catriona Gray returned to where her heart is – HOME. Upon her official homecoming in Manila, the queen received a welcome fit for a queen from a grateful nation.
In gratitude to the millions of Filipinos who supported her Miss Universe journey, Catriona was immediately feted with victory parades upon her official homecoming – in Makati and Manila (on Feb. 21) and in Araneta Center, Quezon City (on Feb. 23), respectively. A Homecoming Special in her honor will also be held at the Smart Araneta Coliseum on Feb. 24. It will be aired exclusively on ABS-CBN.
The ever compassionate Catriona also made it a priority in the list of her activities a visit to the charitable organizations she heartily supports such as Love Yourself (an HIV/AIDS education awareness group) and Smile Train (for underprivileged children.
On Feb. 22, employees and officials of PLDT were with the Miss Universe in celebrating her victory as she paid PLDT Chairman Manny V. Pangilinan a courtesy visit at his offices in Makati City, a tradition that has been carried on since 2014, when PLDT HOME and Binibining Pilipinas Charities Inc. first forged their fruitful partnership in support of outstanding and inspiring women who make an impact in the international stage like the Miss Universe pageant.
Andrew L. Santos, PLDT First Vice President and Head, Consumer Marketing, said "PLDT supports world-class Filipino talents and we take pride in the achievements of outstanding Filipinas like Miss Universe Catriona Gray. Together with Binibining Pilipinas Charities Inc., we continue to support them in their mission to bring pride to the country and help uplift the lives of Filipinos through service and nation-building."
In 2017, when the Miss Universe pageant was held in the Philippines, PLDT HOME Fibr was at the forefront of the international event. PLDT Chairman Manny V. Pangilinan was an undeniable force that made the prestigious beauty pageant happen on Philippine shores and PLDT was a huge proponent of that effort. As a result, the leading and most powerful broadband network in the country, and leading mobile brand Smart, provided fixed broadband and mobile connectivity to power up the Miss Universe pageant.
Filipina beauty queens have always been at HOME with PLDT. Their rich history together started with MJ Lastimosa in 2014, continuing on successively with Pia Wurtzbach in 2015, Maxine Medina in 2016, Rachel Peters in 2017 and Catriona Gray who won the Binibining Pilipinas-Universe title in 2018.
PLDT has made it their commitment to sponsor major Binibining Pilipinas events and has been engaging most of the beauty queens and their respective courts as PLDT HOME brand ambassadors. As such, PLDT and the queens have both been reaching out to Filipinos from all walks of life spreading cheers and goodwill all over the country.
These ladies have also managed to endear themselves to the hearts of those they work with in PLDT. These men and women uphold their admiration and respect for the ladies even outside of the boundaries of work. For one, Catriona has impressed PLDT officers and staff when she graced the PLDT HOME Fibr event in Davao last June. Above and beyond what was expected of her, Catriona spent precious time with a PLDT subscriber and her family, even shared a meal with them because she said, "I wanted to get to know them." Catriona is naturally sweet and generous to everyone she works with and is diligent in her preparation for the work ahead of her.
A very humble beauty queen, one PLDT employee remembers how unassuming Catriona was when she, along with the other beauty queens graced the opening of the first PLDT-Smart store in Bonifacio Global City last April. One of the PLDT employees narrated what happened there: "She took time to linger at the event and socialize with PLDT executives, employees, guests and media. She was the first to arrive and the last of the six queens to leave the venue," she said.
And who would forget her answer to a question about whether she would bring a glam team to an out-of-town event or not? Catriona, without batting an eyelash, said there's no need because she could take care of herself and do her own hair and make-up as part of her Miss Universe pageant training.
PLDT Home ambassador and former Binibining Pilipinas Grand International 2016 Nicole Cordoves, a close friend and one of Catriona's mentors, can attest to the hard work and perseverance of the Queen through her Miss Universe journey. Nicole and Catriona will be meeting again this week as she joins the activities as the PLDT Home Insider who will be giving exclusive access, interviews and sneak peak of all the happenings at the Miss Universe Homecoming.
PLDT believes that the true markings of a real Miss Universe is showcased not just in the excellence of her physical attributes, but more so in the inner workings of her soul. For this, Miss Universe 2018 Catriona Gray is a real beauty inside and out.
Catch the Miss Universe Homecoming through live coverages of PLDT Home on Facebook, Instagram and Twitter.