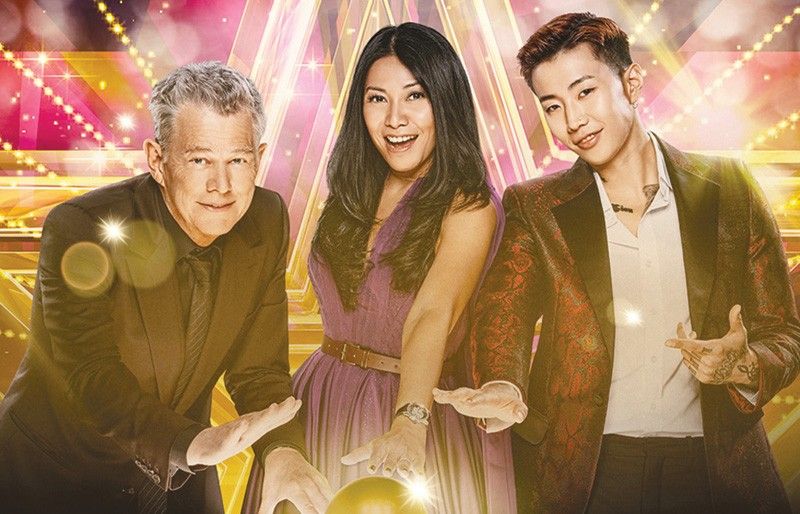 Asia's Got Talent judges David Foster, Anggun and Jay Park
Strong Pinoy acts on 'Asia's Got Talent' Season 3
Paolo Contis said he became a regular cast member of "Bubble Gang" when Ogie Alcasid left the show to transfer to TV5. Before that, Paolo was just a regular guest in the show, just like Chariz Solomon and Betong Sumaya.
It's been five years since he became regular in "Bubble Gang" and it has been a very pleasant experience. "I love the show very much and I enjoy every minute I spend in it. We are one big happy family. We look forward to our tapings every Monday kasi masaya sa set," said Paolo.
Paolo is looking forward to their live musical play "Parokya Nato': A Laugh Story goes to Cebu" which will be staged at the Waterfront Cebu City Hotel and Casino this Friday, Feb. 15.
The musical was first aired as a special to mark Bubble Gang's anniversary last year. Michael V, who is the show's creative director, wanted to present something different for the anniversary. Michael V said the "Bubble Gang" cast has yet to do a full musical for the show.
"It was something hard to do. We can carry a tune but we are not real singers saka we will do it kung paano ginagawa ang musicale sa teatro. It was a challenge for all of us. But if you are given a role, you will work hard to make it good for the sake of the show," said Paolo who plays the kontrabida in the musical.
The musical concert is a project of GMA Regional TV, in synergy with the GMA Entertainment Group and Pinoy TV, through the Kapuso Concerts.
***
The highly anticipated third season of top-rated "Asia's Got Talent" has returned to AXN with a display of talent from 17 countries. Global music icons David Foster, Anggun and Jay Park return to the judges' table to witness a new generation of talent emerge, and ultimately, Asia's next superstar.
The new season of "Asia's Got Talent" premiered on Feb. 8. The fans of the record-breaking series can expect a kaleidoscope of variety acts, comedic moments and stunning talent with performers ranging in age from six years old to 69 years old.
Virginia Lim, Senior Vice President and General Manager of Sony Pictures Television Networks Asia said, "'Asia's Got Talent' continues to be the region's favorite entertainment reality series on TV and in the social sphere. It provides a powerful platform for aspiring performers to launch their careers, and we're thrilled that many previous contestants have toured internationally as a result of 'Asia's Got Talent,' including season one winner El Gamma Penumbra and last season's winner, The Scared Riana."
Hosted by Alan Wong and Justin Bratton, who are the contestants' side-stage cheerleaders, "Asia's Got Talent" invites fans on a captivating journey over 10 episodes, where the personal stories of aspiring performers are shared as they take the stage.
"Asia's Got Talent isn't just about performing, it's about the storytelling of diverse cultures that all unite on the region's biggest stage in pursuit of one dream," said Lim.
After giving us some of the most memorable contestants in the past seasons of "Asia's Got Talent," the Philippines continues to deliver even stronger acts in the premiere episode of "Asia's Got Talent" Season 3.
Standout acts from the episode include HK Sisters, a singing pair who received a standing ovation from the audience with their touching performance; Zeexhie a father-and-daughter dancing duo who really impressed Anggun; Junior Good Vibes, a dance crew of 15 members from Sampaloc who has been practicing everyday for the past four years to perform on "Asia's Got Talent" and ZooDiva, a singer with an extraordinary gift that you just have to watch.
In the same episode, Jay Park made Asia's Got Talent history as he rewarded his Golden Buzzer to TK Jiang, a digital magician who scored the first Golden Buzzer for Singapore.
"I was very impressed," said Jay Park. "You know I've never seen digital magic before and that was very, very entertaining. I really like it."
"That was unique. But then, it was so short. I feel like I wanted to see more," Anggun chimed in.
TK Jiang, who started his magic journey in Singapore, was overwhelmed with emotion as the audience went crazy for his unorthodox magic tricks. Currently a full-time student, TK Jiang wanted to put a modern spin into magic by going digital.
The Golden Buzzer ensures that we will be seeing more of TK Jiang in the semi-finals in March where he will have his shot at the USD100,000 grand prize and the winning title.
New episode of Asia's Got Talent airs every Thursday at 8:30 p.m. on AXN. To follow the journey of this season's acts, check out #AXNAsia and #AsiasGotTalent.
To watch extended highlights of "Asia's Got Talent" and exclusive behind-the-scenes footage, fans can subscribe to the official AXN Asia YouTube Channel at www.YouTube.com/AXNAsia.