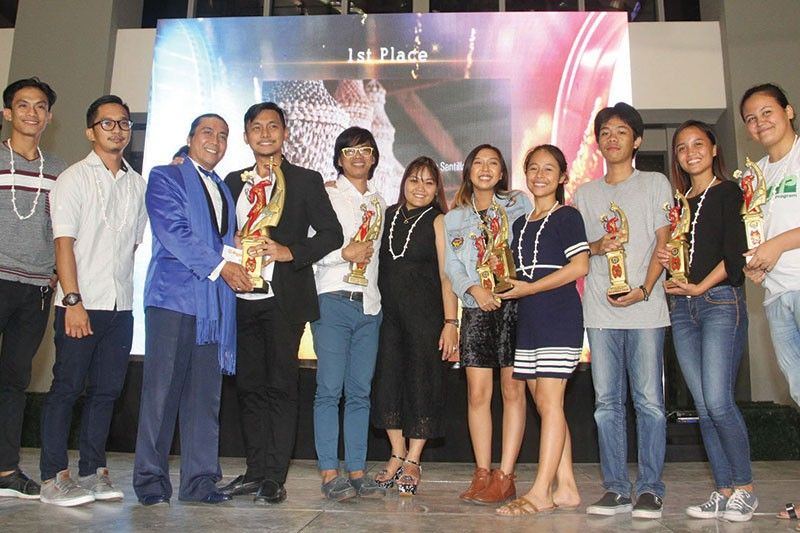 The cast and crew of "Usa Ka Libo," Best Short Film
Joy Torrejos
Island tale sweeps awards at Sinulog Short Film Festival
Karla Rule
(The Freeman) - February 4, 2019 - 12:00am
CEBU, Philippines — A story from the island claimed the top prize and swept other awards at the 2019 Sinulog Short Film Festival which held its awarding Saturday night at the Cube Hall of SM Seaside City Cebu.
Directed by Eli Razo, "Usa Ka Libo" dominated the short film category with six major awards. A film about dreams and the price you pay to achieve them, "Usa Ka Libo" centers on Shan, a young lady who wishes to become a nurse in the city. Her mother is against it, but Shan, who wants more for herself than selling shell craft in Bantayan Island, does everything she can to reach her aspirations. But at what cost?
Aside from the coveted Best Short Film award, the effort also nabbed trophies for Best Story and Screenplay (Decelle Suarez, Jai Shane Cañete, and Eli Razo), Best Sound Engineering and Musical Scoring (Eli Razo and Kokoi Guinto), Best in Editing (Eli Razo), Best Cinematography (Earl Yap), Best Director (Eli Razo), and Best Actress (Myrgen Santillan).
Razo, a 32-year-old architecture graduate from the University of San Carlos, first joined the Sinulog Short Film Festival in 2016 where his entry placed second. Starting out as an actor (he won Best Actor in 2012) through a scholarship at the International Academy for Film and Television, Razo promised that he would make an island story for 2019.
Island struggles
Born and raised in Cebu City, the filmmaker's grandfather is from the town of Santa Fe, Bantayan Island, north of Cebu, which Razo would visit every summer. It is where "Usa Ka Libo" was mostly filmed.
Although it was a challenge to film in a remote area with most of his crew working in the metro, the team pulled it off. Razo is thankful for a great crew, location, timing and support from the town. He called their winning moments "unbelievable," saying the other entries were not to be sneezed at.
He is ecstatic that he can now give his staff their deserved compensation after winning P100,000 for the Best Short Film prize alone.
"'Usa Ka Libo' [Cebuano for one thousand] basically means the goal of the protagonist. It represents her dreams and how far she's willing to go," Razo said. "Last year was a city story, so I really said that next year it should be an island story. The world deserves to see these little unique stories the island has to offer. Who would've thought that this shell-selling woman would have such dreams? At least now, you don't take that girl for granted."
The whole team had shells slung around their necks during the awarding ceremony. Among them was lead actress Myrgen Santillan, a newbie in the competition. For her first film, the 18-year-old Bantayan native bested mainstays in the annual tilt like Ligaya Rabago.
"Wala ko katuo nga nadaog ko. Daghan kaayog veteran," the Special Education major from Cebu Technological University said.
Santillan was not supposed to play the lead. The production eyed another actress. One day, she had free time and agreed to fill in for the role for a day. The team later on decided to cast her as Shan.
She shared that relating to Shan's struggles was rather easy.
"Ganahan jud ko mukanta, muapil og singing contest. But akong mama ug papa dili ko suportahan, usahay ra. Mao to nga gahi ug ulo, pero wala ko nagmahay kay kung wala ko ni get out sa akong limits, dili ko kaabot diri. Dili man ko sugtan kay lagi gabii na, babae daw, study daw."
The Best Actor award went to Jessee Carl Atienza of the entry "Before Crossing." The 27-year-old Mass Communication graduate from the University of San Jose Recoletos portrayed Eugene, a drug addict and pusher. This is his second time to star in a Sinulog Short Film entry.
"Di ko ka-relate [sa character]. Supposedly my plan was to ask a drug user but wala ko nakakuha'g time gyud para maka-ask. So nag-watch ko og videos and nag-ask sa director kung unsa iyang gusto mugawas. Really just watching videos and movies nga naa'y character nga ingon ana og problema," said Atienza, who began theatre work in 2017.
Runners-up in the Short Film category were "Kuwerdas" by Chloe Veloso at second place with a P50,000 prize and "Harmonica" by Brian Brusas at third place with a P30,000 prize.
Other victors include Philip Carlo Ty as Best Supporting Actor for "Ang Huni," Queen Virtucio as Best Supporting Actress in "Pahinumdom," Jelo John Niño Espinosa as Best Child Actor for "Tinagsip," "Kuwerdas" for Best in Production Fesign (Gerard Militante), "Elevator" for Best Packaging, "Ang Huni" for Best Playbill and "Before Crossing" for Best Poster.
Docu winners
In the documentary category, an entry titled "Senior High" about Dolores "Dolly" Suzara – tagged as the original Festival Queen, being one of the pioneering organizers of the Sinulog Festival when it began in 1981 – won first place, winning P100,000. It also won Best Story.
Ademar Ochotorena, a Mass Communication graduate from USJ-R, always wanted to pursue the story since 2016. But Suzara, now in her 80s, could not speak at the time so he had to hold the project.
Suzara had been in and out of the hospital after slipping in October 2016. Ochotorena chose "Senior High" as the title because he said "senior" is associated to ageing, and "high" could refer to the faith and passion of Suzara towards the Sto. Nino. Suzara graced the awarding ceremony.
Since he is based in Katipunan, Zamboanga del Norte, Ochotorena arrived in Cebu City on January 19 and shot the material on Sinulog Sunday, Jan. 20. He believes that the backbone of a good story is research.
"I was not thinking about winning gyud this year. Para nako man gud, sayang. Since documentary man ni, archiving na ni siya. This is my contribution not only to Sto. Nino but to our culture."
Following "Senior High" is Emmanuel Tundag's "The Prayer" at second place, winning P50, 000. It also won Best Cinematography (Emmanuel Tundag) and Best Sound Engineering and Musical Scoring (Matt Cuppeli).
At third place is The Freeman photojournalist Aldo Nelbert Banaynal's "Distance." It was also named Best Packaging, Best Editing (Reynan Villena), Best Production Design (Irene Gonzalez) and Best Director (Banaynal). Among the documentary category winners are "Generation Whuut" for Best Poster and "2nd Chance" for Best Playbill.
Sinulog irony
This year, the music video category reaped a winner that preaches of the irony during the Sinulog Festival celebrations. Taking home P30,000 is Frenyx Tarongoy for his music video on the song "Love of a Child."
Tarongoy depicted the contrasts between the lives of Cebuanos during the festival. Taking children as an example, how there are kids who get what they want and still cry about certain things, while there are other kids who don't get as much but are fine with it.
In second place for Best Music Video and winning P20,000 is Roldan Ardines' "Gugma Lang ang Tubag," while Aldo Banaynal's "Balaang Sto. Nino, Ang Giya Ko" won P10,000 for landing third.
"Sinulog Oh Sinulog" won Best Poster, Best Playbill and Best Packaging.