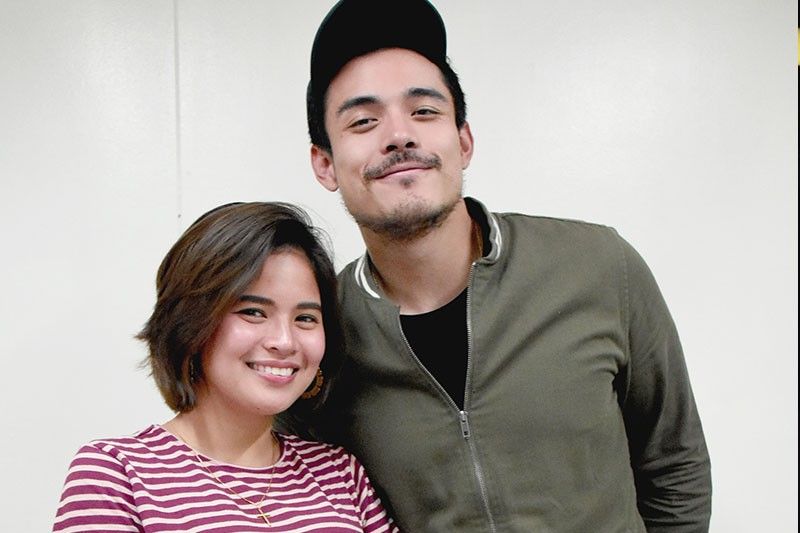 Louise delos Reyes and Xian Lim
Paul Jun Rosaroso
Xian, Louise on imperfect love and holding on
Karla Rule
(The Freeman) - January 30, 2019 - 12:00am
CEBU, Philippines — As February rolls in, so does a number of romantic films. Louise delos Reyes and Xian Lim's Valentine's season offering stands out from the crop as it shows what imperfect love looks like in "Hanggang Kailan."
Written by Onay Sales, "Hanggang Kailan" is a trip to angstville with the story circling in on Donnie and Kath, a couple going steady for two years. On a trip to Japan to celebrate their second anniversary, Donnie and Kath seem to enjoy each other's company until Kath hears Donnie mouthing "I love you" to someone else on the phone.
Instead of hoping for more years together, the two decide to break up. As their trip winds down, Kath and Donnie decide to make the most of it despite the looming fallout, uncertain how to say goodbye. With a trip that feels like a breakup vacation, the two go about their last two days together before, perhaps, letting go of each other for good.
Directed by Bona Fajardo, the film is Xian and Louise's first time working together, which proved to be a bit of challenge on the first few days.
In an interview following a mall show Sunday afternoon, Jan. 27, at the SM City Cebu Activity Center, the stars admitted that it took a while to get the ball rolling.
"Hindi talaga matatanggal ang kaba. We're shooting outside the country and hindi namin kilala ang isa't-isa. Towards the end naman, when we got into our character, it sort of just worked out and we're excited," Xian quipped.
About 80 percent of the film is set in Saga, Japan. Louise shared that on their first day, they had to do one of the heaviest and emotionally-charged scenes right off the bat.
"We're supposed to show sa big screen kung ano yung two-year relationship... And I think we pulled it off," she said.
In the trailer, Xian and Louise are seen in an intimate scene. Although they weren't able to bond prior to filming, the two say that trust was key to making it work.
"It's not really a big thing for us kasi part talaga siya ng story. We trusted the director, the script, and each other and it went okay," Louise said, with Xian echoing her sentiments that intimate scenes are awkward and challenging because even regular scenes take a lot of work.
Love entails risks
Xian's Donnie appears to be a cheeky, loving boyfriend to Louise's career-driven Kath.
"Si Donnie dito, nagmamahal siya ng tapat. He represents most guys na misunderstood," he said. "Most guys are misunderstood. Ang nagagawang kasalanan lang ng kalalakihan ay magmahal ng lubos. I think yun yung similarities ko at ni Donnie – lubusan magmahal."
Louise said that Kath's character was able to discover a lot of things for herself throughout the relationship. There are times where Kath could have walked out and stopped herself from further hurt, but because she holds out for better days, she stays. That hopefulness is something Louise identifies with.
"Nakaka-relate ako sa ganoon na sense. We're very hopeful – baka naman kasi after nito maging okay, trial lang to...Ganoon si Kath and ganoon din ako in real life."
Also shown in the trailer are Kath and Donnie wondering how long they're willing to hold out and work for the relationship. Asked if they've been in the same scenario, Louise replied: "Feeling ko palagi. Siguro from the last [relationship] parang natanong ko sa sarili ko. In the first few months of dating, yung interest niya nasa sayo. From 100 na naging 70, 60, 50, hanggang naging komportable ka na na naging side ka lang. Nakakapagod siya eh."
Xian thinks that throughout the stages of a relationship, there will always be a time that questions like that get raised. What's important, he said, is accepting the fact that love entails risks.
"Kailangan i-accept na masakit magmahal talaga. You will have painful experiences but after all the pain and suffering, matututo ka rin. Maybe I have to leave some for myself. Magmahal ka ng buong-buo but at the back of your head you're going to be careful," Xian advised.
Both stars hope to make viewers think about their own experiences, the unique ways they love, how they hurt and how they deal with the circumstance. While a part of the plot is kept in the dark, Xian posed the question: "May karapatan ka bang magmahal kung mali na ang nararamdaman mo from the start?"
Louise, who loved how authentic Donnie and Kath's feelings are, was able to reflect on and learn a lot of things about herself.
"Na-process ko yung sarili ko. What if ganito ang situation, ano ang gagawin ko, paano ka magwo-work, ano ang mararamdaman mo, ano ang pwede mong gawin?" the actress said. "Sana marami sa manonood ang maka pick-up ng ganoon na lesson: How to love yourself and love each other imperfectly."
Produced by Viva Films and BluArt Productions, "Hanggang Kailan" opens in cinemas on Feb. 6.