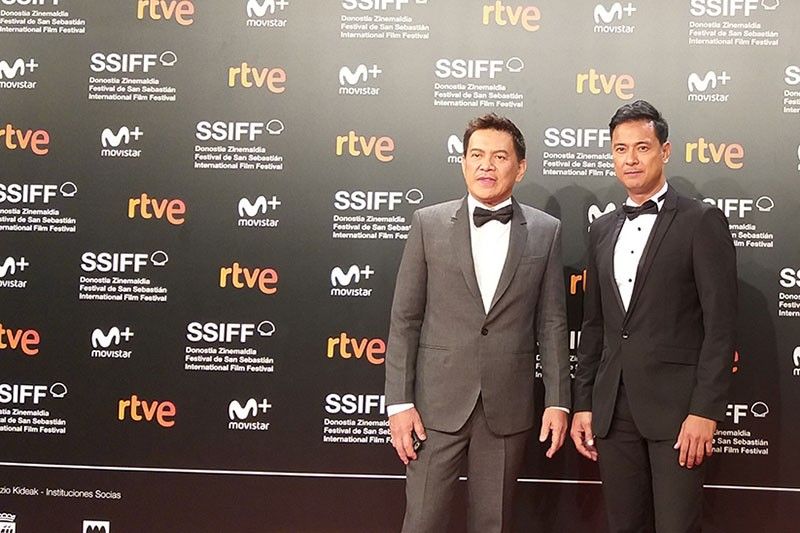 Director Brillante Mendoza and Allen Dizon
Film depicting war on drugs premieres today
Award-winning actor Allen Dizon is excited. His latest movie titled "Alpha: The Right to Kill," directed by Cannes Best Director awardee Brillante Mendoza, opens today in cinemas nationwide.
"I hope that viewers will come and watch the movie. And I hope that they will like it. We worked hard on this movie and made sure it's a good one. I am hoping that if they like the film, they will spread the word so that more people will be enticed to watch," Allen said.
"Alpha: The Right To Kill" had an invitational screening at the Director's Club Cinema 2 of the Podium Mall last Saturday which was attended by Allen and Direk Brillante, plus other directors and stars.
In the film, which won the Jury Prize at the San Sebastian Film Festival last year, Allen plays a bad cop --- his first time to do so. This was an offshoot to the character he played in the TV series "Amo" produced by TV5.
"I admit that during the first few days of shooting, I was having difficulty with my role. Direk Dante works without a script and he just explains the situation of the scene. It was hard because you don't know where the scene is coming from. Besides, he wants your acting to come out as natural as possible. But after a few days, I finally got the hang of it. I also like the film's fast pacing. There is no dull moment," Allen explained.
When "Alpha: The Right To Kill" premiered at the San Sebastian Film Festival, it was the first time for Allen to watch it.
"I was surprised at how the movie turned out. I was impressed, same with the audience who also watched it for the first time."
After the screening, he was asked if what was depicted in the film is really happening in the country.
"They were afraid but I told them if you are not bringing any drugs or you are not involved in the drug trade, there is no reason to be afraid to visit the Philippines."
The foreign press, according to Allen, marveled at the scene where they were chasing people on the roof. He was also asked if he is a popular actor.
"I told them I am not popular but I just do the kind of movies that I really want to do. I've been in the business for quite some time and I have been able to share beautiful stories thru the movies that I have done. And I got recognized for my acting. I am very thankful for that," said Allen.
Why should we watch "Alpha: The Right To Kill?"
"This is a very timely movie. The people should be made aware of the war on drugs. Of course, they need to watch the film because it is done by Direk Brillante Mendoza. It's an award-winning film, done with a different style."
* * *
After a successful and hilarious run last year, Kapuso comedic duo Boobay and Tekla remain unstoppable in spreading positive vibes and laughter to their loyal followers as their digital comedy program "The Boobay and Tekla Show" finally invades Filipino homes beginning January 27.
From short-form online capsules, the well-loved and highly popular comedy program now becomes a weekend show with a complete mix of entertainment viewers will enjoy. Every episode features celebrity guests, engaging in spontaneous and genuinely funny conversations with the hosts as well as segments where the hosts interact with everyday people.
Boobay is thankful to GMA-7 for recognizing his chemistry with Tekla as a comedy duo. He also thanked their fans who supported the online program.
For his part, Tekla is both happy and challenged with the task given them as hosts.
"Comedy is a serious business and we need to level up. From being online, we are now on mainstream TV. We are now on national television. The whole world is going to watch us so we promise to exert more effort to come up with a good show and bring fresh ideas to our viewers."
"The Boobay and Tekla Show" is under the helm of director Rico Gutierrez. It starts airing on Jan. 27 from 10:25 to 11:25 pm on GMA Sunday Grande.