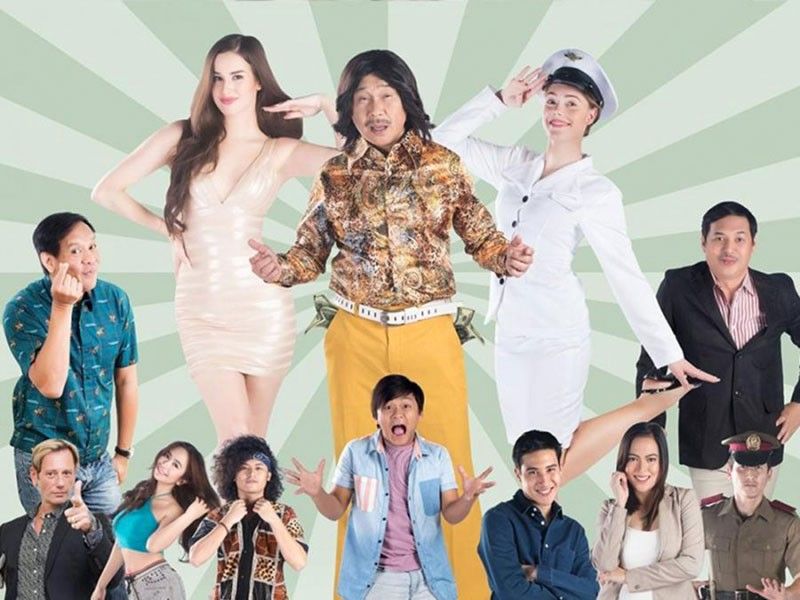 Jose Manalo, center, with his "Boy Tokwa: Lodi ng Gapo" castmates
In first solo starrer Jose Manalo plays real life Robin Hood of Olongapo
"Boy Tokwa: Lodi ng Gapo," the first solo starrer of Jose Manalo, opened in cinemas yesterday. The movie is produced by Senate President Tito Sotto under his VST Ventures Productions. This is based on the true story of Boy Tokwa, a well-known figure in Olongapo during the 60s.
At the movie's press conference last Sunday, Tito Sen said Jose was his first choice to play the role of Boy Tokwa since he resembles the character.
Former broadcaster Ms. Kitchie Benedicto-Paulino, who owns the rights to the story, agrees. Her husband Robert was the best friend of Boy Tokwa and it was his dream to make a film bio of his friend's life.
Boy Tokwa hails from Sampaloc, Manila but found himself in Olongapo in the 1960s. He was considered as the Robin Hood of Gapo. He was said to dupe American servicemen and whatever amount he gets, he would share to anyone in need. Even if sometimes he earns only a little, Boy Tokwa would not hesitate to lend money to whoever needs it. According to stories, he is a member of Bahala na Gang but he also befriended the OXO Gang and Sputnik Gang.
Tito Sen said Boy Tokwa's story is inspiring and this prompted him to produce it. Add to that the fact that Boy Tokwa is a popular figure in Olongapo. Watching his story on the big screen is also learning about Olongapo's colorful history.
Even if he is busy with his work as Senate President, Tito Sen said he has not forgotten his showbiz roots. He will always do something that will benefit the entertainment industry. He is currently working on a bill that will create a Film Council that will benefit all sectors of the entertainment industry, which he hopes to file when Congress opens its new session.
The "Eat Bulaga" pillar said that the choice of Jose to play the lead is just perfect. "Hindi ko akalain na magaling din si Jose sa drama. Kung nagagalingan kayo sa kanya sa comedy, aba, mahusay din pala siya sa drama," the senator said.
"Boy Tokwa" is directed by Tony Y. Reyes. Introduced in the movie is Mino Sotto, the senator's grandson. He plays the role of Boy Tokwa's grandson who will try to uncover the truth on why his Lolo is well-loved by the people of Olongapo.
Also in the cast of "Boy Tokwa" are Joey Marquez, Allan Paule, Buboy Villar, Karel Marquez and Gian Sotto.
***
Pambasang Bae Alden Richards made the members of the entertainment press very happy with the thanksgiving party he gave to thank them for their all-out support and love.
Not only was a sumptuous lunch was served at Concha's Garden (Morato branch, which is owned by the actor), there were also raffle prizes and freebies for all those who invited to the event.
We were fortunate to have been invited and what made it more special for us was we were able to grant the request of our five-year-old grandson Zach who is a big fan of Alden.
When "Victor Magtanggol" was still airing, our grandson would watch it every night without fail and when it ended, he would watch it on YouTube. So we thought of bringing him to Alden's thanksgiving party. The kid said he wish to have a picture with Alden, which was granted.
We would like to thank Alden and GMA Corp Com for granting the wish of our grandson to meet him personally and have a photo opportunity with him.
***
Before the nationwide release of "Born Beautiful" on January 23, there will be a special one-time-only screening of the uncensored version of the film to be held at the UP Cine Adarna (UP Diliman) on January 18, 7 p.m. Attending the event is Director Perci Intalan and the film's lead actor Martin del Rosario.
Produced by The IdeaFirst Company Inc., Cignal Entertainment and OctoberTrain Films, "Born Beautiful" also stars Kiko Matos, Akihiro Blanco, Chai Fonacier, Lou Veloso, with the special participation of Paolo Ballesteros.