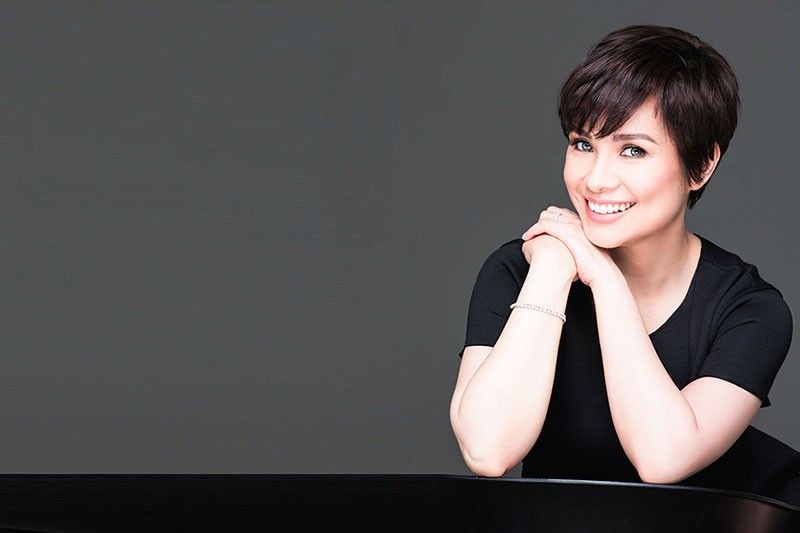 Lea Salonga sings 'Matud Nila' in folk album
Lea Salonga is proud to be part of "Bahaghari," a project of Curve Entertainment and GLP Music which aims to present the rich and colorful music of the Philippines to the world.
The album contains 15 beautiful traditional Filipino folk songs representing various regions from Tagalog, Ilocano and Kapampangan to Bicolano, Bisaya and Ilonggo.
Lea hopes the album will be able to help orient today's youth about our country's rich musical heritage and also help preserve and propagate the significance and beauty of this art.
The album was produced by National Artist for Music, Maestro Ryan Cayabyab. This is Maestro Ryan's third album with Lea and it is just as exciting compared to their earlier works together. "Bahaghari" features a diverse collection of songs in different languages and done by a diverse selection of arrangers as well. Lea had to adapt her vocal style to every song that she did for the album which has "Pamulinawen," "Atin Cu Pung Singsing" and "Matud Nila," among others.
The project was started when Lea met GLP Music founders Angela Jackson and Rex Niswander whose label introduces children to worthy languages and world cultures. "Bahaghari" is now available on Spotify, iTunes, Apple Music, Deezer and all digital platforms nationwide.
The physical CDs come with a special booklet containing musical notes written by Floy Quintos. It also has original lyrics with English translations which will be in stores on Dec. 17.
* * *
Dr. Eugenio "Boy" Abunda, Jr. or simply Boy Abunda to his showbiz colleagues, on Saturday (December 8), launched his new book titled "Nanay's Gay Boy" published by ABS-CBN Publishing at the Glorietta 1 Branch of National Book Store.
Said event was graced by some of his friends from the showbiz industry who read portions of the book during the program. They were Mark Bautista, Kylie Versoza, Jasmine Curtis Smith, Sky Quizon, Ms. Angel Aquino and RS Francisco.
Boy dedicates the book to his Nanay who is suffering from dementia. The book is a compendium of his two important speeches which he did – featuring his ideas, arguments and statements about the LGBT pride, and his special recollection and revelations as a son.
"Two things come to mind when my name is mentioned—that I am devoted to my mother and that I'm proudly gay," the "Tonight with Boy Abunda" host wrote in his recent book from ABS-CBN Publishing.
Inside its pages is the full commencement speech he delivered, addressed to his mother, when he served as speaker and doctorate graduate at the Philippine Women's University graduation exercises held at the Philippine International Convention Center in 2016.
"Nanay is the center of my universe. She is the beginning and the end of most of my decisions," Boy said. "Nanay, thank you for teaching me to value my core as it is my truth, for inculcating in me, that who I am is special. That my story is one that I can be proud of.
The multi-awarded TV host disclosed another inspiring rhetoric on "Why can't we have a gay president" in this new read.
Delivered at the TEXxADMU event in Resorts World Manila two years ago, the speech challenges "prejudicial, discriminatory and common cultural beliefs against gay people."
He said it is not indicated in the qualification to run for president that one has to be a straight man or woman. "One only needs to be a human being," he said.
While we already had two woman presidents in the Philippines, Boy hopes to see the day when a gay person stands up and say he'd like to be the first gay president.
"We have some of the most passionate, some of the most driven, some of the most brilliant, some of the most transformative leaders in the LGBT community. One of them is just waiting in the wings, waiting for his or her turn to be the next president of this country," said the famed TV host.
While he is not thinking of getting himself in politics, Boy said we ought to embrace the thought that in the future, a gay person might express his intention to become the president of the Philippines.
"Nanay's Gay Boy" is available at National Book Store and Powerbook branches for P395.
* * *
If you have time this holiday season, do try to catch a show of the terrific group The Company which had a very successful concert titled "Throwback" at the Solaire Hotel last Dec. 8.
The show's eight minute-long segment, which traced the evolution of pop music, was fun. It was a wonderful show to remember the hits from the 1950s till 2000. The Company had the crowd dancing by the show's end.