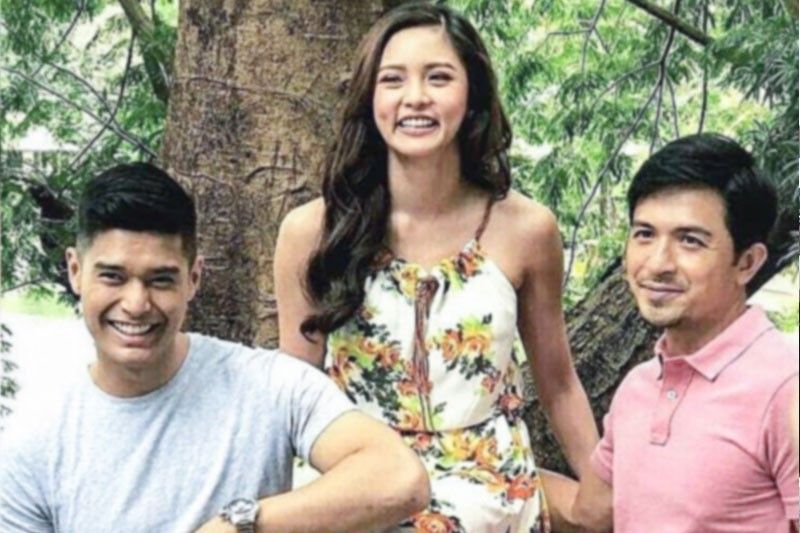 JC de Vera, Kim Chiu and Dennis Trillo
A mature Kim Chiu in 'One Great Love'
This holiday season, experience one inspiring love story with "One Great Love," Regal Entertainment, Inc.'s Christmas offering and an official entry to the 2018 Metro Manila Film Festival.
It is a dream come true project for Dennis Trillo and JC de Vera, who both wanted to work with Kim Chiu. "One Great Love" brings together three of the best actors of this generation.
The project is also a collaboration of artists from two different TV networks: Dennis, who is from GMA-7 and Kim and JC, who are both Kapamilya actors.
Director Eric Quizon considers it a joy to be working with Dennis, JC and Kim. He considers the three as genuine and professional actors. He admitted that Kim was nervous because it was her first time to do a love scene. But like a true professional, she still went on and did the intimate scenes.
"If an actor is sincere and is passionate about the craft, it doesn't become a challenge. It becomes easy not just for the director and staff, but to the actors involved. Of course, you hear Kim shriek after the scene because she is already anticipating what her fans will think!" said Direk Eric, who took pride in saying that the main actors leveled up as actors in this movie.
Direk Eric continued: "A more mature Kim showcasing her distinct acting prowess. A suave convincing JC who looks good in uniform, which I am certain women will all fall in love with. Dennis leaves a solid mark as a great dramatic actor with his minimalist performance. This is a different kind of love story with all the twists, kilig, hugot and puso."
Asked about the biggest challenge he had to face in the movie, Direk Eric replied, "The challenge for me is whether I will be able to finish the movie for submission to the MMFF screening. Moreover, the biggest pressure is whether I will be chosen as an official entry."
"One Great Love" opens in cinemas on December 25th. For more updates, follow Regal Entertainment Inc. on Facebook and YouTube, @RegalFilms on Twitter, @RegalFilms50 on Instagram.
* * *
"Can't Help Wond'ring Why" is the song of Mrs. Emmy and Maestro Ryan Cayabyab for a Singaporean artist a long time ago and was recorded by Dessa 22 years ago for her album "Gonna Make Your Day Tonight" which she wasn't able to promote because she had a baby named Khiana Noshka.
Twenty two years after, the song is revived and brought back to life by talent manager, multi-media producer and writer, broadcaster and educator turned recording artist Noel Ferrer in time for his 50th birthday.
"As the song title says, I myself can't help wondering why I had this urge to record. I was probably inspired by the success of the Pinoy Playlist Music Festival that Maestro Ryan Cayabyab, Moy Ortiz and I did with the BGC Arts Center Foundation last October that I told Mrs. C (Emmy) that I wanted to record her song," said Noel.
He has started to institutionalize two other annual activities this year: the Noel@Avellana which is a Christmas exhibit that runs from December 1 to January 6 at the Avellana Art Gallery and 2680 FB Harrison St. Pasay City (inside the Henry Hotel compound); and The First Noel free Christmas concert at the Arete, the newest posh theater at the Ateneo de Manila on Noel's actual birthday, December 11.
It will feature artists like Joanna Ampil, Arman Ferrer, Baihana, with the Ateneo Chamber Singers , Bukaspalad, Hangad, Dulaang Sibol with Gabe Mercado, Gel Basas, Atom Araullo, Iza Calzado, Jay Durias, Noel Cabangon, The Company and a lot more surprise guests.
Noel's version of "Can't Help Wond'ring Why" with Khiana Noshka and the Filipino version "Bakit Hindi" with Noel featuring Dessa translated by no less than National Artist for Literature Bienvenido Lumbera will be available and can be downloaded on Spotify, iTunes and other social media stores starting December 11.
* * *
Just a few more days and it will be Christmas, but this will not stop "Bubble Gang" from tickling your funny bones every Friday night.
Featured segments tonight in the country's longest-running gag show are Reklamo sa Taxi gags, Hapitot, Bato Bato Pik, Atlit, Sundo't Balita, Dream House, Americanized, Drug Sniffing Dog, Uncle Jak, Best Friend, and Hand Torture.