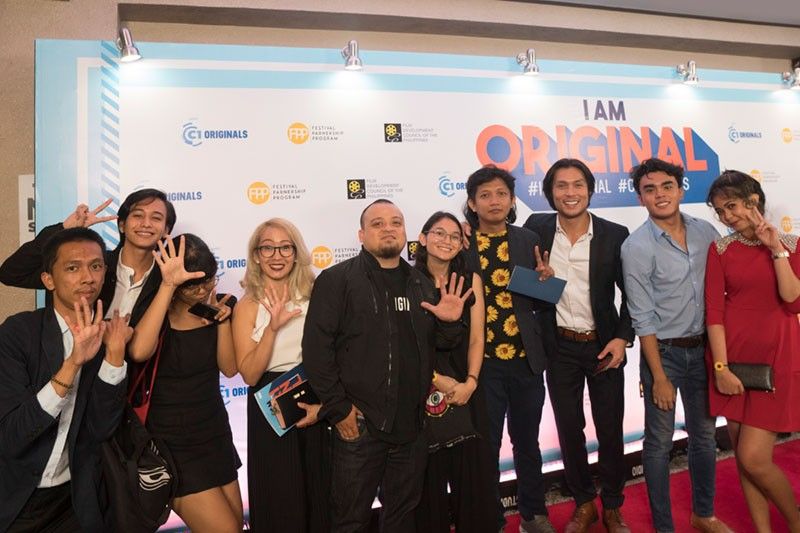 Production manager/assistant director John Eric Bico, production designer/actor Kent Divinagracia, editor Maria Estela Paiso, Marnie Peroja, actor Fel Younghusband, cinematographer Angeli Sarmiento, director/writer/actor Keith Deligero, actor Jay Gonzaga, actor Vitto Neri and actor Maricel Sombrio
Keith Deligero's 'tropical noir' is his love letter for Cebu
Karla Rule
(The Freeman) - November 7, 2018 - 12:00am
CEBU, Philippines — With the theme "I Am Original," this year's staging of Cinema One Originals saw some of the realest characters and stories yet. On its 14th year, the film festival continues to champion for originality and celebrates what it means to be human, flaws and all.
With nine entries from filmmakers and performers and their declaration and promise of being "flawsome," Cinema One Originals 2018 closed on October 21 during the I Am Original Awards Night at the Dolphy Theater inside the ABS-CBN compound. Among the victors were Bisaya-made film "A Short History of a Few Bad Things" directed by Cebuano filmmaker Keith Deligero.
Produced by Gale Osorio, the full-length feature film, which was also the only Cebuano film entry this year, was granted a Special Citation at the festival, for "imbuing the city of Cebu with the deep seriousness of film noir and the knowing levity of cool irony." The jury was made up of Mac C. Alejandre, John Badalu, Patrick F. Campos, Piolo Pascual and Rory B. Quintos.
Other winners include: animated musical feature "Paglisan" by Carl Papa which won Champion Bughaw, Best Picture and Best Sound (Jess Carlos), Best Music (Teresa Barrozo), and Best Screenplay (Carl Papa and Aica Ganhinhin); Whammy Alcazaren's purely iPhone-shot film "Never Tear Us Apart" won Jury Prize, Best Music (Erwin Romulo), Best Editing (Ilsa Malsi), Best Production Design (Thesa Tang), Best Cinematography (Sasha Palomares) and Best Director (Whammy Alcazaren); Rod Singh's "Mamu; and A Mother Too" won Audience Choice, and had Iyah Mina as the first transgender to win the Best Actress Award, while Arron Villaflor won Best Supporting Actor for his work on the film; Alwin Uytingco was hailed Best Actor for "Asuang," and Mary Joy Apostol Best Supporting Actress for "Hospicio"; Andrew Stephen Lee's "Manila Is Full of Men Named Boy" won Best Short Film, while University of the Philippines Diliman's entry "Para Kay Tatay" by Christlin Conanan won the One-Minute Student Film Competition.
Written by Paul Grant, "A Short History of a Few Bad Things" is set in Cebu City, where a troubled detective struggles to solve a series of grisly killings, while a deep conspiracy works to keep the truth just out of his reach. It stars Victor Neri as the brooding and glum detective Felix Tarooy, Jay Gonzaga as Tarooy's charming partner, Publio Briones III as Chief Ouano and Maricel Sombrio who portrays Gemma, the young wife of one of the victims.
Keith told The Freeman that they did not see the announcement of their citation coming. At that point, he was already moving out of the way so the winners who sat in the same row could pass.
"We were seated in the same row with Carl Papa of 'Paglisan' and they had been going to the stage making hakot-the-awards-like-that, so when it was time for the best picture set of awards, I was already moving my legs to make way for them because I had always been in the way," he recounted.
He didn't know what to do with himself but since the presenters called for him, he went up the stage alone when he should have brought the entire team with him.
"To our surprise they called an award that was not in the list of awards to be given, " said Keith.
The director shared how it took them a little over a month to do "Bad Things," as Deligero likes to call it. Filmed in Taytay, Rizal and in Cebu, the team faced a month of trials. He calls it a "finished-or-not-finished-pass-your-papers" kind of experience. The first time the people behind "Bad Things" saw the film played back in real time was on premiere night itself.
"I and everyone in the team all had 'first times' in the film and we did it in just a month. It was tough but we were tougher which made the whole experience important and memorable," said Deligero, who has joined the festival three times now.
Despite the meaningful experience, Deligero admitted that it was frustrating to turn in an almost "unfinished film."
"I knew that we were capable of making a better picture if we had more time, but I guess if everyone did get the time all the other films will also be 'Better, Faster, Stronger.' So yeah I'm very grateful to the team for giving the film all their love and energy. Despite the limitations, our film still connected with the audience. People still loved it and kept talking about it even until the festival was over. So there really must be 'something good' with 'bad things.' In behalf of the cast and crew, I thank the jury for giving our little film some love," Deligero said.
Asked if he feels a certain pressure after winning Best Director in the 2016 edition of Cinema One Originals, Deligero said that all he ever wanted to do was make films regardless of awards. But when he won Best Director for "Lily" (which also won Best Editing, Best Actor for Rocky Salumbides and Best Supporting Actress for Natileigh Sitoy) admitted that the trophy (even though it was a dummy), felt really good in his hands. Since then, for his following films "Baybylon" (which competed in Berlin at the Berlinale International Film Festival) and "Bad Things," Deligero mused that it wouldn't be so bad to have your cake and eat it too.
"When I started making films, I always say that I never make films for recognition, that I would just want to tell stories from my perspective and all that cliché. Awards always open opportunities to make more films and that is what I'm here for in the first place, to make films," he said.
While "Bad Things" is a cop comedy/drama that shows how the cops find one dead end after the other as they purse together a string of murder cases, Deligero said that his films are based on what he sees and hears in real life. He mixes them with elements that he sees in movies. For "Bad Things," Deligero quipped that perhaps, by default or at least subconsciously, "Bad Things" may reflect the local police force but he's pretty certain that a lot of the film is "based on western cop movie clichés bastardized in our local setting."
For him, "Bad Things" mirrors his mixed feelings for Cebu, and likens the film that he describes as "tropical noir" to a love letter for Cebu.
"I think it's about my love-and-hate relationship with Cebu. No matter how I love it or no matter how I hate it, I keep going back, because it is home. And no matter where my films will go in the Philippines or in the world, the audience must know that it is a [expletive] Cebuano film," Deligero declared.
While he feels he's not much of a storyteller in real life, Deligero said that cinema allows him to make "storbot" (storyang botbot). He'll pretty much want to make a film with any story that comes his way. Deligero, who wants to make a Cebuano-inflicted Tagalog mainstream movie someday, says that while Cebu-made and Bisaya films have gained traction and recognition from all over the country, it shouldn't rest on its laurels. That is, if we want Cebuano cinema to flourish.
"I think what makes Cebuano films stand out is because cinema in Cebu is still fresh and very diverse. It is as diverse as su-tu-kil and you eat it directly from the catch," Deligero said.
"We need to keep telling people that Cebuano cinema exists and it is as good if not maybe even better than every other cinema in the world. Cebuano Cinema is also Philippine Cinema."