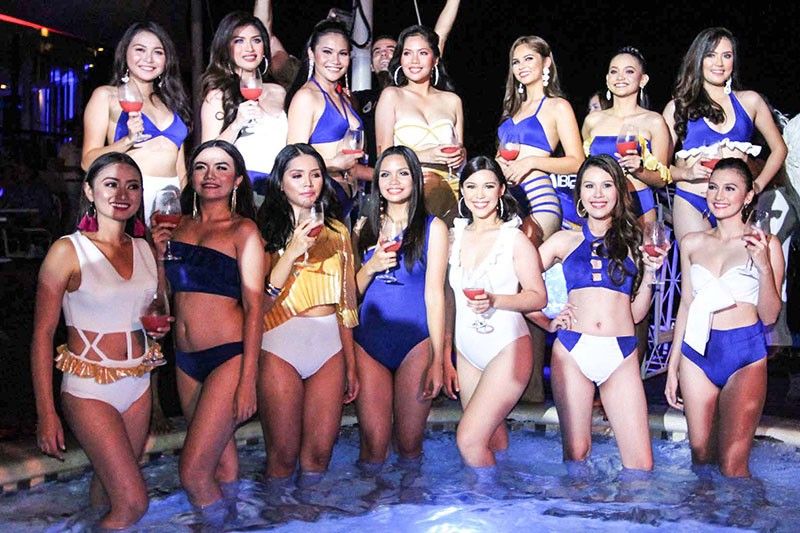 The 14 candidates of Miss Lapu-Lapu 2018 showed off their physiques during the Swimsuit Presentation at the Ibiza Beach Club of Movenpick Hotel Mactan Island Cebu held Saturday, November 3.
Joy Torrejos
Miss Lapu-Lapu 2018 begins pre-pageant events with Swimsuit Presentation
Karla Rule
(The Freeman) - November 5, 2018 - 12:00am
CEBU, Philippines — The Miss Lapu-Lapu 2018 competition is heating up with its first pre-pageant event: the Swimsuit Presentation held Saturday night, Nov.3, at the Ibiza Beach Club inside Mövenpick Hotel Mactan Island Cebu
After Ibo bet Shaznay Corres (a Binibining Cebu 2018 Top 25 finalist representing San Remigio) withdrew from the pageant to focus on her studies, the remaining 14 candidates – Kristine Jane C. Catruciano of Punta Engaño; Dianna Clouie Nava Degollacion of Calawisan; Trexie Ann C. Bate of Agus; Claudine I. Malolot of Pajo; Mary Jholeen O. Panugalinog of Basak; Sheerah Abigial Ybañez of Basak; Lyre Lyka M. Panis of Babag 1; Jennifer Galdiano Ebner of Basak; Cyvelshen Khesley Babatid of Basak; Mercy Danica N. Barluado of Basak; Kristy Anne Ramirez Degamo of Kinalumsan; Maria Ysbel Cabido of Agus; Chloe Boton Boone of Maribago; and Jonalaine A. Barcenas of Pusok – gave the crowd a glimpse of their playfulness and bubbly side.
Clad in swimwear creations by young designers Alexa Venice Rosas, Fresha Belara and Ericka Subingsubing, the Swimsuit Presentation saw the Miss Lapu-Lapu 2018 hopefuls in one of their first social appearances since the presentation of candidates last month.
More like a celebration than a competition, the candidates capped off the night by the jacuzzi, each with an Ibiza frosé in hand, clinking each other's glasses in a toast after walking down the winding Ibiza Beach Club path.
Project director and committee head Atty. Ethelbert Ouano of the Lapu-Lapu City Legal Office, who made sure that the swimwear would be age and event appropriate, said that the evening's affair was more of a practice run for the ladies.
"There would be another set of swimwear. This is non-bearing. More like some sort of practice for the girls so they know how to present their swimwear," Ouano explained.
He added that the official Miss Lapu-Lapu 2018 swimwear is designed by Dexter Alazas and is inspired by the Lapu-Lapu City branding which bears the colors sky blue, golden yellow, persimmon orange and forest green.
Ouano further said that other pre-pageants activities – like the extensive personality development and modeling training on Nov. 6 at the Shangri-la's Mactan Resort and Spa, Talent Competition on Nov. 10 at the Gaisano Grand Mall and opening of the Lapu-Lapu City Tourism Expo at the Gaisano Convention Center on Nov. 15, among other events – has no bearing as to who gets the coveted crown come coronation night.
But that doesn't mean that the girls' work hadn't been cut out for them. In fact, the competition will be introducing a new award on top of other special awards like the Best in Talent. This year, one Miss Lapu-Lapu 2018 candidate will be named Miss Responsibility as a way of recognizing the most professional among this year's batch of aspiring queens.
"This has something to do with how the girls cooperate with regards to their timeliness and reheasrsals. Basta wala'y sakit sa ulo," Ouano said of the award which will become a motivation for the candidates to do well.
"We put merit on that because that [responsibility] is a very big factor to success. So we want to instill values among the girls to encourage them to be responsible."
On pageant night, which will be directed by Marti Ybañez, the 14 candidates will be starting on equal footing since none of the pre-pageant events were meant to fast-track candidates for a semi-finalist spot. The ladies will show off their colorful and extravagant festival wear, also known as the Rampada Wear. They will also be revealing their Dexter Alazas-designed swimwear. During their casual interview, the candidates will be clad in their urban resort wear, which was included to show people what to wear during events and parties that are growing by the number along the shores of Lapu-Lapu City.
Five local designers have been tapped for the Evening Gown Competition, which will see an award for the best designer of the evening. From the 14, only five will move forward to take part in the Q&A, the last hurdle on the way to the Miss Lapu-Lapu 2018 crown.
"As much as possible, we utilized all the artistry and the artists found in Lapu-Lapu City," said Ouano, who co-chairs the competition alongside Dr. Ronal Ferrerof the Department of Education Lapu-Lapu City Division.
In search for a fitting Oponganon woman of dignity, character, and integrity, the Miss Lapu-Lapu 2018 coronation night will be held on November 20 at the Hoops Dome with the theme "Beautiful. Colorful." as part of the events for the fiesta celebration of Nuestra Señora de Regla.