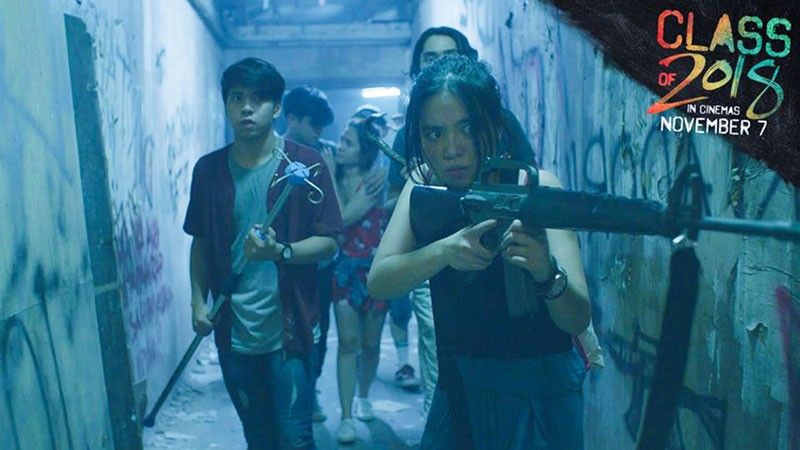 Nash Aguas and Sharlene San Pedro in a scene from "Class of 2018"
'Goin' Bulilit' tandem launched in action-horror film
Cinema One Originals just made history! Transgender woman Iyah Mina was named Best Actress for "Mamu; And A Mother Too," the film entry of Rod Singh, at Sunday night's award ceremonies.
The transgender was momentarily speechless on the surprise win. Iyah played a transgender worker who became a surrogate mother to her transgender niece. "Babae ako," she exclaimed while receiving her award, which she dedicated to the LGBT community.
Alwin Uytingco bagged the Best Actor trophy for "Asuang," a comedy-fantasy film directed by Raynier Brizuela. The newly-minted Best Actor dedicated his award to wife Jennica Garcia and their two children.
Newbie actress Mary Joy Apostol won the Best Supporting Award for "Hospicio" while Arron Villaflor was voted Best Supporting Actor for "Mamu; And A Mother Too" where he played the boyfriend of Iyah's character.
Arron was thankful to have booked a flight back to Manila from Siargao. He would have wanted to extend his vacation but changed his mind when a flight became available. Otherwise, he would have missed the chance to accept his award.
Winning Best Picture was "Paglisan," an animated musical drama about an actor suffering from the early onset of dementia and his wife whose unhappiness has become its own affliction too.
"Paglisan" also picked up awards for Best Sound (Jess Carlos), Best Musical Score (Teresa Barrozo) and Best Screenplay (Carl Papa and Aica Ganhinhin).
Also a big winner is "Never Tear Us Apart," a family drama which tells the story of a woman who bathes herself in radio waves, strange creatures, haunting museums and over-the-hill spy-hunting a mysterious shadow.
Aside from winning the Best Director award for Whammy Alcarazen, it also got nods for Best Editing (Ilsa Malsi), Best Production Design (Thesa Tang), Best Cinematography (Sasha Palomares) and Special Jury Prize.
***
Former child actor Nash Aguas is very thankful for the trust given him by T-Rex Entertainment and director Charliebebs Gohetia to play the lead role in the horror film "Class of 2018" opposite former fellow child actress Sharlene San Pedro.
Their tandem was first introduced in the kiddie show "Goin' Bulilit" and we practically saw Nash and Sharlene grow up before our eyes. Their fans and supporters who loved them in the kiddie show had a clamor to see them appear together in a film as adults.
Wanting to capitalize on that clamor, Direk Charliebebs offered Nash and Sharlene the plum roles in "Class of 2018" as their launching flick. But what makes this offering unique is that it's some sort of experiment. Instead of launching the tandem of Nash and Sharlene in a rom-com, what they did is an action-horror flick.
Even if they are being launched in a horror film, Nash believes it's a cool idea. "Aside from horror, there is also action, drama, comedy and love story rolled into one," said Nash who got very good reviews playing the troubled teenager in "The Good Son."
He admits feeling the pressure that they are the lead actors in "Class of 2018" but they are hoping and praying hard that the movie will make money at the box-office. After all, being given a launching film doesn't come too often.
This also marks the first that Nash, same with Sharlene, is doing an action with a lot of fight scenes. "We both want to try action but we didn't imagine it would be that hard. But it's fun," he said.
There was one scene that Nash was hit on the face while executing a fight routine. "Pag nandun ka sa eksena, hindi mo mapapansin na tinamaan ka pala. Later mo na lang ito mararamdaman pag masakit na," related Nash with a laugh.
"Class of 2018" opens in cinemas nationwide on November 7.
***
Quezon City Vice-Mayor Joy Belmonte, GMA Network, Inc. chairman Atty. Felipe Gozon and Congressman Neri Colmenares assisted Kamuning Bakery Café owner Wilson Lee Flores in giving out 70,000 packs of pandesal, cheese, sardines and noodles during the celebration of the 4th "World Pandesal Day" on October 16.
Even if Kamuning Bakery Café was destroyed by a fire last February 6, Wilson, his staff and bakers believed the famed bakery will rise from the ashes.
Last Oct. 12, on the celebration of the 79th anniversary of Quezon City at Crowne Plaza Galleria Hotel, the city government, led byMayor Herbert Bautista, Vice-Mayor Joy Belmonte and Majority Floor Leader Franz Pumaren gave Wilson the "Manuel L. Quezon Gawad Parangal Award" for being one of Quezon City's most outstanding citizens.
Even if the bakery was burned down, Wilson and his staff continued baking pandesal and other breads as he doesn't want his bakers to lose their jobs. Isn't that admirable?