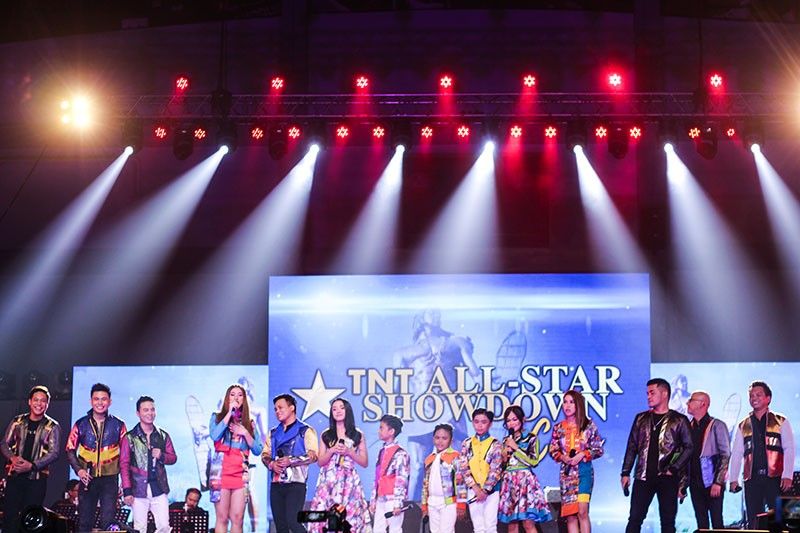 The TNT stars during their Cebu concert at the Hoops Dome of Lapu-Lapu City
Bisaya music highlighted in 'TNT All-Star Showdown Cebu'
Karla Rule
(The Freeman) - September 25, 2018 - 12:00am
CEBU, Philippines — A plethora of talents discovered by the "Tawag Ng Tanghalan" singing competition gathered Friday at the Hoops Dome of Lapu-Lapu City to bring the "TNT All-Star Showdown" to Cebu.
Coming home were Cebuana singers – Janine Berdin (TNT Season 2 Grand Champion), Marielle Montellano (TNT Season 1 finalist), and Sheena Belarmino (TNT Kids and "Your Face Sounds Familiar Kids" finalist) – who won the hearts of many when they represented Cebu in "It's Showtime's" Tawag ng Tanghalan contest. Sharing the stage with other TNT stars such as Noven Belleza, Steven Paysu, Ato Arman, Anton Antenocruz, Eumee, Froilan Canlas, Reggie Tortugo, and Arabella Dela Cruz, Janine was true to her word when she said that everyone was given the time to shine during the four-hour concert.
The show followed the group's sold-out concert at the Araneta Coliseum.
"It's a different kind of concert. It's a celebration of the diversity in the talents that were discovered through 'TNT'. The production is unique. We're [TNT Talents] all equal here. I love the opening and closing because it's all of us together," Janine said.
Indeed it was. The opening featured the singers' rendition of "We Built This City." The Cebuana trio shared how the opening was their favorite because as Sheena puts it, she feels the happiness and impact, saying that they're "really happy together as a family."
For the Cebu show, the production made sure to include Bisaya music in their repertoire. Among the performers for the Cebu leg of the "TNT All-Star Showdown" was Eumee, who did "Bang Bang," "Bratatat," "Grabe Grabe" and "Nadarang" by Shanti Dope. Ato Arman and Aila Santos performed folk rock songs like "Anak" and Aegis' "Dukha." Comical threesome Hazelyn Cascano, Lucky Robles, at Alfred Relatado, collectively known as Hala also performed.
Reggie Tortugo showcased his version of hit Bisaya song "HaHaHaHasula" and Bruno Mars' "Versace On The Floor." Sheena Belarmino showed off her moves when she sang Karencitta's "Cebuana," performing a heartfelt version of "Stone Cold" afterwards and dedicating it to the victims of the recent Naga landslide. Arabella Dela Cruz performed Dua Lipa hits like "IDGAF" and "New Rules," and afterwards did a duet of "Tell Him" with Marielle Montellano.
Marielle performed her latest single "Talaga Ba" and her beloved version of "Himala." She also shared the stage with Keifer Sanchez, Mackie Empuerto and Francis Concepcion of the TNT Boys and performed "A Million Dreams" from the Hollywood film "The Greatest Showman" together. The boys, who sang "Flashlight," "Listen," "I Will Always Love You" also did a showdown with the TNT Divas, taking turns singing "Lady Marmalade."
The highlights continued as Anton Antonecruz and Mark Michael Garcia perform Sam Smith tracks including "Lay Me Down" and "Too Good At Goodbyes," respectively. Sofronio Vasquez, Christian Bahaya, and JM Bales of Cove also did a cover of Von Saw's "Sa Akong Heart." Online sensation Sam Mangubat, who just wrapped up his first solo concert, did "Ikot Ikot" and "Kilometro." Steven Paysu regaled the crowd with his version of "Got To Believe," "Somewhere Down The Road" and "I Will Be There."
Froilan Canlas brought his Japanese koto and performed Up Dharma Down's "Tadhana" with it.
TNT champions Noven Belleza from Season 1 and Janine Berdin were among the last to perform, with Noven singing "Since I Found You" among many other tracks.
Janine entered the venue on a throne-like couch carried by dancers across the dome. The 16-year-old Lapu-Lapu City native performed her beloved covers of "Narda" and "Banal Na Aso Santong Kabayo." She also brought her good old ukulele and performed the Vispop song "Balay Ni Mayang," expressing how much she missed Cebu.
Apart from the celebration of talent, the "TNT All-Star Showdown" in Cebu was also a thanksgiving performance as talents repeatedly expressed their gratitude to their supporters for their endless encouragement.
Before the concert ended with a Bisaya version of Yeng Constantino's "Hawak Kamay," Janine thanked the people who came through for the show.
"Mactan, Lapu-Lapu City, tibuok Cebu!" she called, stifling tears. "Sa tanang tao nga niuban sa akong journey sa TNT, naa mi diri karon tungod kaninyo!"