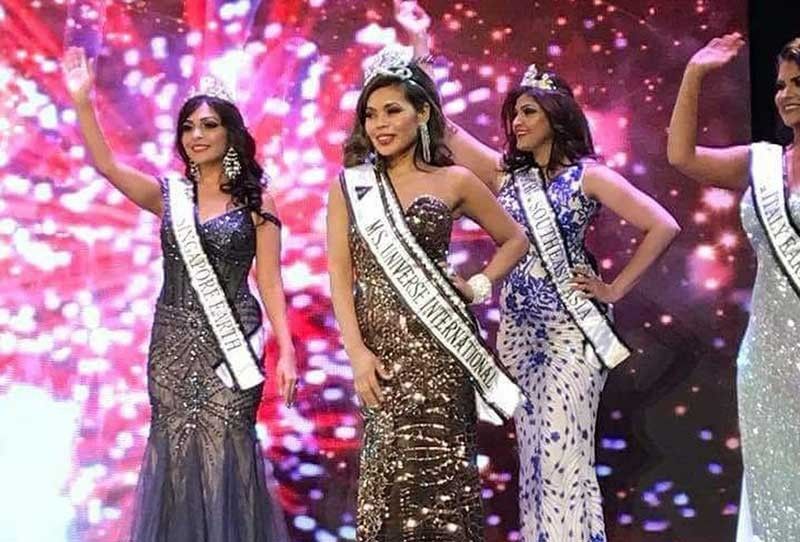 Pinay crowned Mrs. Universe-International
Underground hip hop film "Respeto" bested all films at the 41st Gawad Urian with four wins, including Best Actor for rapper Abra in its awards night held last Thursday (June 14) at the ABS-CBN Vertis Tent in Quezon City.
Abra, who garnered his first lead acting award, thanked the music community for joining him in the film. "This would not be complete if not for my family from the hip hop community," he said.
"Respeto" also earned Best Supporting Actor for Dido de la Paz, Best Editing for Lawrence Ang, and Best Sound for Corrine de San Jose.
The Best Picture award went to "Balangiga: Howling Wilderness," the wartime drama set in 1901 featuring a child who flees town with his grandfather to escape a burn and kill order, produced by Achinette Villamor, Edong Canlas, and Khavn.
The musical "Ang Larawan" earned Best Production Design for Gino Gonzales and Best Actress for Joanna Ampil, while Odette Khan of "Bar Boys" won Best Supporting Actress.
Arnel Barbarona of "Tu Pug Imatuy," who was hailed as Best Director, dedicated the award to the Lumads of Mindanao. "Their struggles are very much our struggles. If they lose their lands, we lose our identity," he said in his acceptance speech.
This year's Urian awards night highlighted original Filipino music (OPM) featuring songs from the films "Ang Larawan" performed by Rachel Alejandro and Joanna, "Changing Partners" sang by Klarisse de Guzman and Sandino Martin, and "Respeto" staged by Abra and Loonie. Darren Espanto, Jason Dy, and Janine Berdin also opened the show with an exciting OPM performance.
The Natatanging Gawad Urian award went to musician Winston Raval of Vanishing Tribe, a musical director, composer, and arranger who scored music for over 20 movies in four decades, including "Himala."
"Kita Kita" stars Empoy Marquez and Alessandra de Rossi hosted the show with Butch Francisco, a member of the Manunuri ng Pelikulang Pilipino.
The winners were chosen by the Manunuri composed of reputable pillars in Philippine cinema led by its president Rolando Tolentino together with members Butch, Grace Javier Alfonso, Bienvenido Lumbera, Miguel Rapatan, Benilda Santos, Dr. Nicanor Tiongson, Tito Genova Valiente, Patrick Campos, Shirley Lua, and Gary Devilles.
***
The Mrs. Universe-International 2018 winner is a Pinoy!
Faye Tangonan, a native of Claveria, Cagayan bagged the Mrs. Universe-International 2018 title at the recently concluded Mrs. Earth International pageant held at the South Point Hotel, Casino and Spa in Las Vegas, Nevada.
The 38-year-old is a businesswoman, a humanitarian, an Ilocano recording artist, a wife and a mother of two who is based in Kauai, Hawaii. While hers is one life being beautifully and wisely lived through these bewildering times, one is even more impressed to know that her attractive looks is coupled with a perceptive mind and a pure good heart.
Born on September 10, 1979 in Claveria, Cagayan, Faye is the daughter of retired Regional Trial Court judge, Eugenio Tangonan, Jr. and was raised by a simple mother who chose to stay behind his husband and who took care of Faye and her siblings.
She took up Bachelor of Science in Hotel & Restaurant Management and graduated with honors at St. Paul College Quezon City. Presently, she is a Realtor at Kauai Realty Inc. and the CEO of Lakay Lakay Beach Resort.
With her natural beauty and God-given wit, Faye was selected Mrs. Hawaii Filipina 2017, Mrs. Earth International-Philippines 2018 and an awardee as one of the Outstanding Women of the Philippines 2018. The founder and president of Claverianos Association of Kauai, Faye will also be awarded as Woman of the Year on August 2018 by Gawad Amerika.
Her community involvement is also very active. She is the Ambassador of Goodwill for the Filipino Community of the State of Hawaii, an Executive Officer of Kauai Community Council, a Board Member of the Filipino Women's Club, the Coordinator of the Loaves and Fishes of St. Michael's Church, the Youth and Children Advocate for the Indigenous People of Cagayan, an Executive Member of the Voice Philippines (Ilocano singers) and the Founder of Judge Eugenio Tangonan Charitable Foundation for his father's living legacy.
As a willed and empowered woman, Faye believes that not all of us can do great things but we can still do even small things with great passion. Another good thing about this beauty and brain lady is that she believes in giving back to the community through volunteering and being an advocate. Faye has platforms that she's extremely passionate about but the one closest to her heart is helping less fortunate children who deserve a home, basic necessities and education.
She also uses her talent in singing to encourage and empower others to pursue their singing dreams. More than anything else, Faye values all the things she has learned in life. From pressures up to the easy things, she is a tough woman who could battle any challenge that may come her way.