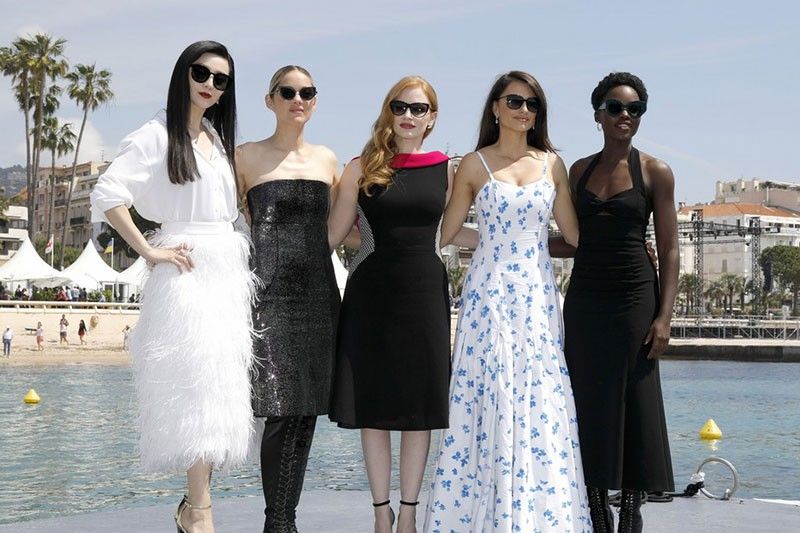 Actresses Fan Bingbing, from left, Marion Cotillard, Jessica Chastain, Penelope Cruz and Lupita Nyong'o pose for photographers during a photo call for the film "355" at the 71st international film festival, Cannes, southern France.
Cannes: Female-led spy film sells to Universal
(Associated Press) - May 15, 2018 - 12:00am
In one of the biggest sales of the Cannes Film Festival, Universal Pictures has acquired the female-led spy thriller "355," which Jessica Chastain has promoted as an antidote to male-centered action films.
Universal on Saturday closed the sale of the highly touted project. Earlier this week, Chastain and co-stars Penelope Cruz, Marion Cotillard, Lupita Nyong'o and Fan Bingbing posed for photographers and pitched the film to potential buyers.
Simon Kinberg, director of the upcoming X-Men film "Dark Phoenix," in which Chastain co-stars, is slated to direct the film. With an approximate budget of $75 million, "355" – a James Bond-like spy thriller with franchise aspirations – was one of the highest-profile projects up for sale in Cannes, the world's largest film market.
At last year's Cannes Film Festival, Chastain noticed the paucity of female-led action films at the movie marketplace. This year, she brought a corrective.
Cruz called Chastain "Santa Claus" for assembling the film, which she called "very emotional to be part of."