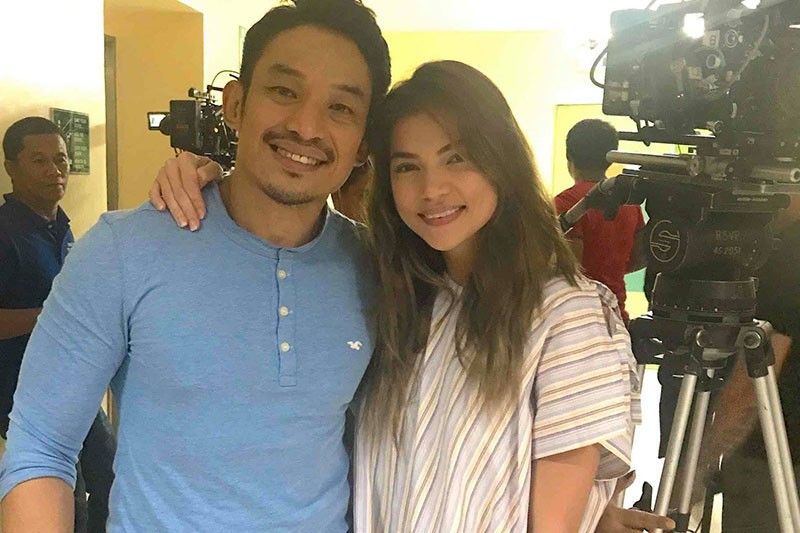 Director Vincent Soberano and Rhian Ramos
Pinoy action film inks Chinese distribution deal
From the onset, writer-director-actor and former Filipino Muay Thai World Champion Vincent Soberano's vision was clear-eyed. He aimed to make action movies alive and acceptable again, not just for local audiences but to international viewers as well.
Soberano knew how to go about it: combine meticulously choreographed action sequences with topnotch production values and at the very heart of it, a journey in humanity.
With the upcoming film "The Trigonal," Soberano is set to realize his long-held dream. The film has caught the attention of Real Pictures Entertainment, a Chinese production company with a distribution arm. Following the film's limited premiere in Beijing last March 14, a distribution deal has been sealed and "The Trigonal" is poised to be shown all throughout China.
"Several Hollywood and Chinese film industry executives were impressed with how the film looked 'so expensive' and 'international' and not the stigmatized expectations from a Filipino film. They loved the diverse and unique action choreography and cinematography. They especially loved how the Chinese characters in the story are pivotal to the success of the main character and his journey," shares Soberano.
The film has also been slated for a World Premiere at the Cannes Marche du Film on May 12. Following that, Viva Films has taken on the film for its Philippine release on July 18, and subsequently for TV broadcasting rights. Talks are underway for a United States release in August this year as well.
"The Trigonal" is about Jacob Casa, a Fil-Am martial arts champion who returns to his hometown and opens an MMA (Mixed Martial Arts) school with his childhood friend. He is obsessed about the fight game, finding it hard to turn down any chance to engage in professional competition.
All the while, he is deeply in love with his Fil-Am wife Annie.
Complicating matters is when Jacob starts to consider taking on an underground fight. His wife and unborn child become collateral in a ruthless drug lord's lunatic ambitions.
For the lead roles of Jacob and Annie, Soberano handpicked theater-trained actor Ian Ignacio and Kapuso actress Rhian Ramos. "I wanted an actor who looked entirely Filipino, not mestizo or half-breed to play Jacob. He should also be as great an actor as he is a martial artist," says the director.
Ignacio – a black belt in Taekwondo, the protégé of Taekwondo legend Monsour del Rosario and the son of Karate master Levi Ignacio – fit the bill.
Soberano also didn't have a hard time choosing Rhian to play the wife Annie. "Rhian perfectly fit the role of Annie because of her mixed heritage (Rhian is Filipino-British), genuine fluency of the English language, and athleticism. Beyond that, I was quite impressed with her acting skills," Soberano adds.
Soberano, a seasoned theater actor himself and the founder/creative director of the San Diego Asian American Repertory Theater (SDAART) in California, points out the importance of standout acting especially in an action film.
"The action has to tell a story and a good actor can intensify or downplay the action depending on their portrayal of it," says Soberano.
"Fight porn is what I call fighting just for the sake of fighting. I don't like that. There has to be a story behind every action, every kick, every punch."
The amazing feat of "The Trigonal" is proof once more of how talented and of international caliber Filipino filmmakers are.
"I wanted to make a movie that combines a love story with a thriller, some comedy, and a whole lot of mixed martial arts action never before seen on screen. The movie abounds with symbolism. The Trigonal (a term coined and trademarked by Soberano himself) refers to an underground fighting arena shaped like a triangle. It also represents the films' three principal characters and three subplots. The triangle in itself is a symbol of mixed martial arts."
What the multi-hyphenate Soberano has set out to accomplish has to date garnered a lot of attention in China. Significantly, Soberano has been signed to direct two big-budget action films this year by Origin Pictures Beijing and its Korean partner, East Dreams. This is the first time in history that a Filipino director has been at the helm of a major film in mainland China.
***
Christian Bautista is known as a singer, not an actor, so we can just imagine what could be his experience appearing in a gag show like "Bubble Gang." He is the featured guest in tonight's episode.
Featured segments in the long-running gag show are Di Ko Trabaho Yan gags, Hapitot, Basa Basa Pik, Atlit, Pre Nup, Mukhang Mahirap, Balitang Ina, ESPO1, Laging Nauunahan, and Malubhang Ubo. Michael V is the show's creative director.