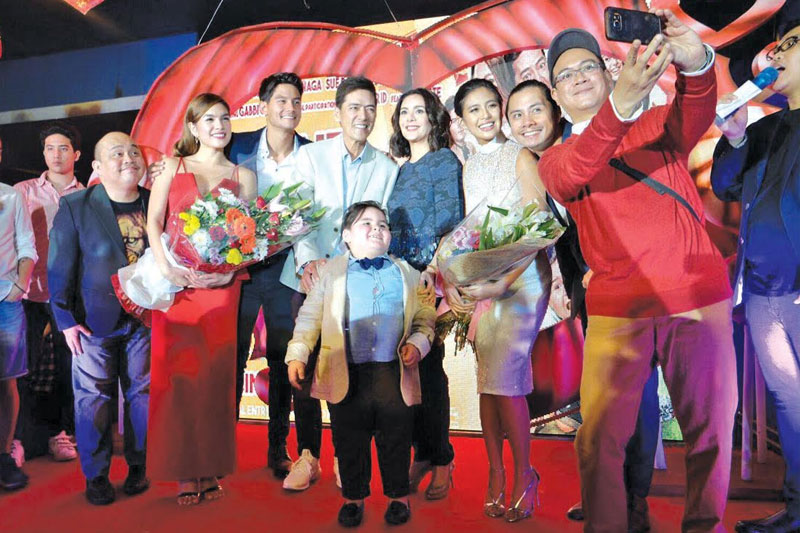 The "Meant to Beh" cast with director Chris Martinez, leftmost, at the red carpet premiere of the 2017 MMFF entry
Successful premieres for 2 MMFF entries
Award-winning director Chris Martinez considers it a big challenge to work with comedy icon Vic Sotto and versatile actress Dawn Zulueta in "Meant To Beh," which also features "Eat Bulaga" child star Baste.
Direk Chris is noted for comedies that are naughty and risqué like "Ang Babae sa Septic Tank," "Here Comes The Bride" and "Kimmy Dora 3." So doing "Meant To Beh," which is a wholesome family picture, was a breath of fresh air for him. It was a new challenge.
"Gusto ko rin naman makagawa ng pelikula na pwedeng panoorin ng mga pamangkin ko,"said Direk Chris who was so amazed with Baste's natural flair for acting. "This movie is for the whole family."
"Mahirap patawanin ang bata ha? We are giving you a wholesome movie na hindi slapstick ang dating ng comedy. Sigurado akong mag-e-enjoy kayo kasi it's a wholesome family movie," said Direk Chris.
Vic likewise feels positive about the project. "I am certain we have a winner in our hands. For one, it holds various firsts which is refreshing for the viewers. It is my maiden silver screen team-up with Dawn, my first movie under the helm of Direk Chris and it's also my first MMFF entry in years which does not border on the fantasy-comedy-action genre. It's very exciting."
"I think the freshness of the material is one strong come-on. Personally, I am excited to do a genre like this: a family movie sans fantasy and special effects. It's a breather for me, actually. This is the perfect movie date for every Filipino family come Christmas day."
When Bossing Vic and Direk Chris were conceptualizing the project, they saw to it that they have something new to offer moviegoers, not the same stuff that Bossing Vic did in past MMFF editions.
"Direk and I carefully brainstormed and I am so glad and proud with the outcome. For sure, viewers can relate to the characters in the story," said Bossing Vic.
Direk Chris said "Meant To Beh" presents conflicts that surround contemporary families, like the relationship between husband and wife after being married for quite some time, how parents handle the challenges and difficulties faced by their children at present, and how kids play a vital role in bringing back their parents together. It is a really heartwarming film that the public will love.
Vic was definitely excited and enthusiastic to work with a new director.
"All of us in the team wanted to work with a new director for this family movie. In the course of our discussion, the name of direk Chris popped out. I've watched his films in the past and got impressed with the way he handled them. I can say that he's perfect for the project. I am looking forward to working with him again."
"Meant To Beh" had a very successful red carpet premiere at SM Megamall Cinema 9 the other day. The fans of Bossing and Dawn came in full force to support the event and judging from the loud cheers and laughter, everyone had a good time.
***
The red carpet premiere of "Deadma Walking" was held last night at Trinoma Cinema 6 which was attended by the lead stars of the movie, Joross Gamboa and Edgar Allan Guzman who play two gay best friends.
The "Deadma Walking" lead actors has been busy with the promo as we near the homestretch prior to the opening of the festival on Christmas Day.
Joross appeared on "Tonight With Boy Abunda" last Tuesday, while EA had a palengke tour in Pag-Asa Market on Tuesday plus a call center tour at night.
To be fair, Joross and EA have been very active in promoting their first film together as leads. The two play gay friends John and Mark respectively, in this black comedy written by Eric Cabahug (Second Prize winner at the Palanca Memorial Awards Screenplay Writing Category 2016).
Joross and EA know that they are up against formidable opponents like Vic Sotto, Vice Ganda and Coco Martin who are backed up by big studios and major TV networks. That is why "Deadma Walking" is doing its share by promoting the movie in various social media platforms. To be fair, the movie has initiated strong awareness, as its teaser trailer got staggering views.
The film's director, Julius Alfonso, is already excited to show his debut directorial assignment. He already watched it several times but he wants to see it with a live audience.
"Deadma Walking" got good feedback from those who attended the special by-invitation-only celebrity premiere.
With a grade of A from the Cinema Evaluation Board (CEB) and over four million trailer views in just three days, "Deadma Walking" quickly became one of the most-talked about entries in this year's MMFF.