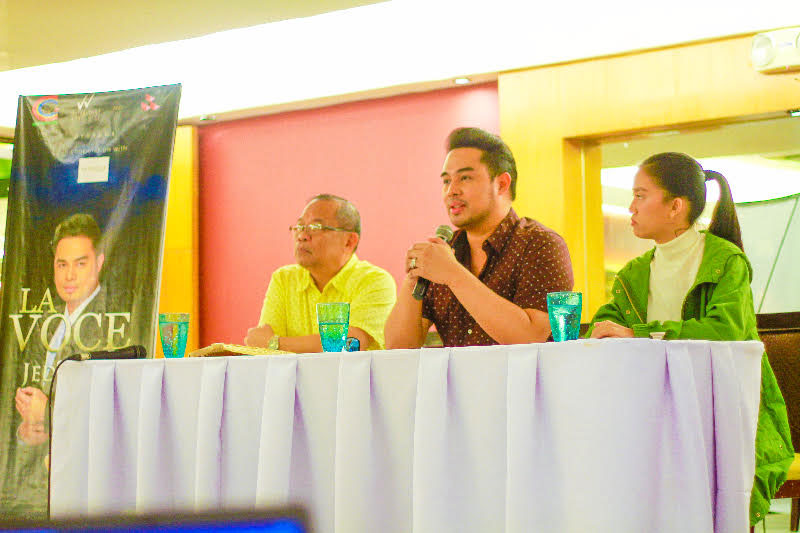 Socrates Saldua of Cebu Caritas Inc., singer Jed Madela and " The Voice Kids Philippines" finalist Jolianne Salvado of Cebu talk about their November 17 dinner concert at the Waterfront Cebu City Hotel and Casino dubbed "La Voce," a benefit show for Caritas Cebu Inc. Photo by Kristine Joyce Campaña
A dinner concert with Jed Madela
Karla Rule
(The Freeman) - October 11, 2017 - 4:00pm
CEBU, Philippines — Jed Madela returns with his second major show in Cebu through "La Voce," a dinner concert featuring the renowned singer's renditions of well-loved tracks ranging from pop songs to impassioned ballads to heart-stirring classics.
"I've prepared a very special show for Cebuanos," Jed, who has had many concerts in Manila and abroad, begins.
It has been about eight years since his last major concert in the Queen City of the South—in the form of "The Voice" – so the World Championship of Performing Arts (WCOPA) hall of famer is excited to not only sing, but to also perform and get to know his Cebuano audience.
"It's going to be a night full of music, of singing and jamming, maybe even comedy. We've decided to combine all of the highlights of my past shows here in 'La Voce,'" he says.
Set to unfold at the Waterfront Cebu City Hotel and Casino on November 17, "La Voce" promises to be a fascinating experience through songs that transcend all sorts of genres.
Directed by Marvin Caldito, the musical event will also feature the vocal prowess of 14-year-old "The Voice Kids Philippines" Season 2 finalist Jolianne Salvado as guest performer. Proudly from Cebu, Jolianne impressed coaches Lea Salonga and Sarah Geronimo when she effortlessly belted out "Tattooed Heart" during the blind auditions. Known for her powerful and soulful voice, she debuted her first single and music video, "I Can't Go On," last year.
Despite the rather formal set up and as Jed puts it, an "intimidating poster," everyone is welcome to celebrate music through "La Voce" as the singer intends to not only showcase his talent but also his true personality through a memorable show.
Jed, like so many other artists, is attuned to the Cebuano's tough crowd image, which is why he makes it a point to listen or at least evaluate what his audience might like to hear from time to time.
"Normally, I pay attention to my audience. And Cebu is known to have an extreme and wide range of people living in them. Of course I'd love to do a Cebuano or Bisaya song," quips Jed, noting that he's good friends with Bisaya producer and Vispop musical director Jude Gitamondoc.
Being from Iloilo himself, Jed looks forward to hearing out and working on projects that highlight the talent pool in the Philippines from whichever nook and cranny of the archipelago it may come from.
Aside from it being a full-on musical show, "La Voce" is also a dinner for a cause. Benefiting from the show is Cebu Caritas Inc. and all of the people they plan to help through their programs. Being an organization that goes out of their way to help those in need, Cebu Caritas Inc. has programs in health, finance, education, among many others, having built programs for the less fortunate, HIV-AIDS patients, scholars, and those affected by natural disasters and calamities through their commission of service as a way of leading the community, and helping the poor and turning them into a self-reliant community with gospel values.
"Our group is privileged for being the recipient of this event. We are blessed to have Jed and his talent to help us in our cause, and we have a lot of thanking to do," says Socrates Saldua of Cebu Caritas Inc.
"Despite having built many programs, and we plan to build more, it's always the problem of finding the resources to begin these steps that challenges us. We do need a lot of help, and we are grateful for this opportunity."
Jed also muses that "La Voce" might be going around the entire country, making it a one-of-a-kind tour with Cebu as its first leg.
Aside from concert shows, appearances on ABS-CBN's "ASAP," and being a resident judge on "It's Showtime's" Tawag ng Tanghalan, Jed is also keeping himself busy by promoting his new album. He's also constantly on the hunt for Filipino talents to send to the 2018 WCOPA competition.
As someone who paid his dues in the competition circuit, Jed is a hands-on WCOPA alumni, judging and hosting competitions, and even training Filipino delegates into the next batch of world-class champions.
"We've been holding auditions and screenings and I'm very hands-on because it's my way of paying it forward and sharing what I've learned. There are so many talented kids out there and I'm excited for what's about to come. To anyone who is just starting out, just get yourself out there, practice, train, and never give up."
Ticket prices to the "La Voce" concert are at P3,500 for VIP with dinner, P3,000 for GOLD with dinner and P800 for BALCONY without dinner.
For inquiries, call 2326888 or 09155353873. You may also visit the "La Voce" ticket booth at the Waterfront Cebu City Hotel and Casino. (FREEMAN)