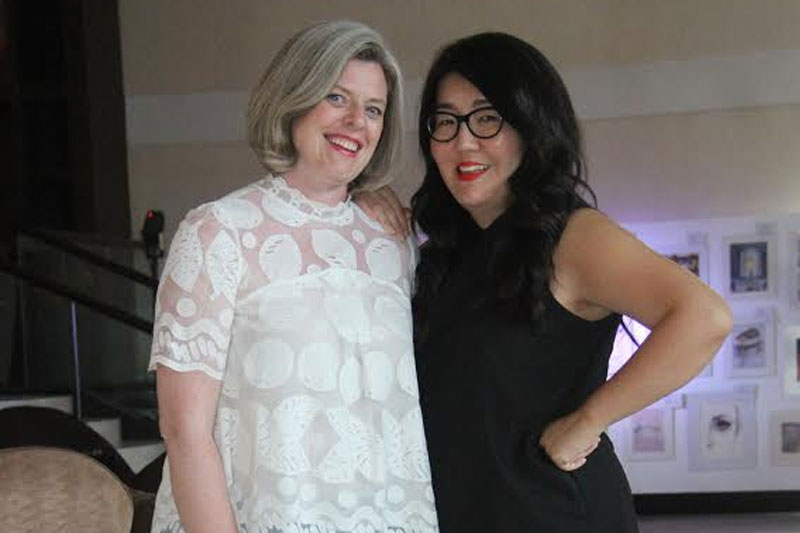 Siobhan Vivian and Jenny Han Photo by Joy Torrejos
Siobhan Vivian & Jenny Han; Best-selling best friends
Karla Rule
(The Freeman) - September 22, 2017 - 4:00pm
CEBU, Philippines — Cebuano book lovers got to recently meet not one, but two best-selling authors as National Bookstore brought Jenny Han and Siobhan Vivian to the Queen City of the South before they also joined fans at this year's Manila International Book Fair.
Jenny and Siobhan – sensational authors in their own right – graced their joint book signing event at Cinema One of SM City Cebu on September 15. The affair was more intimate than previous signing events as the authors, along with their beloved readers, were nicely tucked away inside the theater far from bustling shopgoers craning their necks out of curiosity.
A book tour is great enough but it doesn't hurt to go through it with your closest friend. Jenny and Siobhan are best friends, and that friendship extends to both their careers, having written an entire trilogy together – the "Burn for Burn" series in 2012.
The two agree that their creative processes, writing styles and habits don't clash and instead "fit together nicely like two puzzle pieces," as Siobhan puts it. They immensely enjoyed the experience of having written stories with a partner.
When asked how she gets past writer's block, Jenny replies that she gives Siobhan a call to put things in perspective again.
This is Siobhan's first time in Cebu and she has nothing but kind words despite not having enough time to look around, and feels like the experience had been a blur.
"This is the warmest welcome that I've received. I love it here! But I feel like the week's going by so fast," Siobhan muses.
Here for her latest novel, "The Last Boy and Girl in the World," a story told through Keeley, a teenager who wants to live the most out of her remaining days with her friends through parties and canoe races. She takes a leap of faith for the boy she loves before they all leave the place to get out of the way of an impending storm that threatens to wipe their city out of the map. It's not the end of the world, but it sure does feel like it to Keeley.
Based on a true story about an entire town that no longer exists, "The Last Boy and Girl in the World" is exhilarating and poignant. Through a series of paintings in the 1930s, Vivian found out about the tragedy on Livermore, Pennsylvania in which there is a whole historical society dedicated to the town.
Siobhan, who Jenny describes as someone who is great at building stories, had found it tough to mold the characters, saying that there will be no sequels to it, leaving "The Last Boy and Girl in the World" as a standalone novel.
For Jenny, she's seeing Cebu with brand new eyes, having visited before. This time, Jenny doesn't only have a new book – "Always and Forever, Lara Jean" to offer, but a major motion picture adaptation for her book "To All The Boys I've Loved Before."
"It's been great [coming back]. I recognize a lot of people and friends from National Bookstore. It's fun, just like seeing old friends," Jenny says.
Announcements about the film adaptation came in July, with polaroids of the cast on set accompanying it. Now in the post-production stage, Jenny admits that she hasn't seen the film herself and a play date is still on its way. It stars Lana Condor, Janel Parrish, Anna Cathcart, Noah Centineo, Israel Broussard and John Corbett, and is directed by Susan Johnson under Overbrook Entertainment and Awesomeness Films.
"To All The Boys I've Loved Before" is about Lara Jean and how her impassioned secret letters to crushes from her childhood, for some reason, got sent out to their respective "recipients" all at once. It's a sweet romance novel about young love, and coming of age.
With its follow up book, "P.S. I Still Love You," Jenny initially pressed that the Lara Jean story was a duology. However, she surprised fans with the release early this year of "Always and Forever, Lara Jean," the conclusion to Lara Jean's adventures.
"In a way it was fan service. I wanted to give the fans sort of like a surprise from me," explains Jenny, saying that she was touched with how the characters were so warmly received.
In the beginning, she didn't think she would be penning another one, but had tried sitting down one night to write and see what would happen. The next thing she knew, the sun had risen, and she found herself writing throughout the night.
"It made perfect sense to see Lara Jean in that moment. The whole story begins when her sister goes to university and is making these big decisions, and how Lara Jean thought how she would deal with all of it if it were her at the time. And in the last book, it comes full circle and Lara Jean is going through all these changes herself. It shows that it's easy to be in the backseat and think about how you're going to do things differently than actually being in that place yourself," Jenny elaborates, adding that she wouldn't have written it if she thought there wasn't any need to add to the series.
The author has had a hand in terms of notes on the film adaptation's script, had visited the set a couple of times, and even zeroed in on wardrobe among other things. However, Jenny believes that the film per se is ultimately not her story.
"It's their interpretation of my story. What works for the book isn't exactly the same for the movie. The books can be more internal, and descriptive and the movies kind of have to be action-driven. And sometimes, film adaptations of books don't become as successful because maybe it lacked that action. Sometimes it doesn't have to be too faithful to the book," Jenny quips.
At the end of the day, works of art are open to interpretation but for Siobhan, writing "The Last Boy and Girl in the World" meant truth. For Jenny, writing "To All The Boys I've Loved Before" meant embracing change.
"I write these truthful, real things. And I always want to tell the truth. Or at least I want my readers to think that it felt real, or that they were reminded of someone who went through the same things in my books, and understand why they made these choices. To me, it's always about aiming for the truth," Siobhan says.
Jenny adds: "I want my readers to know that change doesn't have to be bad."
Change may feel negative at first but it always has the potential to bring out something great in the end. "Things always change even if you don't want them to and I want them to see that, and take that as a lesson, and see that learning doesn't stop," she concludes. (FREEMAN)