Matteo Guidicelli puts influence to good use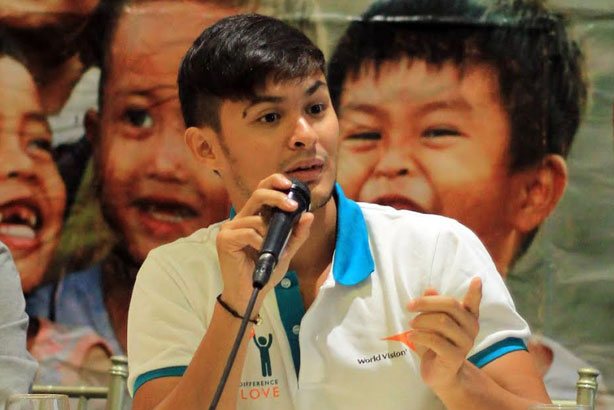 CEBU, Philippines - Matteo Guidicelli has his heart in the right place.
The 27-year-old's easygoing disposition and sense of humor has turned him into a well-loved personality in the entertainment industry. However, his charm and dedication doesn't stop on the television screen.
Recently, the Fil-Italian came back to his hometown of Cebu to support the upcoming annual World Vision Run 2017 organized by the relief, development and advocacy organization World Vision Development Foundation, Inc.
The charity – which currently sponsors for the care, education and health of 7,000 children in Cebu: 5,000 in North Cebu and 2,000 in the South – will be mounting the race in the Queen City and outside the Manila for the very first time on July 16 at Cebu Business Park.
This year's run will be its sixth edition, and is in line with the organization's 60th anniversary. Proceeds from the race will be given to beneficiaries, mainly vulnerable children and communities in Sogod, Cebu.
"We are delighted to finally bring World Vision Run here in Cebu, given that Cebu holds a sweet spot with World Vision. In fact the first beneficiary orphanage was located here," World Vision Resource Development Director Jun Godornes says during a press launch held Wednesday at Golden Prince Hotel.
"This event isn't only open for serious runners and racers. It is something that has to be fun, something that encourages families to bond together since it is also in our advocacy to build solid family values and unity," Godornes adds.
As an annual tradition, World Vision focuses on specific themes such as education, health, and nutrition among many others to help those in need.
At the frontline
This year, the organization has set its sights into sustainable livelihoods, and aims to not only to support children's needs but also construct a multi-purpose building, establish livelihood start-up kits such as vegetable production, raising livestock, massage therapy, masonry, and food processing, as well as introduce nine Community-Managed Savings and Credit Association (CoMSCA) groups to challenge parents into saving up for their families' needs through the race proceeds.
Since this is the race's first run in Cebu, participant numbers are currently conservative and Matteo, a World Vision ambassador who advocates for the welfare of children, is at the frontline to encourage celebrities like him to put their influence to good use.
"Yes, I definitely encourage them [celebrities] to help out," the actor, model, karting driver, triathlete and singer who is currently sponsoring at least two children and who has been with World Vision for seven years, begins.
"You can support any NGO and non-profit as long as that is for a good cause, because it's something that helps a lot of people."
Aside from Matteo, volleyball player and television host Gretchen Ho, radio personality Joyce Pring, singer Jose Villanueva III better known as Quest, Perkins Twins Jesse and Christian, and hopefully more World Vision ambassadors will be in Cebu by July 16 to take part in the event.
Cebu in next film
Aside from helping out in charity efforts, Matteo has had his hands full with filming his upcoming movie with Kim Chiu, entitled "Ghost Bride."
The horror film is directed by Chito S. Roño – Matteo's dream collaboration – and is based on the Chinese tradition of "ghost marriages."
"It's nice because I'm Bisaya, and Kim is Bisaya. It's exciting. And just a little fun fact, Cebu will be playing a part in the movie as well. We're still shooting scenes for the movie," says Matteo, hinting at the possible appearance of Boljoon Church which he suggested as a location after seeing it in his latest film with KathNiel, "Can't Help Falling In Love."
When asked why he wasn't cast for the teleserye "Ikaw Lang Ang IIbigin" starring Gerald Anderson, Kim and Jake Cuenca given that his triathlete background matches that of the series' sport arc, Matteo shared that production for the show had begun when he was still working on "Dolce Amore" with Liza Soberano and Enrique Gil. However, he's not opposed to the idea and would have loved to be part of the morning series.
After the success of his "Matteo Made In Cebu" concert in November last year, the actor is working on a brand new album featuring two new Bisaya songs. (FREEMAN)