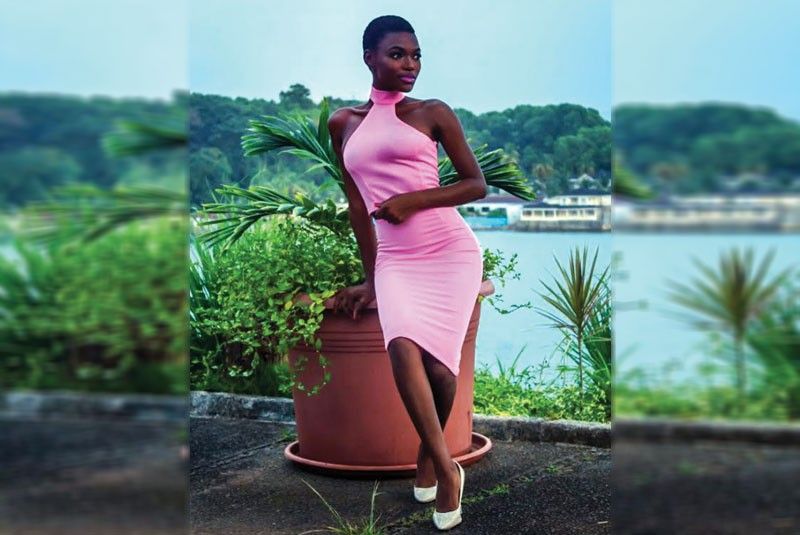 Miss Universe Sierra Leone Hawa Kamara
Miss Sierra Leone wins hearts
CEBU, Philippines - Long before Miss Universe Dominican Republic Sal Garcia and Miss Universe Haiti Raquel Pelissier took to social media their respective appeals for financial support, Miss Universe Sierra Leone Hawa Kamara already started the same campaign last year.
The three beauty queens shared a common objective – to raise enough funds for their bid of representing their countries in the Miss Universe 2016 pageant which will finally conclude this Monday at the SMX Mall of Asia Arena.
Hawa won in the maiden edition of Miss Universe Sierra Leone under the International Ambassadors of Sierra Leone (I.AM.SL) productions last July. Being the pageant's first titlist, the 26-year-old West African beauty is now part of her nation's history as Sierra Leone's first Miss Universe representative.
Two months after her coronation, Hawa started to face the biggest challenge of her reign: the pageant's national director disclosed that there were not enough funds to send her to the competition.
The beauty queen initially needed around $2,000 USD for the airfare from Sierra Leone to the Philippines and back. This amount does not include expenses for gowns, dresses and accessories to wear during the pre-pageant activities.
The local franchisee failed to gather enough funds for Hawa's participation in Miss Universe. Sierra Leone remains among the poorest in the world, with an estimated 800,000 in the youth sector alone presently unemployed.
Driven by her desire to wave the flag of her country on the international stage, Hawa did not lose fervor. Instead of giving up, she took to her computer and created her own blog on Gofundme.com, urging her countrymen and all generous people in the world to support her bid.
Hawa was born in Kono, the land of diamonds, but raised in Freetown, the country's capital city, by a single mother. She has one brother. She shared that her childhood years were a struggle due to her family's financial difficulties.
Despite the odds, she managed to finish high school from an institution that is exclusive for girls. After completing her secondary education, she began joining pageants to help her mother make both ends meet.
Before winning Miss Universe Sierra Leone, Hawa's first major title was Miss West Africa International 2013. The title gave her the opportunity to help solve the problems related to the Ebola epidemic that hit their country.
She used her voice in urging well-to-do folk and reached out to celebrities to consider supporting Ebola victims. She also established her own charitable institution called Gal Picking for Better, which has already empowered dozens of young women since it began full operations early 2015.
Gal Picking for Better is also raising awareness about HIV-AIDS, one of the most prevalent health threats in her country. Hawa has led in giving proper education about the disease to young women, as well as encouraging them to reach out and speak up.
A Muslim dominated-country, women in Sierra Leone often experience discrimination, which Hawa wants to eradicate.
Inspired by Hawa's noble mission and pure intentions, social media advocates from all over the world, headed by Cebuano Yves Camingue, helped her run her fund-raising campaign.
Not surprisingly, sponsorships in cash and in kind came pouring. Yves and friend Jian Lasala were able to raise half of the targeted $5,000 USD amount. They also secured commitments from Cebuano and Tagalog friends to provide gowns and other clothes attires for the black beauty.
In the on-going competition, Hawa has been wearing all Filipino-made attires, including the national costume designed by Yves himself which she paraded during Thursday evening's preliminary competition.
Two more days before the big day, Hawa – one of the most cheered on during the preliminaries and is among the running favorites among the candidates – has vowed to wow the universe with her charm, beauty, compelling personality and intelligence.
A dead-ringer for Miss Tanzania Universe 2007 Flaviana Matata, pageant analysts believe she has what it takes to pull off an upset.
This go-getter of a woman will make sure that not only Sierra Leone, but also the Philippines, will be proud of her.
"Winning the Miss Universe crown is the ultimate goal, but winning the hearts of people, especially the heart of the Filipinos, is my biggest goal," says Hawa.
"I have proven that there are still good people in the world. Yves Camingue and Jian Lasala are two of the greatest people on earth."
"I feel loved. I am definitely the happiest person in the universe. I am proud to represent my beautiful country Sierra Leone in the Miss Universe for the first time. Thank you, everyone, for helping me realize my dream," ends Hawa. (FREEMAN)