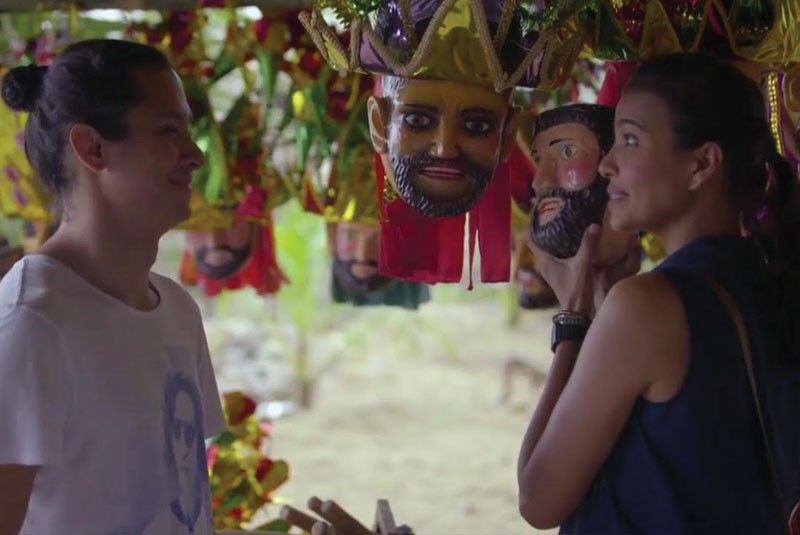 JC Santos and Alessandra de Rossi in a scene from the award-winning indie film 'Sakaling Hindi Makarating,' which will have its commercial theater run beginning February
'Sakaling Hindi Makarating': A story of self-discovery
CEBU, Philippines - An award-winning feature-length independent film is set to treat viewers to an atypical love story, a glance at beautiful places and plot twists starting February 1 in theaters nationwide.
The 90-minute film "Sakaling Hindi Makarating," one of the big winners at last year's CineFilipino Film Festival, is starred in by Filipino-Italian actress Alessandra de Rossi, theater-turned –TV/movie actor JC Santos, former seafarer Pepe Herrera, 2016 Metro Manila Film Festival Best Actress Irma Adlawan and Moscow Film Festival 2016 Best Actress Therese Malvar, among others.
The movie tells the story of Cielo, played by Alessandra, a strong-willed artist who suffered heartache and disillusionment after splitting from her fiancé of eleven years, two months before their scheduled wedding. The long shadow of a failed relationship clouds her future, and she allows herself to get pulled into an emotional quicksand.
As Cielo was trying to isolate herself from people close to her, including her mother played by Irma Adlawan, she starts receiving hand-painted postcards showing lovely Philippine sceneries in her Quezon City apartment from a mysterious sender named "M."
At the same time, she meets Paul (Pepe Herrera), her gentlemanly next-door neighbor. Paul, a teacher, eventually become Cielo's best friend and counselor and, later on, secretly and inadvertently falls in love with her.
Pepe, who became a household face as Coco Martin's funny sidekick in the hit ABS-CBN series "Ang Probinsyano," shows the serious side of the actor. The role, in fact, gave him his first best actor trophy.
Despite being taken for granted, Paul remains being there for Cielo and even encourages her to travel for some soul-searching and self-discovery and, possibly, uncovering the real identity of the anonymous writer. Following the trails teased by these postcards, Cielo goes to Zamboanga, Siquijor, Marinduque, Pagudpud (Ilocus Sur) and Batanes, hoping to find what she's searching for. .
Cielo's unconventional travels provide viewers some sights of the best Filipino spots, traditions and cultures infrequently seen in the silver screen before. It also emphasizes the benefits of traveling alone such as gaining new friends and perhaps finding a special someone along the way.
In one of her stops, Cielo meets Manuel, played by JC Santos, a local boy who falls in love with her and with whom she will have a one-night encounter. The mystery of their characters unfolds amidst the backdrop of the Pahiyas Festival in Marinduque.
"Sakaling Hindi Makarating" writer-director Ice Idanan said it took her five years to finish the script.
"Actually, it's very funny because the film was conceptualized in 2011. It took us five years before we were able to produce it. We had been through a lot of script development funds, starting with the National Commission for Culture and the Arts (NCCA) and we almost got into Cinemalaya, and finally, CineFilipino last March," she shared.
"During that time (2011), I just came from an eight-year relationship, which ended abruptly. Masakit. Wasak na wasak talaga ako. I thought I was going to die," she said during a press conference at Abeseria Café and Deli in Mabolo, Cebu City.
Was the film her personal story? "It's actually a product of that really dark time in my life. In the beginning, most of the comments said the story is very harsh, syempre raw pa siya, and then it evolved into something else. The characters are a mixture of people I met before. For the script, we did about seven to 15 revisions," she continued.
The film – which was co-written by Hannah Espia, Gian Carlo Abrahan and Petersen Vargas – boasts of its perfect cinematography, award-winning actors, smooth scene transitions and meaningful hugot lines. Besides fulfilling a viewer's wanderlust, "Sakaling Hindi Makarating" also offers a story about uplifting, appreciating and loving oneself – a refreshing departure from the much-romanticized stories on television and movies.
During last year's CineFilipino Film Festival, the film took seven of the 12 awards at stake including 2nd Best Picture, Best Actor (Pepe Herrera), Best Director and Best Cinematography (Ice Idanan), Best Musical Score (Mon Espia), Best Sound (Raffy Magsaysay) and Best Editing (Hannah Espia).
Producers Melai Entuna and Patrick Ostrea (who, by the way, is now director Ice's new love) disclosed that after the nationwide screening, they plan to submit "Sakaling Hindi Makarating" to various international film festivals. (FREEMAN)