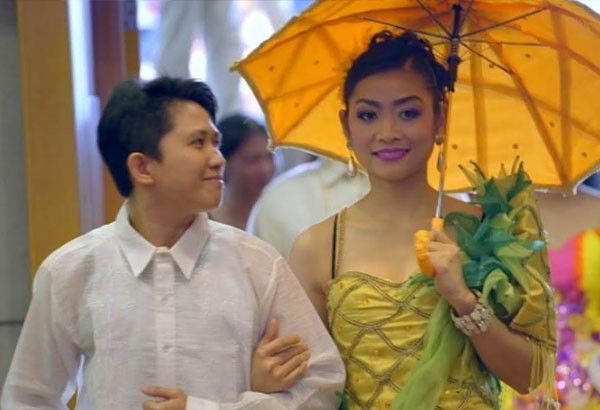 A scene from the docu-film 'Sunday Beauty Queen,' one of the entries to the upcoming Metro Manila Film Festival
'Sunday Beauty Queen' can be for kids too
"If I am hurting inside, it is not for me, but for the children," said Vic Sotto at the press conference of "Enteng Kabisote 10 and the Abangers." The film, which was intended for MMFF 2016, failed to make it as one of the official entries.
"With all due respect to our colleagues in the film industry, even during the time of FPJ (Fernando Poe, Jr.) and Dolphy, there was always a movie for children at the festival. I believe in the word 'respect.' I respect the tastes of people. I respect the taste of the screening committee. I have nothing against them."
"When it's Christmas time, we know that children look forward to watching movies, especially on Christmas Day. What is sad is that they did not choose a film that children will enjoy. How I wish they chose an entry that is suitable for children."
But Christmas comes early as far as Bossing Vic is concerned as "Enteng Kabisote 10 and the Abangers" opens today in theaters nationwide, same day as the movie of Vice Ganda and Coco Martin titled "Super Parental Guardians" which also failed to get the nod of the MMFF Screening Committee.
Bossing Vic joked he won't miss Vice and Coco since they are once again pitted against each other at the box-office, just like last year.
"I also don't want them to miss me," he continued. Bossing Vic said he shares the feeling with Vice over the non-inclusion of their respective entries. "But I am sure he (Vice) also respects the decision of the MMFF screening committee."
He also dismissed innuendos that they changed the playdate of "Enteng Kabisote 10" to clash head-on with the Vice Ganda-Coco film. "That was not intentional. Our producers decided to show our film because it's a holiday. It can feel like Christmas. The movie houses will open early to accommodate all the viewers."
Bossing Vic also sees it a blessing in disguise that his film is not in this year's MMFF roster. "I don't regret anything and I know it can be a blessing in disguise for us. We have a good playdate, a holiday towards the weekend. I am sure many people will be able to watch, especially children," said the comedian-TV host.
***
The selection of the documentary film "Sunday Beauty Queen" as one of the official entries to the MMFF 2016 Magic 8 came as a big surprise to many people, including Babyruth Villarama herself, the film's director.
There are people saying that a film suitable for children had not been chosen as entry, but Ms. Villarama says otherwise. "Sunday Beauty Queen" is not only a good movie, but is something that children may watch and enjoy.
"It is a family movie and many will able to relate to its story," said Ms. Villarama. They have no stars but the five OFWs whose stories form the framework of the film. "I am confident the people will love the story of the OFWs, most especially those who have relatives and friends that are OFWs."
She is likewise confident that "Sunday Beauty Queen" will be able to attract an audience even if they don't have marquee actors.
"Sunday Beauty Queen" follows a particular yet universal tale of OFWs – Filipino maids who dream to become Hong Kong beauty queens while revealing their lives with their employers. The film had its world premiere in October at the prestigious Busan International Film Festival where it earned rave reviews from several international industry media.
Villarama, who also wrote the film, is honored and excited that the Filipino audience can finally see the fascinating and heartwarming world of "Sunday Beauty Queen."
"This is not just an ordinary OFW story but a story of every Filipino struggling to make a living and yet finding light and hope in any way they can," she shares.
The film is produced by Voyage Studios and TBA (Tuko Film Productions, Buchi Boy Entertainment, and Artikulo Uno Productions), the same team behind last year's box-office and critical hit "Heneral Luna."
***
Kapuso comedy genius Michael V. earned another acting nomination in the forthcoming Asian Television Awards in Singapore for Best Comedy Performance by an Actor/Actress for his weekly comedy sitcom "Pepito Manaloto" on GMA-7. The awarding ceremony will be held next month.
Not only that, but Bitoy's other Kapuso show, "Bubble Gang," also garnered a nomination as Best Comedy Program. While the awarding has yet to happen, his GMA family is already proud of Michael V. and is wishing him the best of luck.
***
The life story of Public Attorney's Office (PAO) Chief Atty. Persida Acosta can be described as a rags-to-riches tale.
She is not ashamed to admit that her father used to be a farmer in Bulacan who later worked as a bus driver in Bataan. Her mother is a dressmaker.
She said that the mother of former British Prime Minister Margaret Thatcher was also a dressmaker but she was never ashamed of it. Mrs. Thatcher, she said, even mentioned it in her books.
"I am proud to say that I am the daughter of what the elites call as hampaslupa poor. We need to undergo hardships to understand the feeling of being looked down on by others every day. Justice is not for the rich but for everyone, including the poor," said Atty. Acosta.
They are eight in the family but their parents sent them all to school and with the help of the God, all of them were able to graduate.
This is something that a common Pinoy family, with meager income, also experiences. "We shouldn't look down on other people because they are poor. We are all equal in the eyes of God," she said.
What can be considered a turning point in her life right now is being nominated by Senator Miguel Zubiri to be one of the new Supreme Court Justices.
While it will break her heart to leave her post at PAO where she has served for 16 years, Atty. Acosta said that if it is destined that her path takes her somewhere else, then so be it.
But whatever happens, she will always have a heart for the poor and the downtrodden, especially those seeking justice.