11th PropertyGuru Philippines honors 71 winners
September 28, 2023 | 12:00am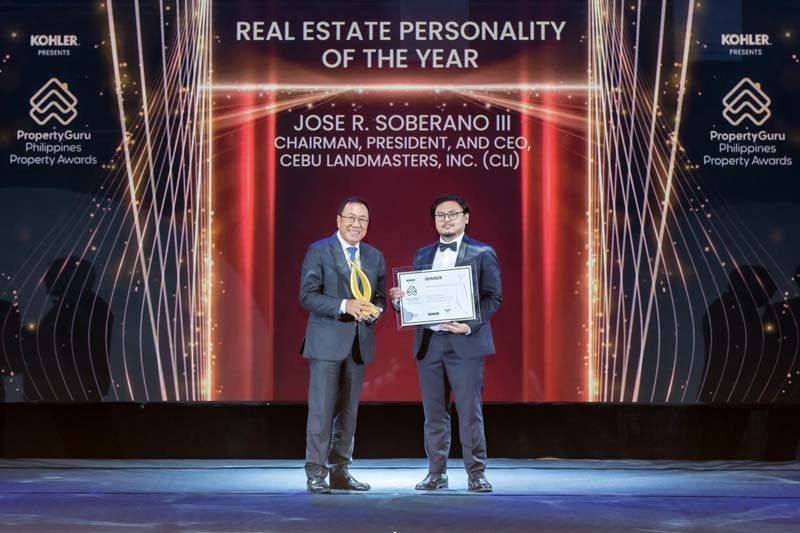 CEBU, Philippines — Around 71 winners earned golden statuettes across 65 categories on the 11th PropertyGuru Philippines Property Awards representing the finest real estate of Luzon, Visayas, and Mindanao.
Besting high-quality entries from across the country, Robinsons Land Inc., (RLC) was judged the Best Developer in the Philippines for the second consecutive year. It also won the title of Best Developer (Visayas), in addition to a Special Recognition in ESG, while RLC Residences was named Best Lifestyle Developer.
With a strong hotel roster, Robinsons Hotels and Resorts garnered the Best Operational Hospitality Portfolio award, supported by multiple wins for Fili Hotel Cebu. Robinsons Offices was honored for its office developments GBF Centers 1 & 2 and Cybergate Iloilo Towers 1 & 2. Aurelia Residences, a project of Shang Robinsons Properties, Inc., won the prestigious Best Condo Development (Philippines) award.
The titles of Best Developer (Luzon) and Best Mixed Use Developer were both presented to Federal Land, Inc., which also won for its development of The Grand Midori Ortigas. Sunshine Fort North Bonifacio Realty Development Corporation and North Bonifacio Landmark Realty and Development Inc., both subsidiaries of Federal Land, Inc., clinched winning titles for their developments Mitsukoshi BGC and Grand Hyatt Manila Residences South Tower, respectively.
Cebu-based Cebu Landmasters, Inc. (CLI) was hailed Best Developer (Mindanao), supported by various wins for its projects Casa Mira Towers Bacolod; Casa Mira Homes Danao; Casa Mira Iloilo; Costa Mira Beachtown Panglao; and DGT City Center.
Jose R. Soberano III, chairman, president, and CEO of CLI, was chosen as the Philippines Real Estate Personality of the Year by the team of Property Report by PropertyGuru, the official magazine, for achievements that include leading the expansion of the homegrown Metro Cebu developer to more markets throughout the archipelago.
Soberano joins the elite ranks of past winners Henry Sy, Sr. and Family (SM Investments Corporation), Ramon S. Ang (San Miguel Corporation), Manny Villar (Vista Land & Lifescapes Inc), and last year's winner Lourdes Josephine Gotianun Yap (Filinvest Land Inc).
Aboitiz InfraCapital Economic Estates gained the Best Industrial Developer award, in addition to Special Recognition in ESG and Sustainable Design?and Construction, plus winning titles for the projects LIMA Central Business District, LIMA Estate, and West Cebu Estate. Aboitiz Land, Inc. won the prestigious Best?Housing Development?(Philippines) award for Seafront Residences, plus winning titles for the projects Ajoya Cabanatuan and The Villages at Lipa.
Honored for the project Royal Oceancrest Mactan, Primary Homes, Inc. won the Best Sustainable Developer title and received a Special Recognition in Sustainable Design?and Construction.
Torre Lorenzo Development Corporation received accolades for the projects 3Torre Lorenzo and lyf Malate Manila, was named Best Boutique Developer.
SM Development Corporation (SMDC), another recipient of the Special Recognition in ESG, gained a wide range of winning titles for its projects Bloom Residences, Glam Residences, Light 2 Residences, and Sands Residences.
"The winners showcased true excellence in these exemplary developments, representing the remarkable growth and progress in the Philippines. The awardees' commitment to innovation, sustainability, and quality truly serves as an inspiration to the real estate industry, as we build the cities of tomorrow. We hope that the winners, with their commitment to ESG and sustainable design, will contribute to a better world in the years to come," said Jeremy Williams, managing director, of marketplaces of PropertyGuru.
According to PropertyGuru Asia Property Awards and Events general manager Jules Kay, the PropertyGuru Awards provide a powerful international platform to showcase their achievements, which include some of the region's most exceptional industrial developments, mixed-use communities, smart urban projects, and hospitality portfolios.
Held for the first time at Shangri-La The Fort, Manila, the annual black-tie gala dinner and presentation ceremony recognized excellent companies and projects from the country's most exciting urban and provincial property markets.
The list of awardees was decided by an independent panel of expert judges consisting of Cyndy Tan Jarabata, chairperson of the Awards in the Philippines and president of TAJARA Leisure & Hospitality Group Inc.; Carlo Cordaro, president, and CEO, Atelier A; Jaime A. Cura, PhD, vice-chairman, The RGV Group of Companies; Jean Jacquelyn Nathania A. de Castro, CEO, ESCA Incorporated; Kathleen P. Obcemea, principal interior designer, KPO Beyond Designs Co.; Luis Enrique T. Mangosing, CEO, Metro Development Managers, Inc. (MDMI); Michelle Barretto, founder and CEO, Vitamin B, Inc.; Philip Mareschal, head of property and asset management, JLL Philippines; Raymond Rufino, CEO, NEO; and Richard Raymundo, managing director, Colliers Philippines.
Diaz Murillo Dalupan and Company – HLB Philippines upheld the fairness, transparency, and credibility of the selection process under the keen supervision of Ofelia S. Barroga, Lloyd T. Tan, Margaux Zarah Casihan, and Remedios Ducay.
Main country winners of the PropertyGuru Philippines Property Awards will be eligible to advance to the 18th PropertyGuru Asia Property Awards Grand Final on Friday, 8 December in Bangkok, Thailand where they will compete for honors against their peers from other nations across Southeast Asia including China, Japan, India, and Australia.