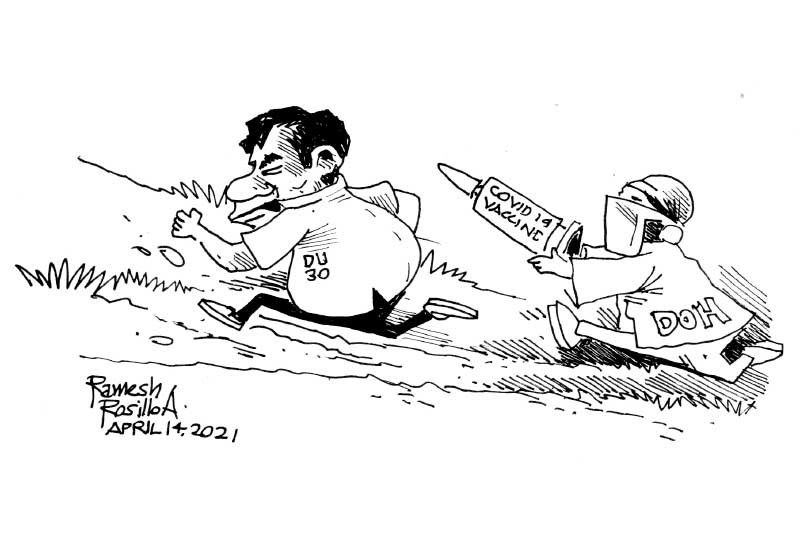 EDITORIAL - A reckless sense of bravado
(The Freeman) - April 14, 2021 - 12:00am
During his latest televised public address to the nation last Monday night, President Rodrigo Duterte said he will not take the vaccine and will instead let other officials have his slot for vaccination.
"Magwa-waive ako...70 above...ano makuha mo, magsige ka dream...dream of what? Living until kingdom come? Ako magwa-waive ako, kung sino'ng gusto sa slot ko ibigay ko. Wala akong masyado sa ano...I am that fatalistic actually. I've always been, kung panahon ko na, whether it's COVID, or a bala, or whatever disgrasya," he said.
He also added that the vaccine should be given to people and officials who can still be productive.
He may think that this is a ballsy show of bravado, but we cannot help but see it as a really reckless move that puts many people, and not just him, in danger.
In case the president has forgotten, he isn't just an old man --and we say this with all due respect to our senior citizens-- he is the leader of an entire nation of 110 million people.
He should take the vaccine not just to make sure he doesn't catch COVID-19, or at least to make sure he doesn't get sick with a severe case of it. He should take the vaccine to ensure that the country will still have a functioning leader and will not slide into disorder and chaos.
We are not saying the Philippines cannot survive without Duterte. It existed long before he did and will continue to long after he is gone. But at the moment he happens to be the man at the helm during this very turbulent time, the man whose decisions affect millions and the millions more depending on them. For some, the decisions he makes may even be a matter of life and death.
Simply put, it's not just about him anymore, but about the country as well. With his continued stubbornness to not take the vaccine, he is risking more than just his own health.
It is high time he gets himself vaccinated. In fact he should have been among the first, as the person in highest and most important office in the country is actually himself or herself a frontliner.
For the sake of the country, let's hope this declaration will end up being branded as another one of his "jokes".