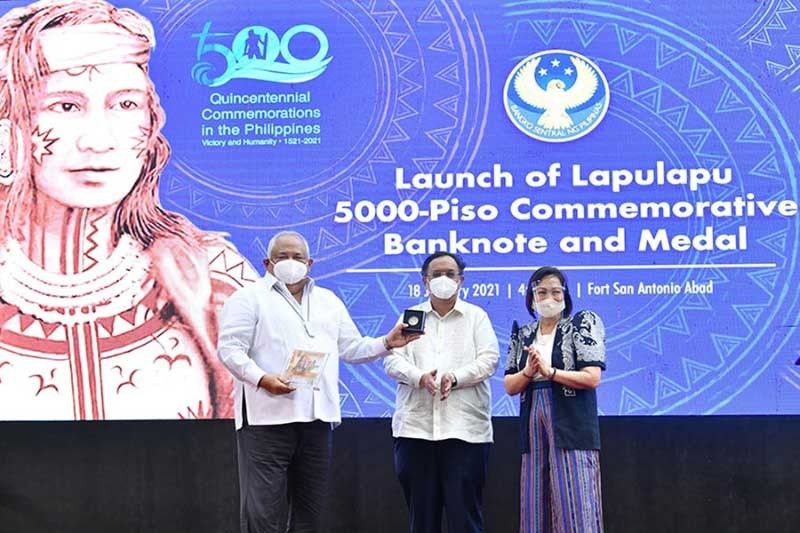 The Bangko Sentral ng Pilipinas, in cooperation with the National Quincentennial Committee (NQC), launched on Monday the 5000-Piso Lapulapu Commemorative Banknote and Medal to kickoff the 99-day countdown to the 500th anniversary of the "Victory at Mactan."
BSP.gov.ph
BSP launches P5,000 commemorative bill
CEBU, Philippines — Cebu takes the center-stage in the Philippine finance sector following the launch of the 5,000-Piso Lapu-Lapu Commemorative Banknote and Silver Commemorative Medal by the Bangko Sentral ng Pilipinas (BSP).
In cooperation with the National Historical Commission of the Philippines, the launching is in line with the 2021 Quincentennial Commemorations in the country. which include the 500th Anniversary of the Victory of Mactan.
According to MBSP officer-in-charge Francisco Dakila during the official unveiling ceremony held Monday January 18, 2021, "the victory of the country's heroes like Lapulapu is a great reminder in the prevailing pandemic."
The image of a young Lapu-Lapu, Battle of Mactan, and a Karakoa are seen in the banknote, while the image of the Lapu-Lapu Shrine in Cebu and the logo of the Quincentennial Commemorations in the Philippines are placed in the commemorative medal.
In his pre-recorded speech, President Rodrigo Duterte emphasized the need for the Philippines to elevate the standing of Lapu-Lapu among other country's heroes.
"If we are to apply to truly celebrate our rich history as a nation, we need to elevate Lapu-Lapu to a greater standing among the pantheon of Filipino heroes," the President said.
"We therefore dedicate this banknote and this medal to his historical victory in Mactan 500 years ago," he added.
With this, Duterte expressed hope that Filipinos will be inspired to embrace their national identity "by embodying Lapu-Lapu's heroism in facing challenges ahead."
The banknote features a young Lapulapu during the historic Battle of Mactan 500 years ago, the Quincentennial logo, and the Karakoa (war boats of Humabon's warriors from Cebu) in the front. At the back, it features the Philippine Eagle, the Coconut Tree and Mt. Apo.
The medal, on the other hand, is made of 99.9 percent silver and weighs 31.1 grams.
The P5,000 banknote however, although deemed as legal tender, is not meant for circulation and will only be available for purchase by the public.
The BSP will soon issue a separate advisory for the guidelines on how to purchase the commemorative banknote.