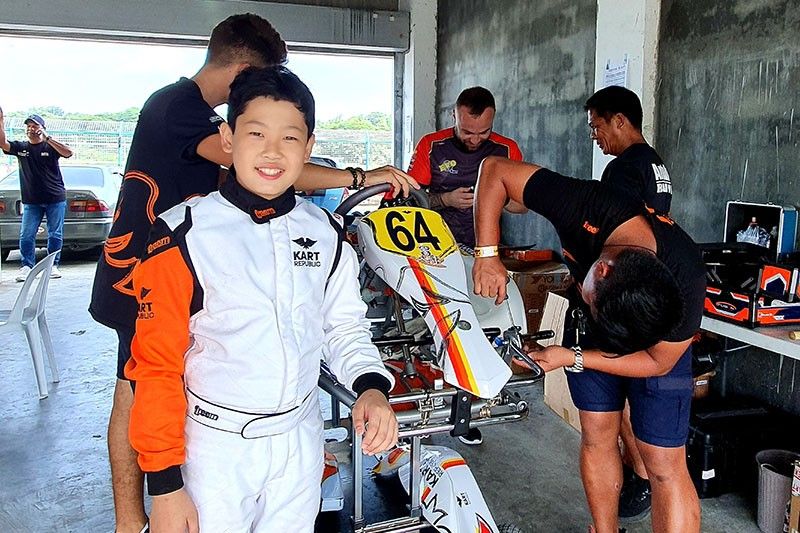 William Go during the Asian Karting Open Championships (AKOC) in Clark Speedway, Pampanga.
Cebu has its fair share of motorsports stars, something that is quite ironical, as Metro Cebu doesn't have a proper race track. But the lack of a proper venue has never stopped Cebuano racers from excelling in the sport. On great example is Daniel Miranda. Daniel started karting at a very early age, honing his skills in the local track and eventually joining the National Karting Series, where he became Karter of the Year. Miranda then went International, and although he had stints of success, he missed the overall championships. Not to take anything from Daniel, he is a very talented driver with financial backing to enhance his skills. Daniel soon went to cars where he was crowned the Champion in the Toyota Vios Cup and Class Champion in the very demanding Asian Touring Car Racing (TCR) Series.
But International Karting is both very competitive and very demanding. Going International Karting competition requires a different kind of training and minset. It's something that requires so much time and dedication, as the best facilities are in Italy and the UK.
Cebuano go-kart ace William Go, is heading in the right direction. At an early age of 11, Go has already won the overall championship in the cadet division of the SIC IAME Series Asia 2019 at the Sepang Kart Circuit in Malaysia last Sept 14-15,2019.
William, who won multi titles in the National Karting Series, competed in the Asian Series this year to qualify for the World Iame Finals in Le Mans France. It's amazing that only a few years ago, William was just going round in circles in our local track in Kartzone, not giving the slightest hint that he would be an Asian karting champion. Indeed, he has matured into a young racer with a hunger and ferocity to win. The overall championship in the cadet division of the SIC IAME Series Asia 2019 is a very competitive series with participants coming from Singapore, China, Hong Kong, Japan, Thailand, Indonesia and Malaysia. Go, amidst heavy opposition, snatched the championship from Malaysian Travis Teoh and Timofey Mikhaylov, in a thrilling sixth and final round at the home track of his closest rivals in Sepang Kart Circuit, Malaysia.
Go completed the series with podium finishes in all the five racing tracks in Southeast Asia, except Thailand.
Go competed under the banner of AutoInc Racing, one of the largest karting teams based in Singapore. He also trains in the United Kingdom to further hone his skills for the more demanding junior karting category next year. With the Asian championship in the bag, Go will be the Philippine Representative to the IAME International finals next month in Le Mans, France.
Yes, motorsports is an expensive sport. It's something only a few can ever experience. But coming from a country where proper training in racing is, as they say, few and far between, these racers make us proud. Miranda and Go are our contribution to Philippine Motorsports History. They are our shining gems.