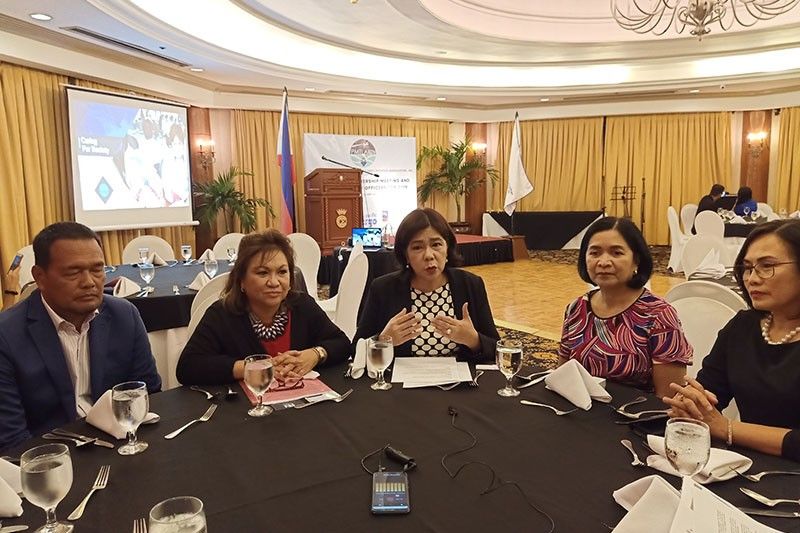 PMTLAI Manila Directors (L-R) Mr. Guilbert Purcia, Vice President for Land; Ms. Mariz Regis, Director/ Chairperson for Regional Chapter Dev't.; Ms. Marilyn Alberto, President; Ms. Doris Torres, Director/Chairperson for Training and Education; and Ms. Barbie Rivadeneira, Director/Chairperson for Membership.
Ehda M. Dagooc
Logistics firms lament steep distribution costs
CEBU, Philippines — Stakeholders in the logistics sector are crying foul again over the Philippine's high distribution cost.
The newly-formed Philippine Multimodal Transport and Logistics, Association, Inc., (PMTLAI) led by its president Marilyn C. Alberto, announced to kick off a more aggressive stance in pressuring the government to take a look at the country's less competitive environment for logistics compared to other countries, at least in the ASEAN region.
Despite the efforts made by some government agencies to curb the bureaucracy, and less defined rules in the entire distribution value chain, stakeholders admitted that taxes, fines, and other administrative costs, including glitches in the infrastructure make rates higher compared to counterparts in the region.
Gilbert Purcia, PMTLAI vice president for land logistics, said that the government's legalism or deeply-rooted bureaucracy by agencies involved within the value chain make business more expensive.
The group is pushing for a House Bill that would address the concerns of the industry, particularly the existence of charges, that sometimes unnecessary.
Recently, the PMTLAI officially installed its Cebu-Chapter, which is composed of air, land and sea forwarders, who used to members of the Philippine International Seafreight Forwarders Association (Cebu Chapter) and the Airfreight Forwarders of the Philippines, Inc. (Cebu Chapter).
PMTLAI was established on October 10, 2017 after majority of the members of the Aircargo Forwarders of the Philippines Inc. (AFPI) and the Philippine International Seafreight Forwarders Association (PISFA) decided to unite and build a stronger voice to represent the freight forwarding and logistics industry in the Philippines.
PMTLAI (Cebu Chapter) is led by its president Elaine Nolasco from Yusen Logistics Philippines, Inc.
"The merging of these two associations is a milestone for the cargo and logistics group of Cebu. As PMTLAI, the only recognized logistics group not only by the Philippine Government but also known internationally. This development will not only benefit us but I believe it will help us contribute to building a better Philippines" said Nolasco.
Aside from creating a bolder voice to urge the government support the development of the industry, PMTLAI also aims at raising the professionalism standard among logistic providers, Alberto added.
PMTLAI envisions to be a catalyst and prime mover for professional excellence and global competitiveness of the Philippine transport and logistics industry.
It commits to enable its members to provide world-class service by providing various avenues for knowledge sharing, intensifying collaboration with regulators and other industry stakeholders and initiating or supporting advocacies that will help contribute to the uplifting of the Philippine transport and logistics industry and the communities in which it operates. (FREEMAN)