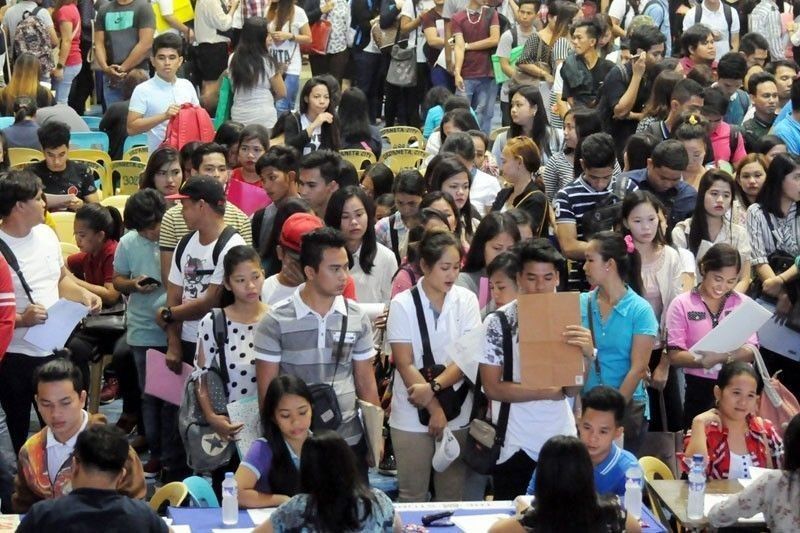 TRABAHO Bill: For more jobs or less?
We are fortunate to live in an era where etymologists and grammarians are collaborating to come up with new words or phrases that are politically appropriate. So that, as we now often hear, the physically disabled is now called differently abled. Those who are mentally retarded are now referred to as mentally-challenged. Those who are not blessed with height are now called vertically challenged.
There are phrases as well that have been coined because some words were perceived to have negative connotations. For instance, the phrase "thoughts showering" is now widely used instead of the word "brainstorming." They go for it because storming or forcing the brain to come out with great ideas does not do anything good at all, etymologists say. "Thoughts showering", on the other hand, encourages one's mind to think and come up with great ideas freely.
Probably, sensing the very positive responses generated from these changes, some politicians, specifically, the congressmen who happened to be the authors of the second package of the tax reform initiatives abandoned the acronym "TRAIN" which stands for Tax Reform for Acceleration and Inclusion. In its stead, the framers use TRABAHO (which now stands for Tax Reform for Attracting Better and High-Quality Opportunities).
Obviously, they changed it (TRAIN) because a good number of our countrymen have made sweeping conclusions that this currently obtaining inflation is brought about by the implementation of the first package of such reform. Collectively, they felt that they were literally overran by a train. True or not (as the main reason for the rise in prices), such acronym gave nothing but bad connotation.
The government is aiming to pass this bill into law this year. This is expected to be implemented starting January 1, 2019. Among others, this bill proposes to cut corporate income tax from 30% to 20% in ten years. As proposed, it shall be 28%, 26%, 24%, 22% and 20% in 2021, 2023, 2025, 2027 and 2029, respectively.
With this reduction, the government hopes to replace lost taxes through better tax administration or higher collection efficiency. Moreover, the government wishes to recover more by limiting the income tax holiday to up to 3 years only plus a year extension if the new applicant/taxpayer invests in agribusiness, or in less developed areas, or if it is relocating outside Metro Manila and adjacent urban areas. The bill further proposes that beyond the income tax holiday, the taxpayer shall enjoy a special rate of 18%, 17%, 16%, 15%, 14% and 13% from 2019, 2021, 2023, 2025, 2027 and 2029, respectively, of its net income.
Furthermore, taxpayers can also accelerate depreciation of qualified capital expenditures and shall be given additional deduction ranging from 50% to 100% on some expenses. Also, the existing NOLCO or net operating loss carry-over for three years will be extended to five years.
Now, having in mind that this bill, as the name suggests, intends to generate employment, will these incentives be enough to entice prospective foreign investors? Well, that remains to be seen. If it doesn't work, then, forget about additional job generation.
Probably, however, we can, at least, surmise what could be the probable responses from prospective foreign investors by looking into the reactions of the existing ones in the economic zones. As we all know, most existing registered companies in the economic zones enjoy a 5% income tax rate on its gross profit (sales minus direct costs). With this bill, such incentives will only be enjoyed the next five years or the actual remaining years (of the incentive) whichever comes first. Henceforth, they shall be slapped with the new scheme.
In unison, the existing companies enjoying these incentives cried foul. The common question is, why is this government changing the rules at the middle of the game? Worse, most of these companies have insinuated that they will be transferring their operations to another country.
Inevitably, therefore, if they make true their threats, not only that we shall be starving for new investments and, therefore, new jobs, we shall also be losing existing ones. These job losses plus those coming from the mining industry on account of closures of some mining operations, hundreds of thousands maybe be rendered jobless. Coupled with the rise in prices of basic commodities, some families may just have to starve.
Indeed, there is one very important question that needs to be answered. Are we ready for this scenario?