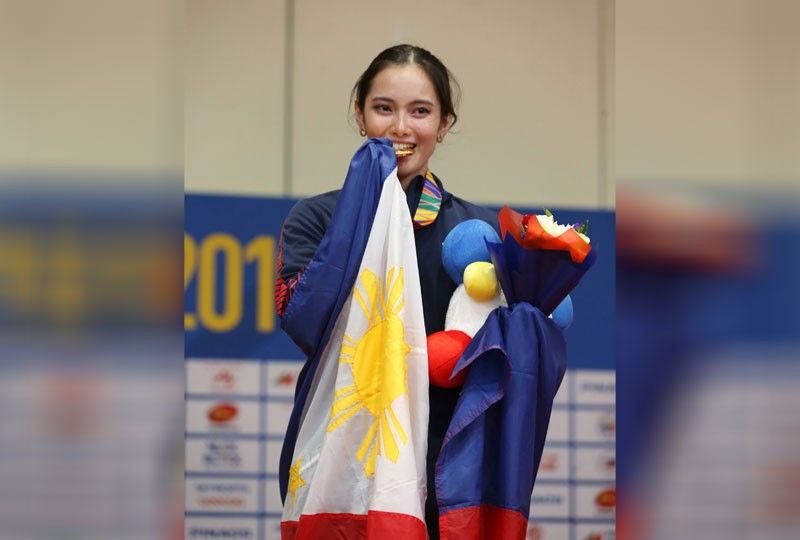 Agatha Wong of the Philippines beams with pride after winning the gold in women's Taijiquan at the World Trade Center.
Joey Mendoza
Wong does things right, wins gold
MANILA, Philippines — Bullied many times over, sustaining injuries in training, setbacks and failures that seemed to have no end, personal woes. Name it and Agatha Wong has gone through it.
She overcame all of them.
That's what separates this gutsy 21-year-old St. Benilde product from the rest.
"If no one will believe in me, I have to believe in myself. I've been through a lot – bullying, personal matters, injuries, setbacks, failures. Ang dami ko ng pinagdaanan, pero I did it for my country. I'm really proud to represent the Philippines in wushu," said Wong.
Her emotions flowed after she received her gold medal following a near-flawless performance in women's Taolu Taijiquan in wushu of the 30th SEA Games, where she scored 9.67 points to beat Brunei's Basma Lachkar (9.55) and Vietnam's Huyen Tran Thi (9.530) for top honors to the delight of the big crowd at the World Trade Center yesterday.
She actually ruled this event the last time out in Kuala Lumpur in 2017, but this one ranks high in the list of the multi-titled wushu star.
"It was a special win because this is the highest category in wushu," she said. "And winning the gold for the second time in a row, it was really special and I did it for my country, for my fellow Filipinos."
She dedicated the victory to her departed former teammate Rastafari Daraliay.
"I would like to offer my performance to my old teammate, who passed away last year," she said, referring to her 11-year-old teammate, who died after reportedly falling from the top bunk of a double-deck bed inside the athletes' dormitory at Rizal Memorial Sports Complex last year. "This one's for him."
She also dedicated her win to her family, her chief backers and inspiration.
Ranged against a crack roster and hampered by cramps and sore feet, Wong actually didn't expect to win but still delivered a swift, sharp performance to clinch the gold, a triumph of the spirit for the young fighter who had brushed off and hurdled a lot of tests and misfortunes.
"I am really happy. I am really contended. No regrets even if my body is aching since I'm really tired. I gave it my all and it's worth it. I did my best," she said.
And she's ready to face new challenges again.