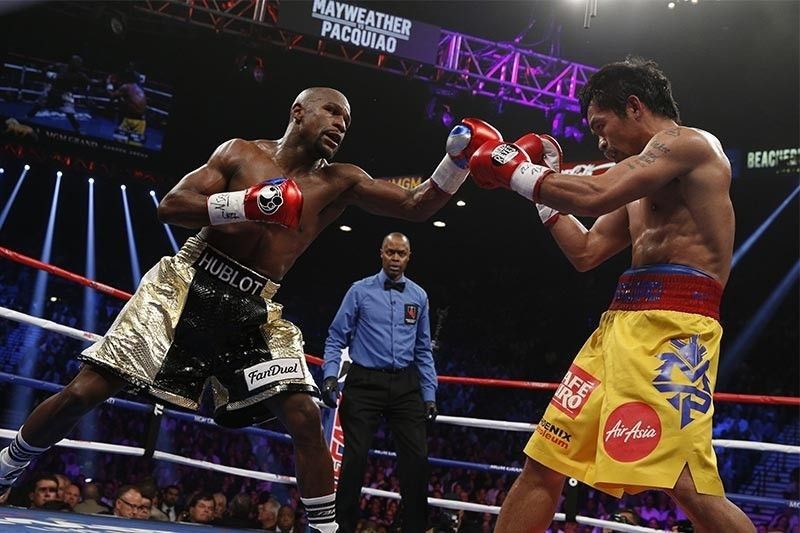 In this file photo taken on May 02, 2015, Floyd Mayweather Jr. exchange punches with Manny Pacquiao during their welterweight unification championship bout, May 2, 2015 at MGM Grand Garden Arena in Las Vegas, Nevada.
John Gurzinski/AFP
Thurman: Nobody wants Mayweather-Pacquiao 2
MANILA, Philippines – Keith Thurman is joining the side of boxing fans who aren't interested in another fight between Manny Pacquiao and Floyd Mayweather Jr.
Thurman said a rematch between Pacquiao and Mayweather will only be a cash grab, especially with the fact that when the two superstars first fought in 2015, it became the richest bout in boxing history
"All they talk about is how much money they're going to make. How big the fight is," the Clearwater, Florida-based fighter recently told TMZ.
Thurman, who lost his WBA "super" welterweight belt to Pacquiao via split decision last July 21 in Las Vegas, is positioning himself for another shot at Pacquiao.
But the Filipino icon's camp isn't keen on giving Thurman a rematch, instead preferring to move on to other fights.
That includes another showdown with Mayweather, who remains inactive in boxing since stopping UFC star Conor McGregor in 2017.
But Thurman said Mayweather-Pacquiao 2 will end up with the same result as the first fight — a victory by Mayweather.
"He's just defensive. He's gonna put Pac on the offensive and make him miss. He's gonna make him pay," added Thurman.
"I'm just not gonna pick Pacquiao. Floyd is just smart. Forever smart."
"I think at the end of the day, nobody wants to see it (Mayweather-Pacquiao rematch)," Thurman continued.
Thurman, who gave a good account of himself in his 12-round war with Pacquiao, said fans would be better off seeing Pacquiao-Thurman 2 instead.
"I can't say you can't promote the (Mayweather-Pacquiao 2) fight, but real fight fans know it ain't gonna be more exciting than what Keith Thurman did," said Thurman.