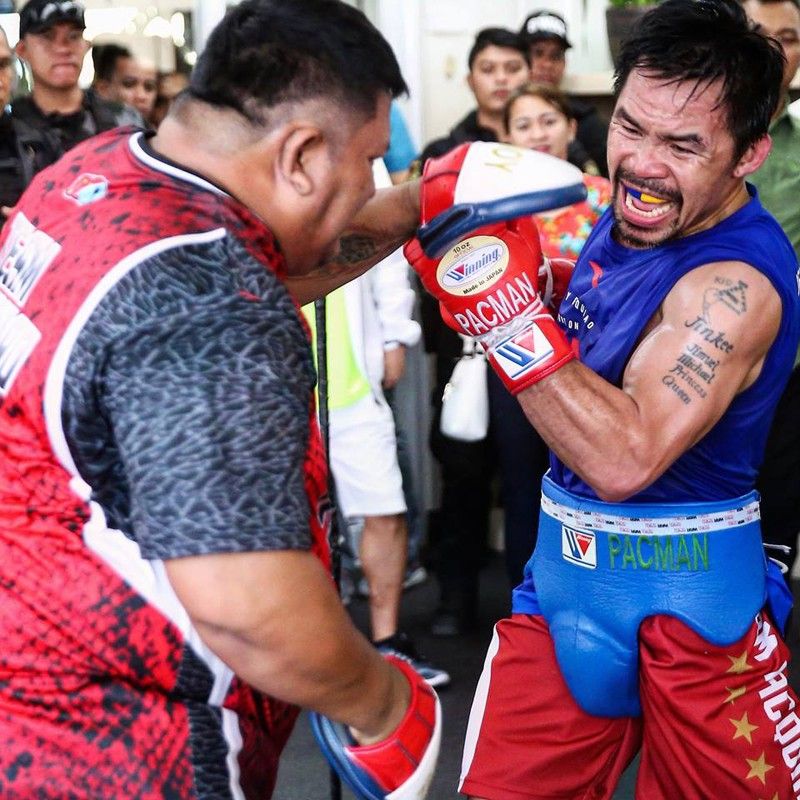 "Manny's upset," said Australian strength and conditioning coach Justin Fortune. "It's about Thurman disrespecting the Bible.
Manny Pacquiao FB Page
MANILA, Philippines — "Mayabang si (Keith) Thurman, pakikita ko kung paano lumaban ang isang 40-year-old." That's what regular WBA welterweight champion Manny Pacquiao said as he broke into serious training mode at the Elorde Gym near MOA in Pasay the other day.
Australian strength and conditioning coach Justin Fortune said he was surprised when the first thing Pacquiao told him at the start of training camp was "I want to knock Thurman out." Fortune said he can't recall a camp where Pacquiao was as incensed. Pacquiao and Thurman, who is recognized as the super WBA titleholder, will face off in a unification showdown at the MGM Grand Garden Arena in Las Vegas on July 20.
"Manny's upset," said Fortune. "It's about Thurman disrespecting the Bible. Manny didn't like it when Thurman told the press he'll crucify him and send him into retirement. I think the longer the fight, the higher the probability that Manny knocks him out because Thurman tends to fade in the late rounds. But I'm not discounting the possibility that if Manny finds an opening early, he could knock him out. I know Thurman's weak in the body and his chin is suspect."
Fortune said Pacquiao will be relentless against Thurman. "Manny will attack and I can see Thurman backing off," he said. "Thurman's never fought anyone quite like Manny who's an unorthodox, unconventional southpaw. He'll hit you from all angles. But Thurman's dangerous. You have to respect his left hook, right hook and right straight. If Manny's 100 percent fit and in condition, it'll be an easy fight. I know Thurman won't be able to take Manny's power."
Pacquiao's chief trainer Buboy Fernandez confirmed the senator's dislike for Thurman. "Galit siya," said Fernandez. "Hindi maganda yung salita ni Thurman noong media tour sa New York at Los Angeles. First time kong nakita na galit si Manny sa pag-umpisa ng training camp mula ng pangatlong laban kontra kay (Erik) Morales. At alam natin kung anong nangyari kay Morales." Pacquiao blasted Morales into submission in the third round of their rubber match at the Thomas and Mack Center in Las Vegas in 2006.
Thurman, whose father is African-American and mother is of Polish-Hungarian descent, is unbeaten with a 29-0 record, including 22 KOs. Although known as a two-fisted knockout artist, Thurman went the distance in five of his last six outings. Since 2016, Thurman hasn't been too active, fighting only thrice compared to Pacquiao who saw action in five bouts. Thurman figured in a car accident, suffering a whiplash, took a 22-month rest, underwent surgery in his right elbow and recovered from a bruised left hand over the last three years.
Thurman was described by Paul Wheeler of Boxing News as "a thinking fighter who boxes and moves with intelligence, packs destructive power in both hands … (is) versatile, fast and mobile … likes to draw his adversaries in on the counter before unloading crunching left hook-straight right combinations."
Thurman once said, "We're all in a frenzy in the welterweight division. Everyone wants the spotlight. People talk about replacing Floyd Mayweather but you can't become the man without beating all the people in front of you. I'm going to show that I'm the big dog at 147 pounds." When Thurman battles Pacquiao, it will be revealed if he has more bite than bark or the other way around.