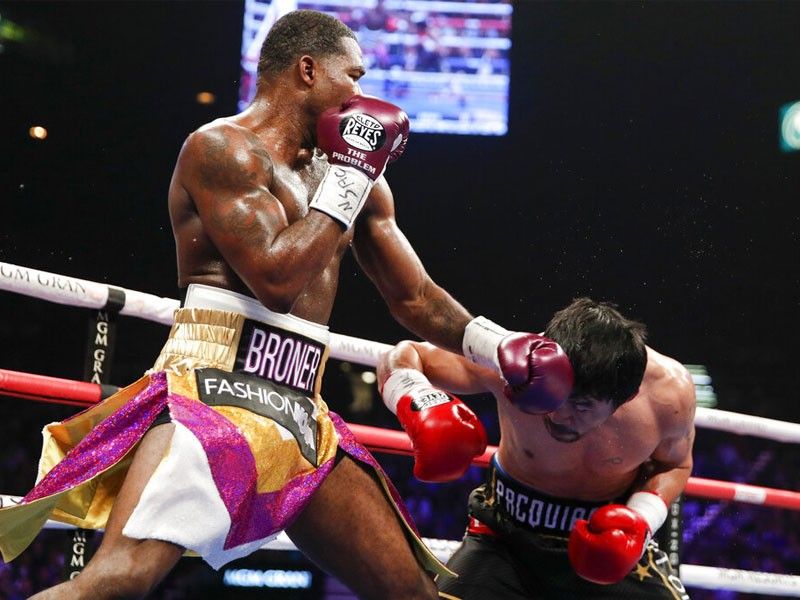 Manny Pacquiao, right, tries to avoid a left form Adrien Broner during the WBA welterweight title boxing match Saturday, Jan. 19, 2019, in Las Vegas.
AP/John Locher
Pacquiao suffers eye injury in Broner fight
LOS ANGELES – Manny Pacquiao ended up injuring his left eye in his defense of the WBA welterweight title against Adrien Broner on Saturday in Las Vegas (Sunday Manila time), head trainer Buboy Fernandez said.
In a chat with Filipino scribes back in Los Angeles one night after the fight, Fernandez said the injury is not serious, contrary to unconfirmed Internet reports claiming it could be career-ending for the 40-year-old Pacquiao.
According to Fernandez, the injury was caused by Broner's pressing of his gloves on Pacquiao during their 12-round bout at the MGM Grand in Las Vegas.
"Medyo mahapdi daw talaga pag binukas (Manny told me it kind of hurts when he opens his eyes)," Pacquiao's trainer and childhood friend shared.
Fernandez also recalled cautioning Pacquiao against Broner's dirty tactics, including the challenger's use of elbows and pushing during clinches.
"Nang makita ko siya na may gasgas after five rounds, sabi ko sa kanya ingat ka sa siko (When I saw Manny with a scratch in his left eye after five rounds, I told him to watch out for Broner's elbows)," he said.
"Naalala mo yung nasalubong mo yung siko ni Broner? Tsaka yung sa gloves, ginaganun kasi sa mata. Pag nagyakapan, tinutulak siya nang ganun (You remember those times when Broner would lead with his elbows? And when they clinch, Broner would push him?)," Fernandez continued.
Pacquiao defeated the brash 29-year-old fighter in a lopsided fight that eventually left the Filipino icon scathed.
"Nung presscon lagi kong sinasabi sa kanya na huwag suminga dahil mamamaga yan (During the post-fight press conference I kept telling him not to keep blowing his nose because the swelling will worsen)," Fernandez said. Pacquiao revealed that he had colds when he fought Broner and kept blowing his nose with a white towel during the post-fight presser.
The STAR's Joaquin Henson said Pacquiao is experiencing blurry vision in his left eye and is set to be further examined when the Filipino star returns to the Philippines.
Fernandez, however, assured that the injury is minor and should not be a cause for concern. He said the doctors who have initally examined Pacquiao's eye recommended three days of rest to let the injury heal.
"Kailangan lang talaga hindi magalaw nang masyado," he said.

This marks the second straight time that Pacquiao had dealt with a health issue. After his fight with Lucas Matthysse in Kuala Lumpur, Malaysia last year, it was revealed that Pacquiao was diagnosed with an "inborn heart problem" that affected him during training.
But Pacquiao was eventually cleared to resume his 24-year pro boxing career.