Youngsters duke it out as JPGT finals fire off
October 2, 2023 | 12:33pm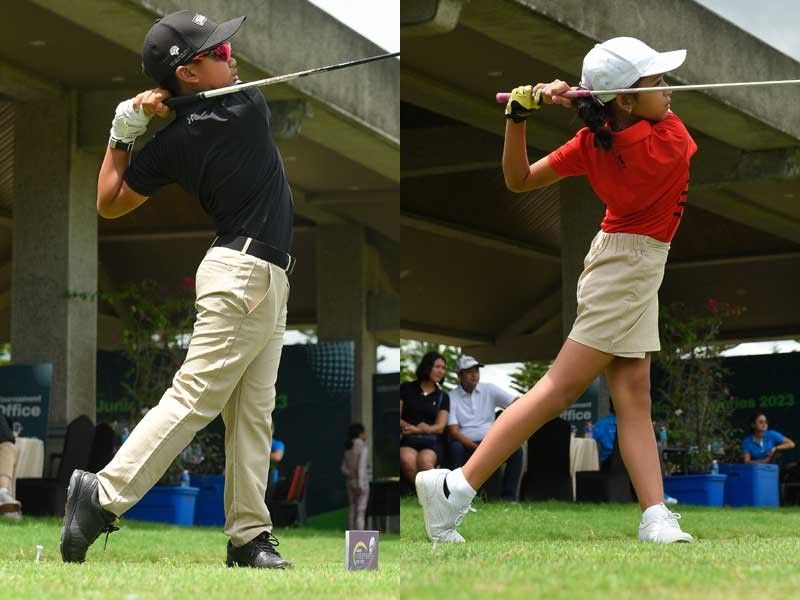 MANILA, Philippines – Sixty-one youngsters from four age-group categories ranging from 9-10 to 15-18 set out for a day-long battle of talent and skills in fun atmosphere with accent on the knack to withstand the challenges at The Country Club in Laguna.
The ICTSI Junior PGT Series winds up its inaugural season Tuesday, October 3, at the TCC where the talent-search was launched last January with eight titles in both the boys' and girls' divisions to be disputed over 18 holes of stroke play under the Modified Stableford (Molave) scoring system.
Zachary Villaroman and Korean Ji Won Lee headline the 15-18 age division after both emerged No. 1 following the five-round elims phase played under the drive, chip and putt (DCP) challenge and 18-hole competitions at some of the country's championship courses.
But more than the bragging rights as the first champions of the pioneering series put up by ICTSI, the finalists, including 19 hopefuls from the JPGT VisMin Series, are already deemed winners just being able to compete and experience playing in the series which recognizes and nurtures young talents and develops their characters.
"I'd like to thank ICTSI and its staff for the experience I gained in the series. It's very challenging. I have no expectations to emerge as overall champion. I only need to stay focused on every game and round," said girls' 9-10 class elims topnotcher Quincy Pilac in Filipino. "For the finals, I worked on my short game, especially putting."
Pilac will go up against Makayla Verano, Cailey Gonzales, Georgina Handog and Maurysse Abalos and VisMin top bets Zuri Bagaloyos, Rafella Batican and Eliana Dumalaog.
Race Manhit, on the other hand, is the marked player in the youngest boys' division of the series organized by Pilipinas Golf Tournaments, Inc. after nipping Ryuji Suzuki and Vito Sarines in the countback to clinch the top spot in the elims. Jacob Casuga and Luis Espinosa complete the cast spiced up by VisMin bets Jared Saban, Franco Qiu and Mico Woo.
"I enjoyed playing in the JPGT and it was my first time to participate in a drive, chip and putt tournament which taught me to focus on accuracy vs sheer strength. I was also able to appreciate the training when I played in 18-hole tournaments," said Manhit, adding that the opportunity to play in the series also made them feel like real pros.
Manhit worked extra hard in the run-up to the national finals, saying: "The game plan is practice, practice and practice. I need to play smart especially at the TCC. I'm sure the finals will be intense but it will be fun."
Meanwhile, out to foil Villaroman are Alonso Espartero, Mark Kobayashi, Rafael Mañaol and David Serdenia and VisMin finalists Zeus Sara, Simon Wahing and Ken Zonio while Lee brims with confidence as she faces Angelica Bañez, Lia Duque and VisMin topnotcher Alethea Gaccion.
"In this series, I was able to improve my game and become a better player. I had a lot of fun playing here and I love that JPGT really supports the players," said Lee, who also saw action in some legs of the just-concluded Ladies Philippine Golf Tour.
Meanwhile, battling it out for the 11-12 titles are Mona Sarines, Precious Zaragosa, Lisa Sarines, Tiffany Bernardino and Althea Bañez, along with VisMin finalists Johanna Uyking, Britanny Tamayo and Kimberly Barroquillo (girls) and Javi Bautista, Aenzo Sulaik, Jacobo Gomez, Matteo Gallardo and Lujo Gomez, along with Ralph Batican, Blademher Estologa and Marcus Duenas.
Making up the 13-14 finals field are Levonne Talion, Rafa Anciano, Monserrat Lapuz, Chloe Rada and Chloe Lim and VisMin topnotchers Isabella Tabanas, Zero Plete and Cebu's Lois Laine Go (girls) and Patrick Tambalque, Alexander Crisostomo, Tristan Padilla, Bien Fajardo and Chaz Limketkai and VisMin entries Clement Ordeneza, Armand Copok and David Teves.