Time to rest for Asian pole vault king
October 2, 2023 | 12:00am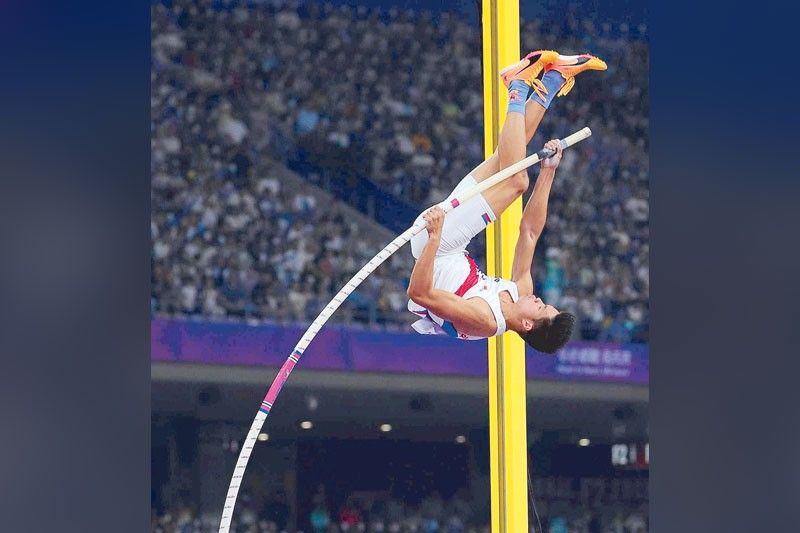 HANGZHOU — After winning the Asian Games gold medal in record fashion last Saturday, EJ Obiena will get something he truly deserves: time to rest.
"Oh, I'm resting," said the new king of Asian pole vault who flew home to Manila yesterday morning, accompanied by his father, Emerson, barely hours after he delivered the first gold for Team Philippines at the 19th Asian Games here.
The long season – indoor or outdoor – is finally over, and the 27-year-old Filipino pole vault sensation can start thinking of other things aside from winning. He hasn't gotten any break since coming to the Philippines in September last year for a three-week vacation.
The 6-foot-2 Obiena set a new Asian Games record of 5.90 meters, which is off his personal best and Asian record of 6.0 meters. Armand Duplantis of Sweden, the reigning Olympic champion, still holds the world record of 6.23 meters.
"We'll let him rest first," said Philippine Athletics Track and Field Association (Patafa) president Terry Capistrano the morning after Obiena's sensational performance.
"Then after Christmas we can start talking about the Paris Olympics," Capistrano added.
"I'm not thinking about it now," added Obiena.
This early, he has punched a ticket to Paris, securing the slot when he won the silver medal in the Stockholm Diamond League in Sweden last July.
It's been a great year for Obiena, highlighted by victories in the SEA Games in Cambodia and the Asian Championships in Thailand and a silver in the World Championships in Hungary.
Capistrano said Obiena's victory over China's Huang Bokai (5.65) and Saudi Arabia's Hussain Al Hizam at the Hangzhou Olympic Sports Center Stadium seemed like "routine."
"To me, it seemed like a routine and it's a good routine. Parang nagiging mindset na niya to win every tournament he competes in. And that's very good," he said.
"That's why I'm very happy that he pulled through. I can imagine the pressure on EJ. And yet he pulled through. Hindi naman ako ang tumalon but I'm very happy," the athletics chief added.
Capistrano is hoping that Obiena's victory will further lift the spirit of Team Philippines, which has one silver and seven bronze medals heading to the final week of competition.
"This is not just about athletics but our campaign here in general. I hope we win more medals in the other sports. Sana madagdagan pa," he said.