Team Philippines strikes in taekwondo
September 25, 2023 | 12:00am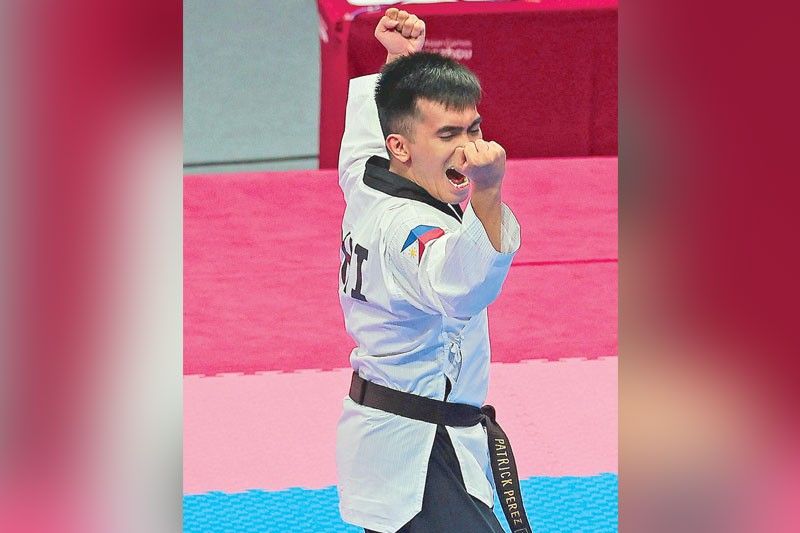 HANGZHOU — Patrick King Perez was Sunday's best for Team Philippines in the 19th Asian Games here.
The 23-year-old taekwondo jin made sure the Filipinos had a medal to show – a well-earned bronze in men's individual poomsae – on the first full day of competition in and around this city that illuminates at night.
"I did my best," said the product of La Salle.
Yes, Team Philippines couldn't ask for more from Perez, who defeated Souksavanh Chanthilath of Laos with a 7.700 then Prem Bahadur Limbu of Nepal with a 7.560 to advance to the medal round.
But the Filipino quarterfinalist in the World Poomsae Championships in 2018 and 2022 met his match in Ma Yun Zhong of Taipei, ranked No. 2 in Asia, who had a 7.450 against the former's 6.910.
Ma, 24, was a gold medalist in the 2022 world event for poomsae.
"I lost to a better player. But I couldn't believe that I won a bronze. I'm really happy," said Perez, who earned the distinction as being the first among 395 Pinoy athletes to win a medal in this edition.
However, three-time SEA Games winner Jocel Lyn Ninobla didn't shine as bright and bowed out in the women's individual poomsae, losing to South Korea's Kang Wanjin in the Round of 16. Kurt Barbosa, another reigning SEA Games champion, will see action today in the men's -58kg of men's taekwondo.
Perez winning the bronze, whether it's bitter or sweet, was still welcome news for Team Philippines, determined to do better this time than the four gold, two silver and 15 bronze medals it won in the 2018 Asiad in Indonesia.
"It's a good start and a good sign," said Philippine Olympic Committee president Abraham Tolentino, trying so hard to divide his time and be with the athletes as they compete in different venues – near or far.
More athletes will gear up for action today, including young tennis sensation Alex Eala, who goes up against Sarah Ibrahim Khan of Pakistan in the main singles match at incredible Olympic Stadium.
There was excitement in the Hangzhou air following the arrival of the men's basketball team called Gilas. The entire country will watch as they shoot for the gold or the silver or the bronze.
The celebrated boxing team blew hot and cold atop the ring, losing, winning, losing and winning its first four matches here.
Aira Villegas (50kg) absorbed a 3-1 loss to Mongolia's Yesugen Oyuntsetseg and bowed out before Marc Ashley Fajardo (63.5kg) had a grand debut on the top Asian level by knocking out Bhutan's Dorji Wangdi with a left to the jaw in the 2:21 mark of the opening round.
Tokyo Olympian Irish Magno was outclassed by Uzbekistan's Nigina Ukmatova, who at 20 years old is 12 years younger than the Filipina. Magno suffered a 5-0 defeat. Then pro fighter and Tokyo Olympics bronze medalist Eumir Marcial, still adjusting to his new weight class of 80kg, flexed just enough muscles to whip Mongolia's Dalai Ganzorig, 5-0.
"Medyo nag-ingat lang ako. Iwas lang muna masaktan dahil five wins ako dito para manalo ng gold," said Marcial, who opted to fight flat-footed and countered quite well with his right hook.
Swimmers Kayla Sanchez, Chloe Isleta, Teia Salvino and Jasmine Alkhaldi finished fifth in the final of the women's 4x100m with a time of 3:44.31, far behind gold winner China then Japan, Hong Kong and Singapore.
The relay team had hoped to end 25-year medal drought in the sport.
Over at the Xiaoshan Guali Sports Centre here, five-time SEA Games gold medalist Agatha Wong missed the podium.
The wushu artist with a lovely face, who won the bronze medal five years ago, finished seventh in the Taijiquan final with a 9.720. At 25, this is perhaps her last Asian Games. She will go home smiling but empty-handed.