Philippines cops silver in ASEAN Para Games 3x3 wheelchair hoops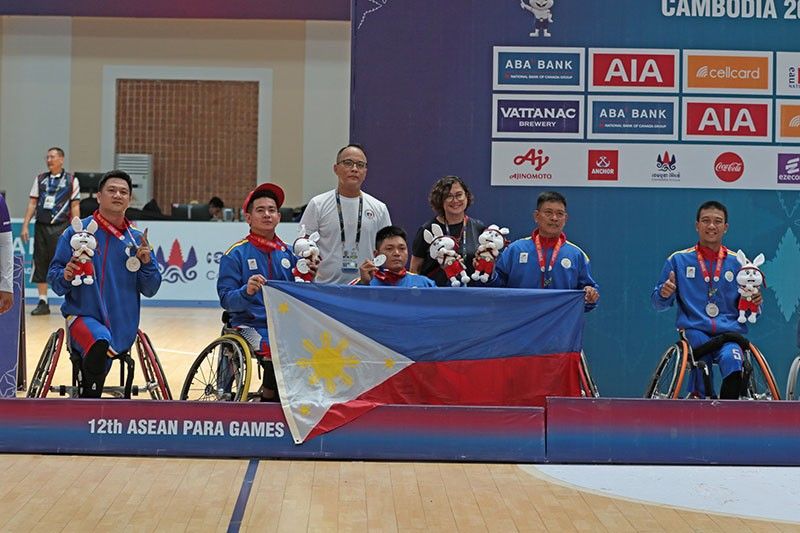 PHNOM PENH — The Philippines claimed its first medal following a silver by the men's 3x3 basketball team even as its fantastic chessers struck hard in the rapid event of the 12th Asean Para Games that was officially ushered in with a grand opening ceremony Friday night at the Morodok Techo National Park here.
Giving it all, the Filipino cagers — Alfie Cabanog, Kenneth Tapia and Clifford Trocino — just didn't have enough to match the rough, tough and outside-shooting Thais and succumbed in a painful 15-7 defeat at the Elephant Hall A here.
"Dinouble team nila ako. Physical sila maglaro, binangga pa nga ako sa likod," said the 31-year-old Cabanog, a North Cotabato native who lost a leg while fighting in a battle in Basilan less than a decade ago.
It was the country's first medal in this weeklong festivities and third silver overall after capturing the same medal last year in Surakarta, Indonesia and back in Manila in 2005.
Earlier, the women's squad went for a bronze but stumbled with a heartbreaking 8-5 defeat to Laos.
Over at the Royal University, the Filipino woodpushers struck hard in the rapid event to set in motion their campaign in the sport where they scooped up 10 gold medals in Surakarta a year back including four by the amazing Sander Severino.
Severino, a FIDE Master, smashed his first two foes — Malaysia's Ahmad Nazmi Md Nizam and Indonesia's Alfrets Dien — in the men's PI class to zoom to the top alongside countryman Jasper Rom and another Indonesian Maksum Firdaus with perfect scores of two points.
Also unscathed after two rounds were Darry Bernardo and Menandro Redor, who shared the men's B2/B3 section lead with Indonesia's Gayuh Satrio with two points apiece while Cheyzer Mendoza was one of the three women's PI division leaders likewise with two points.
Francis Ching drew with Yadi Sopiyan of Indonesia and dropped to a share of fourth spot with 1.5 points, or half a point off the pace in the men's B1 bracket.
"So far, so good," said national chess team coach James Infiesto, who is hoping to set the tone of their campaign right by hauling as much gold as they can in this six-round rapid event that ends today.
Standard chess is scheduled Monday, Tuesday and Wednesday while blitz is slated Thursday.
Aside from chess, the Filipinos plunge into action in almost all fronts including centerpiece track and field, swimming, sitting volleyball, wheelchair basketball, badminton and powerlifting.
Paralympic bronze medalist Adeline Dumapong Ancheta and Paralympian Achelle Guion will spearhead the powerlifting squad that also included Marydol Pamati-an, Romeo Tayawa, Rose Ann Lita, Jules Empizo, Denesia Esnara, Cherrylyn Sugue, Jeffrey Jaramillo, Carlo John Nuyda and Gregorio Payat Jr.
Dumapong Ancheta, 49, is expected to give it her all to reclaim her old place as the queen of the sport in the region after she settled for the silver last year.
"All of us came here prepared. We are determined to win, we will do our best," said the multiple ASEAN Para Games gold winner.