Will 'King James' give up NBA throne?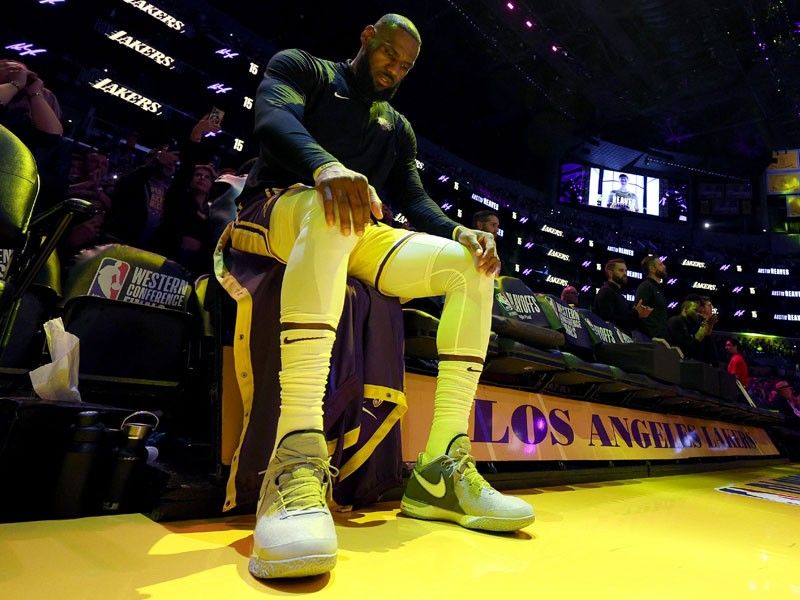 LOS ANGELES – A weary, honest admission that one of the greatest careers in NBA history could be over?
Or a calculated move designed to spur the Los Angeles Lakers into bolstering their roster?
One day after LeBron James sent shockwaves rippling through basketball by revealing he was considering retirement, analysts are divided over whether the "King" is truly ready to give up his throne.
The 38-year-old delivered a vintage 40-point performance in a losing effort for the Los Angeles Lakers on Monday (Tuesday, Manila time) as Denver completed a 4-0 series sweep of the 17-time champions to reach the NBA Finals.
The defeat drew an unusually cryptic response from James in his post-game press conference as he reflected on a roller-coaster season that saw the Lakers emerge as title contenders despite a dismal 2-10 start.
"I don't like to say it's a successful year because I don't play for anything besides winning championships at this point in my career," said James.
"We'll see what happens going forward. I don't know. I've got a lot to think about to be honest."
In remarks to an ESPN reporter after the press conference, James made it clear that retirement was under serious consideration.
Asked what he planned to "think about" in the offseason, James replied: "If I want to continue to play."
That startling admission marked a sharp departure from James' previous public statements about how he sees the remainder of his career playing career.
He inked a lucrative two-year contract extension with the Lakers last August that takes him through to the end of the 2024-2025 NBA season.
That would potentially provide him with the opportunity to play in the NBA with his eldest son Bronny James — something James has repeatedly said is his dream.
'Athletic mortality'
Monday's dazzling Game 4 display came at the end of an injury-disrupted regular season in which he averaged an impressive 28.9 points per game across 55 games.
Nevertheless, James hinted that the punishing nature of the NBA season, citing the "bus rides and plane rides" might be losing its appeal after two decades. "It's challenging," he said.
Former NBA player and ESPN pundit J.J. Redick said the comments might be designed to signal to the Lakers front office that the team needed strengthening.
"I think as an athlete there's always a moment when you sort of begin to question your own athletic mortality," Redick said. "Maybe in some ways LeBron is at that stage.
"Am I buying that he's going to retire? No, absolutely not. LeBron is one of the most calculated athletes in the history of professional sports. Everything he does is for a reason. And whether this is to put a little bit of pressure on the Lakers to improve the roster...whatever it is, there's a reason he did this."
ESPN reporter Brian Windhorst said James was "essentially sending a message" to the Lakers by inviting speculation about his future.
"There is something for the Lakers to consider here," Windhorst told ESPN's First Take discussion show.
"The Lakers have four or five weeks to consider the direction they are going with this team. They've got to make a decision about whether they want to hold this team together."
Analyst Stephen A. Smith meanwhile is convinced that James will stay in the NBA to realize his dream of playing with his son.
However, Smith said James' intended to signal his dissatisfaction with the Lakers roster.
"He put on a show and received minimal help," Smith said of James' Game 4 performance.
"No one is going to convince me that that doesn't play a role in what he disseminated to everybody last night. Now, do I think he will retire? I don't.
"He wants to hang around long enough to be in a uniform on a basketball court with his son, that is his dream.
"But it hurts that much to put in all that work and come up short. I think we heard what we heard last night because LeBron James has serious questions as to what the Lakers can truly accomplish.
"For him it's about championships or bust."