Sotto, Hiroshima win 3rd straight; Kiefer's Shiga shocks Yokohama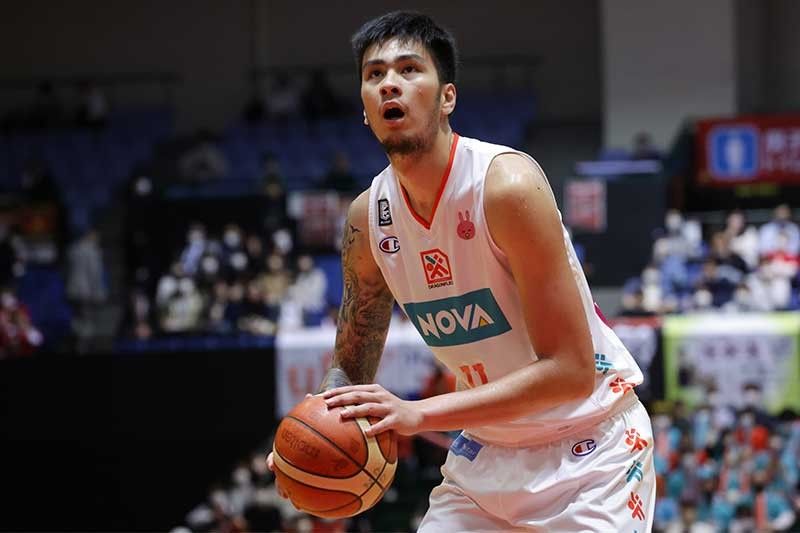 MANILA, Philippines — Kai Sotto and the Hiroshima Dragonflies extended their win streak to three games after they drubbed Matthew Wright's Kyoto Hannaryz, 92-76, at the Hiroshima Sun Plaza Hall in the 2022-23 Japan B. League season on Saturday.
Sotto, who continues to be in the starting lineup for Hiroshima, finished with 14 points, six boards, two assists, two steals, and two blocks in 23 minutes of play in the convincing victory.
Hiroshima finished with five players in double-digit scoring in their blowout win over Kyoto where they led by as much as 21 points.
Wright struggled in his shooting for the Hannaryz with 3-of-13 shooting as he ended up with seven points. He added three rebounds, four assists and one steal.
Hiroshima improved their record to 34-12 while Kyoto fell to 16-30. The latter have lost seven straight games.
Elsewhere, Kiefer Ravena and the Shiga Lakes continue to be a revelation at the latter part of the season as they have now won four straight games.
After winning only six games in the first 42 games of the season, Shiga are now on their longest winning streak since Kiefer came to the team with the 102-95 win over the Yokohama B-Corsairs, 102-95, at the Shiga Daihatsu Arena.
Kiefer tallied 16 points and four boards in the victory that towed Shiga to double-digit wins at 10-36.
His younger brother Thirdy also emerged victorious as his San-En NeoPhoenix nipped the Toyama Grouses, 79-73, at the Toyohashi City Gymnasium.
Despite a silent scoring night for Thirdy, the NeoPhoenix won their second straight game. The former Ateneo standout finished with five points, six rebounds, four assists, three steals and a block.
San-En rose to 19-27 for the season.
In the other games, Ray Parks Jr. continues to be sidelined due to injury but his Nagoya Diamond Dolphins were able to squeak past the Akita Northern Happinets, 76-72, at the CNA Arena in Akita.
Nagoya is 6th in the B. League standings with a 33-13 slate.
Other results saw Carl Tamayo and Dwight Ramos absorb losses with their respective teams.
Tamayo's Ryukyu Golden Kings fell to the Chiba Jets, 89-85, at Chiba Port Arena.
Tamayo went scoreless in a little over two minutes of action off of the bench.
Ramos, for his part, finished with four points and three rebounds in Hookkaido's 92-81 loss against the league-worst Niigata Alibrex BB, 92-81, at the City Hall Plaza Ao-re Nagaoka.
Hokkaido fell to 13-33 with the loss.
Over in B2, Jordan Heading and the Nagasaki Velca blew out the Saga Ballooners, 91-75, at the SAGA Plaza.
Heading scored 20 points on an efficient 8-of-12 shooting with two rebounds, seven assists, and a steal as Nagasaki improved their standing to 38-15.