Creamline in Finals; PLDT stays in hunt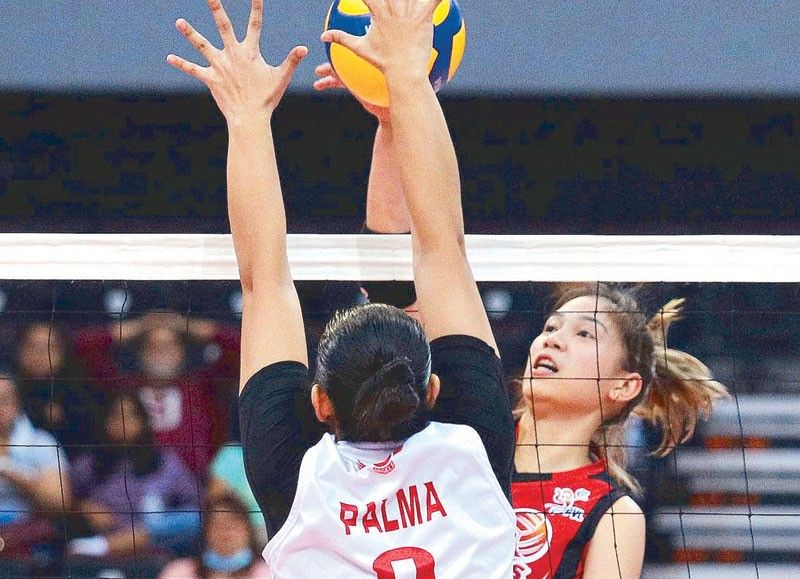 MANILA, Philippines — Call the Creamline Cool Smashers as the team of destiny.
Showing power and iron will, Creamline outclassed F2 Logistics, 25-22, 25-23, 25-16, last night to secure its eighth finals appearance in the Premier Volleyball League at the MOA Arena.
There was just nothing the Cargo Movers could do even with their best player Myla Pablo back from injury and despite putting up a valiant effort as the Cool Smashers were too tough and too good in sweeping their All-Filipino Conference semis series in two games.
It would mark the eighth time that the franchise would make the finals after collecting an impressive five championships, two runner-up finishes and three third-place efforts in its first 10 conferences in the league.
It was made sweeter by the fact that it is coming from a heartbreaking third-place performance in last year's Reinforced Conference where it was denied a historic Grand Slam and a date with history.
On this one, Creamline made sure it won't be denied again.
"We're so overwhelmed and really grateful for this win. I know we missed the finals last conference but everybody stepped up," said veteran setter Jia de Guzman, who had 23 excellent sets while contributing two hits.
"This was about the team culture that we built. It's not easy to bounce back from what happened last conference but everybody was willing to respond to the challenge," she added.
Tots Carlos scored 19 points and delivered the heaviest blows against the Cargo Movers.
Earlier, PLDT woke up from an early and deep slumber to turn back Petro Gazz, 14-25, 25-23, 25-14, 25-15, and force a rubber match for the other finals berth.
After an embarrassing opening-set defeat, the High Speed Hitters turned things around and fought the Angels tooth and nail to snatch the second set. Then they dominated the next two to knot the series at 1-1 and force a deciding duel tomorrow at the same venue.
Mich Morente and Jovielyn Prado led the way with 16 and 15 points, respectively, while libero Kat Arado kept things together with her magnificent floor defense where she had 26 excellent digs and 12 receptions while chipping in two hits.
Arado said they were just reciprocating the trust given to them by Petro Gazz coach Rald Ricafort.