B. League: Parks double-double powers Nagoya past Shinshu; Wright's Hannaryz foil Yokohama
January 28, 2023 | 8:21pm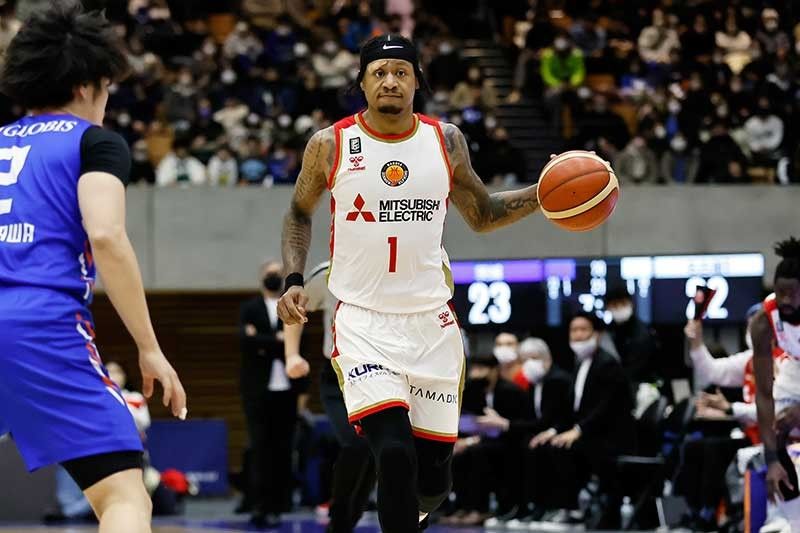 MANILA, Philippines — Bobby Ray Parks Jr. tallied a double-double in the Nagoya Diamond Dolphins' hard fought win in overtime against the Shinshu Brave Warriors, 104-96, in the 2022-23 Japan B. League season at the Dolphins Arena on Saturday.
Parks finished with 20 points and 13 rebounds to help Nagoya win their sixth straight contest as he and two other starters carried most of the offense.
Takumi Saito top scored with 34 markers while Scott Eatherton added his own double-double of 23 points and 13 boards.
Nagoya kept at pace with the top half of the standings as Parks maintains his position as the Filipino import whose team is highest in the standings at 25-8, good enough for 5th place.
Elsewhere, the Kyoto Hannaryz and Matthew Wright are back in the win column as they nipped the Yokohama B-Corsairs, 80-76, at the Yokohama International Pool.
Wright was one of four starters in twin-digit scoring as he tallied 15 points, one rebound, and three assists for Kyoto's victory. They improved their record to 13-20.
Cheick Diallo led the scoring with 17 markers to go along with eight boards and one dime.
Carl Tamayo's Ryukyu Golden Kings, for their part, continue to win as they wait for the Fillipino import as they are now 24-9 for the year, beating the Gumna Crane Thunders, 83-74.
But that's where the good fortunes ended for Filipino imports in B1 as all others absorbed defeats.
Dwight Ramos' Levanga Hokkaido could not get it done against the Kawasaki Brave Thunders as they lost, 98-76, their ninth straight loss.
Ramos finished with 13 points, two rebounds, and four assists as he continues to return after missing 19 games due to injury. Levanga are 7-26 for the season.
Kiefer Ravena, for his part, saw his Shiga Lakes fall to the Sendai 89ers, 74-68.
This is the Lakes' 16th straight defeat, remaining in the bottom of the standing swith a 4-29 slate.
Ravena had five points, six rebounds, and two assists as Shiga continued their free fall.
His younger brother Thirdy had a similar fate as the San-En NeoPhoenix fell to the Shimane Susanoo Magic, 71-64.
The former Ateneo standout had six points, five rebounds, and three assists for San-En who lost their 2nd straight game and fell to 15-18.
Over in B2, more Filipinos enjoyed success, led by Jordan Heading and the Nagasaki Velca who beat the Yamagata Wyverns, 104-85.
Heading came off of the bench for an efficient 18 points, five rebounds, and four assists as the Velca continue to remain at the upper half of the standings.
They won their 4th straight game and improved their slate to 23-11.
Meanwhile, Roosevelt Adams topscored for the Kagawa Five Arrows as they shot down the Bambitious Nara, 90-87.
Adams finished with 21 points on a 6-of-11 shooting clip to go along with seven rebounds, two assists, one steal, and two blocks as Kagawa snapped a three-game losing streak and rose to 10-24.
Greg Slaughter, for his part, was scoreless in just three minutes of action as a starter as the Rizing Zephyr Fukuoka bested the Fukushima Firebonds, 85-78.
Fukuoka rose to 14-21 after back-to-back victories.
In the other game, Kobe Paras and the Altiri Chiba continue their funk after the All-Star festivities as they have now lost four straight, this time falling to the Aomori Wat's, 78-71.
Paras went scoreless in five minutes of action off of the bench but did contribute one steal as Chiba fell to 25-9, now only third in the standings.