World Cup analysis: Morocco and beating that low block
December 7, 2022 | 11:03am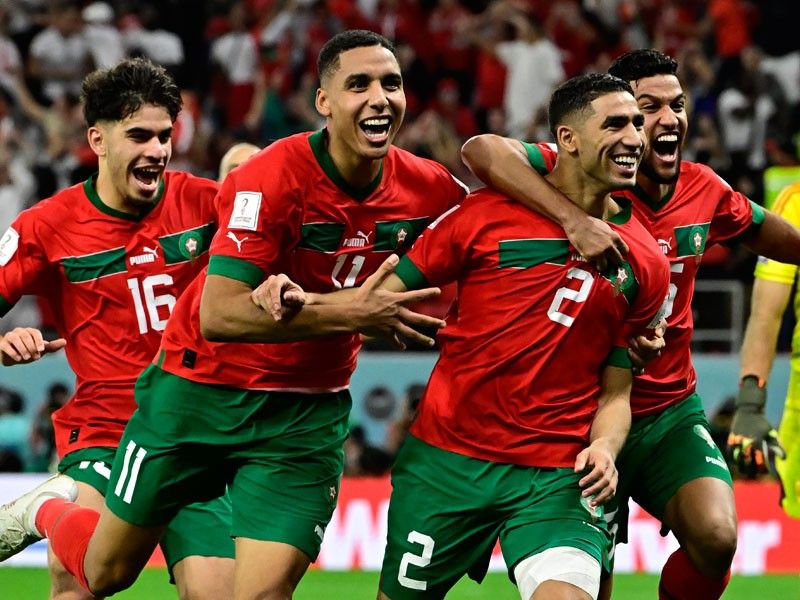 MANILA, Philippines – Morocco chalked up a huge victory over Spain in the FIFA World Cup Round of 16 via penalty shootout 0-0 (3-0).
It was obvious from the start that Spain's tiki-taka style of play wasn't going to work against Morocco, which sat on the 4-3-3 low block and waited for Spain to attack.
The Atlas Lions would pressure Spain's ball carriers by throwing three defenders, who covered the passing angles well, leaving the Spaniards no choice but to send the ball back and reset the offense.
In the early stages of the game, Spain was doing nothing except pass the ball from one defender to another. They couldn't really get deep. Yes, there were some occasions but Morocco was quick to defend and go on the counter.
It did not help that Morocco played a more physical game that threw Spain off and frustrated them.
And there's the matter of height as the Spanish forwards were lacking in height compared to the taller but just as mobile defenders.
Ferran Torres and Marco Asensio stand six-feet tall while Dani Olmo is 5'10.
In contrast, Morocco's defenders — Achraf Hakimi is 5'11, Nayef Aguerd and Roman Saiss are 6' 3 while Noussair Mazraoui is six-feet tall.
So how do you beat the low block? Or in layman's terms — parking the bus?
We have seen English Premier League teams sit back and wait for teams like Liverpool to go on the attack then launch a quick counter. And these lesser squads have done that to some success against Liverpool.
A team simply has to go on a dynamic attack to deal with a low block defense.
They need some really creative midfielders (not just one as you can see Croatia struggle when opposing defenses lockdown Luka Modric) and pacey wingers.
The keeper must be tested from not just close range but from distance. At all times. And then for the forwards and attacking midfielders to descend inside the box to pick up loose balls.
When you ramp up the pressure, the defenders begin to feel the heat and that is where mistakes happen.
A dynamic attack should stretch those compact defensive lines. When you stretch them, it creates space for attackers to operate.
Sergio Busquets — in what is most likely his last World Cup — was largely ineffective against Morocco in that pivot position.
Busquets and Jordi Alba are the last of Spain's golden generation who saw the possession-based style of play that Spain popularized, neutralized by Morocco (and other previous World Cup and European opponents).
Of course, it came down to penalties, but still... the patented style of play that Spain is known for was nowhere to be found.
You can be sure that Portugal — Morocco's opponents in the quarterfinals — was taking notes. Of course, how they execute their game plan is altogether another matter.