LPU, Letran grab share of lead ahead of CCE MLBB playoffs
November 23, 2022 | 11:04am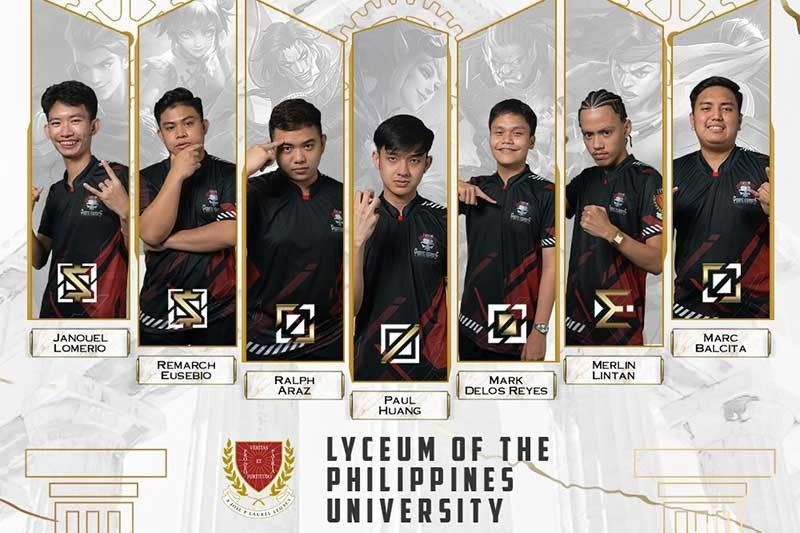 MANILA, Philippines — Defending champions Lyceum of the Philippines University and Colegio de San Juan de Letran are joint leaders ahead of the Collegiate Center for Esports (CCE) Mobile Legends: Bang Bang Season 2 playoffs set to unfurl this week.
LPU, after an early hiccup against Arellano University, seized the No. 1 spot with a flawless outing in the past two weeks to finish with an 8-1 slate entering the postseason; they seek to retain the crown in the collegiate esports league presented by Galaxy Racer, Legion by Lenovo, Smart, Mountain Dew, and Hawk Bags, with MPL-Philippines serving as an official partner.
Reigning MVP Mark Kenneth "Mark" Delos Reyes maintained his fine play for the Pirates as he steered them to victories against Emilio Aguinaldo College, Jose Rizal University and San Beda in Week 3 of eliminations.
Delos Reyes stamped his class on the Pirates' foes with his perfect Hayabusa (9/0/9) against San Beda before continuing his momentum with Lunox (9/2/8) and Gusion (9/1/15) against JRU and EAC, respectively.
He captured all three MVP citations for the Pirates in the impressive showing.
Meanwhile, Letran, who likewise finished at 8-1, also dominated the rest of the competition. Their eliminations campaign was highlighted by a masterclass against Arellano — which handed LPU their only defeat of the season.
But they fell to the No. 2 spot as LPU had parried them in their meeting in the preliminaries.
Arellano (7-2) and JRU (6-3) provided shakeups in the standings as they completed the top four and took their place in the upper bracket playoffs.
Struggling to find their rhythm in Season 2 are Season 1 runner-ups San Sebastian College Recoletos (5-4) who will be jockeying for a deep run in the lower brackets.
Joining them are fellow Season 1 Final Four squads College of St. Benilde (5-4) and Mapua (4-5) who will need to fight harder to improve on their finishes last season.
EAC (2-7) wraps up the playoff squads as San Beda (1-8) and the listless University of Perpetual Help System Dalta got the early boot.
The eight remaining teams plunge back into action this week, with the upper bracket clashes between LPU and JRU and Letran and Arellano headlining the hostilities.
Winners will advance to the upper bracket finals for a spot in the grand finals while losers will need to fight their way back into contention in the lower bracket finals.
The grand finals of the tournament led by CCE President Stanely Lao and Commissioner Waiyip Chong is slated in the first week of December at a still-to-be-announced venue.
Season 1's grand finals were held at the SM Mall of Asia Music Hall.