Meet the other Yulos: Karl and Elaiza
November 20, 2022 | 12:00am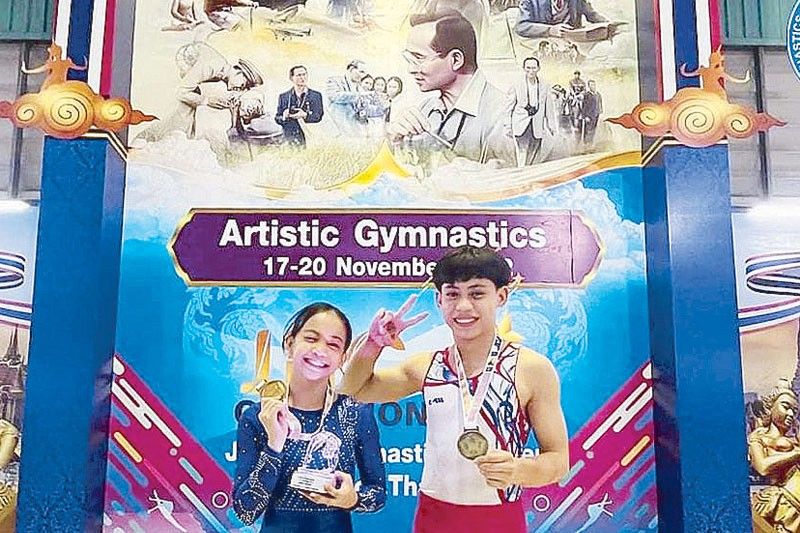 MANILA, Philippines — Somewhere in the crowded streets of Leveriza, Manila, there's this small family quietly producing champion gymnasts.
Meet the Yulos.
Following the footsteps of their eldest brother, world champion and multiple SEA Games gold medalist Caloy Yulo, Elaiza and Karl Eldrew raked in the medals, including gold medals, in the JRC Artistic Gymnastics Stars Championships in Bangkok yesterday.
Elaiza, 13, hauled four mints in vault, uneven bars, floor exercise and individual all-around and missed out only in the balance beam while Karl Eldrew, 14, snared six medals – a gold in floor exercise, silvers in individual all-around, parallel bars, vault and pommel horse and a bronze in rings.
The only medal that escaped Karl Eldrew was in the high bars.
But overall, it was another day at the office for the Yulos, whose elder sibling, 22-year-old Caloy, captured a vault silver and a parallel bars bronze in the World Championships in Liverpool, England just two weeks ago.
"These are really big achievements to these two young fellas, this is just only the beginning of their journey as gymnasts," said Angelika Yulo, the mother of these magnificent Yulo children.
Karl Eldrew, a product of the Philippine Sports Commission's Batang Pinoy program, is specifically being groomed to follow the footsteps of Caloy and has, in fact, drew the interest of Hiraoki Sato, who is Olympic champion Kohei Uchimura's coach.
Sato said he would take Karl Eldrew under his wings after the 2024 Paris Olympics and train the latter to become an Olympian and world titlist like Caloy.